The 3 Bragazzi
From Circopedia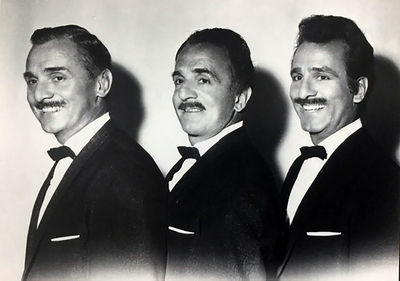 Acrobats
By Dominique Jando

The 3 Bragazzi (Alfredo, Umberto and Enrico Goretti) were a trio of Italian acrobats whose act met with great success, both in the circus ring and on the variety stage, from the 1940s up to the late 1960s. They began as young acrobats before performing a clown act with their father, Enrico, Sr., who had been part of a celebrated clown duo in Europe, the Albano Brothers. Then, as The 3 Bragazzi, the junior Gorettis created a comedy tumbling act, which over the years morphed into a pure visual-comedy act, keeping in with the family tradition.
The Goretti Family
Umberto (1909-1999), Alfredo (1912-2008) and Enrico (1916-2007) were the sons of Enrico Paolo Goretti and his wife, Ida, née Knorr. Enrico, Sr. had performed with his brother, Alfredo, Sr., an acrobatic act under the stage name of Wellington Brothers, before becoming quite famous as the Albano Brothers (or Hermanos Albano), a clown duo that was extremely popular in Spain, Portugal and France in the first quarter of the twentieth century. Among other venues, the Albano Brothers starred from 1908 to 1914 at Paris's posh Nouveau Cirque, where they had successfully supplanted its legendary stars, Foottit and Chocolat.
The senior Gorettis' parents were Giuseppe Albano Angelo Goretti, an acrobat, and his wife, Josephine Napoleone, née Bragazzi (whose forenames belie a family admiration for the French emperor Napoléon and his clan). The senior Enrico and Alfredo will use their father's second name, Albano, as their stage name; as for Enrico's sons, they will eventually use their grandmother's name, Bragazzi. None of them seem to have ever kept their real name, Goretti, as a stage name.
Two of Enrico, Sr.'s sons, Umberto and Alfredo, were born in Paris during their father's engagement at the Nouveau Cirque—Umberto on December 12, 1909 and Alfredo on January 11, 1912. The youngest, Enrico, was born on July 7, 1916 in Ceuta, a Spanish autonomous city bordered by Morocco, on the north coast of Africa. Like all circus children, they were trained in all traditional acrobatic disciplines within their family, with an obvious flair for comedy inherited from their illustrious forefathers.
After the beginning of World War I in 1914, the Albano Brothers left Paris and the Nouveau Cirque, and resettled in Barcelona in Spanish Catalonia, where they would be based for the next fifteen years. There, the Hermanos Albano performed at the Teatro Cómico-Circo Ecuestre and, starting in 1915, they went on tour regularly with Circo Feijóo, a well-known and respected circus founded in 1885, which had a joyous reputation in the business as a "clown paradise."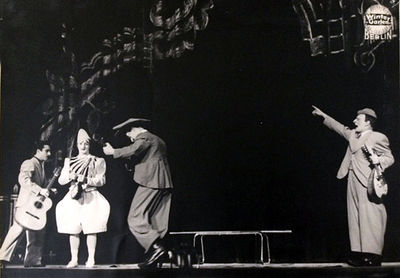 By 1920, the Hermanos Albano had become fixtures of Madrid's famous Circo Parish (before it recovered its original name, Circo Price, ten years later). The year 1920 also saw the debut of Los Albanitos: Umberto and Alfredo, Jr., who formed this acrobatic duo, were respectively eleven and eight years old. The young Gorettis also learned to play musical instruments, which was part of all clown families' education. (In 1924, at age twelve, Alfredo, who played piano, guitar, mandolin, trombone and accordion—all by ear—performed Schubert's Ave Maria on the accordion at the Coliseu dos Recreios, Lisbon's fabled circus, for a gala celebrating the Hermanos Albano.)
In July 1930, the family sailed for Argentina on the "Cap Arcona," to perform in a variety theater in Buenos Aires. By then, the children's act was complete, with the addition of Enrico, who was now fourteen. They performed their tumbling act along with their father and uncle. In August, they joined Circo Manetti in Uruguay, and ended the year in Rio de Janeiro before sailing back in mid-December for Europe on the "General Osorio."
The Goretti family landed in Hamburg and, in January of 1931, were featured there at the Flora-Theater, a well-known variety theater. They worked in Germany the rest of the year, before returning to Spain in 1932, where they re-settled in Mislata, in the Community of Valencia on Spain's Mediterranean coast. By then, Enrico, Sr. and his brother had separated, and Enrico created a new clown act with his sons, The Four Albano, which took good advantage of his and his children's musical talents.
The Four Albano performed extensively in Spain and Portugal until December 1933, and then went for the Holiday season to Circus Kronebau in Munich, where their success marked the beginning of a fruitful career in Northern Europe. Beside the Kronebau, where they would return several times, they were featured in such prestigious venues as Circus Salamonsky in Riga, the Cirque Royal in Brussels, Bertram Mills Circus at Olympia in London, Blackpool's Tower Circus in England, Circus-Theater Schumann in Frankfurt, and in many variety theaters in Germany and Belgium, including twice at the temple of German varieté(German, from the French: ''variété'') A German variety show whose acts are mostly circus acts, performed in a cabaret atmosphere. Very popular in Germany before WWII, Varieté shows have experienced a renaissance since the 1980s., Berlin's legendary WinterGarten, in 1939 and 1940.
Enter The 3 Bragazzi
When WWII began in September 1939, the Gorettis were still in Germany. Their Italian nationality gave them the possibility to remain in the country, where circus and variety were extremely popular, and where they could work without any problem (Italy being part of the Axis). By 1942, however, after the United States had entered the war and the Operation Barbarossa (the German invasion of the Soviet Union) had ended in disaster, the situation in Germany became increasingly precarious.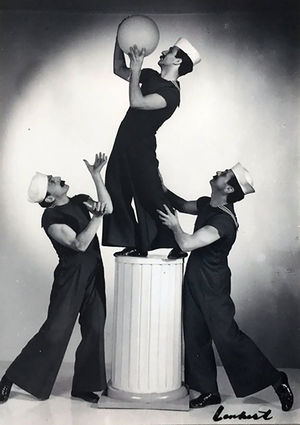 In 1943, the Allies invaded North Africa and then Italy, which surrendered in September. The Gorettis suddenly found themselves unwelcome in Germany, and at the beginning of 1944, they took refuge in Malmö, in neutral Sweden. Enrico Senior, who was in his late sixties, decided to retire from performing, and Umberto, Alfredo and Enrico Goretti created their own comedy tumbling act, The 3 Bragazzi, with their father acting as their manager. Dressed as sailors, in a style popularized by the famous
Craddocks
(
François Fratellini
's sons), they were able to display not only their comedic talents, but also their strong acrobatic skills—a winning combination that proved very successful. Having cut the artistic umbilical cord, they were finally able to embark on a career of their own.
The 3 Bragazzi worked extensively in Sweden, and for twelve years after the war had ended, in the rest of Scandinavia—notably with Cirkus Schumann, which was then one of Europe's most prestigious circuses. Enrico, Goretti Sr., their father and manager, passed away in in 1954. The following year, the brothers began to seriously expand their territory: They sailed on the RMS "Arundel Castle" to South-Africa for a one-year contract with that country's Boswell Brothers Circus (not to be confused with Boswell-Wilkie Circus).
At the beginning of 1958, the American impresario Al Dobritch, who had seen them in Europe, arranged a series of engagements for The 3 Bragazzi in North America. They sailed on the SS "United States" on January 30, to work in several venues in the U.S. and Canada, including a stint at the Dunes Hotel and Casino in Las Vegas, and two appearances on the Ed Sullivan show (February 9 and March 30). After their last appearance on the Sullivan show, they sailed back to Europe.
In August 1958, they were performing in Munich at the Deutsches Theater (then a variety house), where Frank Fuerch saw and hired them to appear at his popular German-themed restaurant, The Old Heidelberg, in Hallandale Beach, Florida, from January to March 1959. They would return again to the United States in 1960 (on the SS "Liberté") and spent the year performing in various venues there and in Canada. The 3 Bragazzi enjoyed now a true international career, playing regularly with great success in Northern Europe and America's variety theaters.
Their act had also evolved: Before going to America in 1958, they had abandoned their sailor suits and adopted city suits, which they would eventually switch for much more dignified tuxedos. These outfits contrasted joyfully with the style of their act, which had removed little by little its acrobatic prowess to focus only on visual comedy—a version that worked wonderfully well on variety and cabaret stages, and also made it easier on their bodies: They were now in their late forties and early fifties!
They were again in the United States at the end of 1965 and beginning of 1966, where they appeared twice on the popular ABC Television's Hollywood Palace on November 13, 1965 and February 12, 1966. This latter date would mark their last appearance in America. Then they returned to Europe and continued to work in variety until 1968, when they finally retired their act at the legendary Hansa Theater in Hamburg, Germany.
Epilogue
In 1937, while working at Blackpool's Tower Circus along with the famous lady "fakir"-cum-crocodile "hypnotist" (i.e., trainer), Koringa, Alfredo met his future wife, Maria Horváth, who worked as one of Koringa's many assistants; they fell in love and were married in Budapest (Maria was Hungarian) the following year. His brothers also chose to marry circus performers: Umberto wedded German-born Marianne Thomas on August 10, 1960 in Brussels, Belgium. Enrico married British-born Jeanne May Di Leo, also in 1960.
In 1949, while they were still performing their tumbling act, Enrico and Umberto had appeared, uncredited, in Ingmar Bergman's movie Fängelse (known also as Prison or The Devil's Wanton), the first film entirely written and directed by the famous Swedish director. Much later, in 1982, after their retirement, the three brothers appeared together in the Swedish television movie Man och Amanda, which also featured the famous clown Joe Jackson, Jr. and his collapsing bicycle.
Umberto, Alfredo and Enrico Goretti had long made Sweden their home. Enrico and Umberto retired in Katrineholm, in Södermanland, and Alfredo settled in Solna, near Stockholm. Umberto passed away on December 9, 1999, Enrico on May 14, 2007, and Alfredo on April 5, 2008.
See Also
Image Gallery