The Aratas
From Circopedia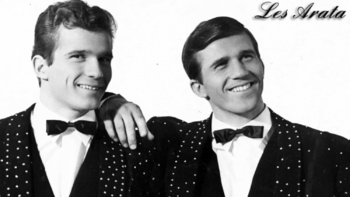 Tight Wire Artists
By Dominique Jando

The Aratas performed a truly original and outstanding tight wireA tight, light metallic cable, placed between two platforms not very far from the ground, on which a wire dancer perform dance steps, and acrobatic exercises such as somersaults. (Also: Low Wire) act, which was very successful in Europe in the 1960s and early 1970s. The act originated in 1957 as a trio, with Anna Arata, and her younger brothers, Billy and Vittorio. At that time, Anna performed an amazing wire crossing with her brother Billy head-balancing on her head. Following Anna's retiring from the act in 1962, Vittorio and Billy continued to work as a duet (and continued to perform together Anna's original head-to-head balancing trickAny specific exercise in a circus act.).
The Aratas came from a large Italian circus family that originated in the late nineteenth century. Its founder, Amedeo Arata (c.1872-1947), was a strongman from Massa Carrara who worked on the fairgrounds. Amedeo married Claudia Rizzoli, a Bolognese tight-wire dancer, and together they created the Circo Tea Arata, which remained active until 1943. Amedeo and Claudia had five children: Alfredo, Elena, Fanny, Violetta, and Guido. Guido (1911-?) married Cleofe Denji, who came from another Italian circus family, and together they had three children, Anna (b. January 5, 1940), Vittorio (b. January 26, 1942), and Francesco, known as Billy (February 23, 1946- April 25, 2004).
Around The World On A Tight Wire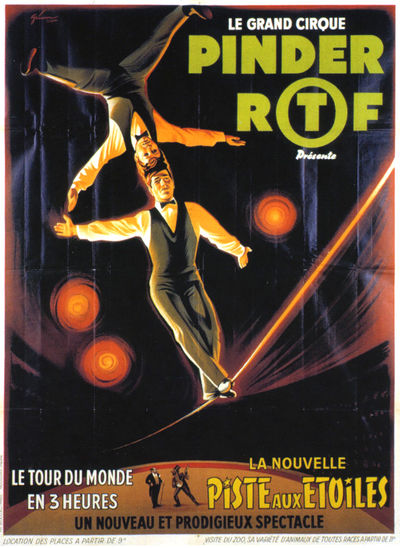 Circo Tea Arata was not prosperous enough to support such a large family, especially after the siblings had reached adulthood. Guido, his wife and their children left the family cocoon and, in the mid-1950s, went on to work with
Circus Medrano-Swoboda
in Austria, where Guido presented a
perch-pole
Long perch held vertically on a performer's shoulder or forehead, on the top of which an acrobat executes various balancing figures.
act with his daughter Anna. It was the final years of the famous Austrian circus (before it went bankrupt and became an Italian circus), and the Aratas returned to their country, where they worked for a time with
Circo Gerardi
. Meanwhile, Guido began to put together a low-wire act for his children.
From its inception, the new act was very impressive indeed, with such tricks as Anna's and Billy's head-to-head crossing, and Vittorio's one-arm stand and Anna's and Billy's head-stands together on the same wire. In 1957, Anna, Vittorio, and Billy debuted their act at one of Europe's most prestigious circuses, Cirkus Schumann, where Anna and her father also presented their perch-poleLong perch held vertically on a performer's shoulder or forehead, on the top of which an acrobat executes various balancing figures. act. In the winter of 1958-1959, both acts were featured in another top European circus, Bertram Mills Circus at Olympia, in London. It was the beginning of a long string of engagements in Europe's premier circuses and variety theaters.
Anna left the act in 1962: She married Janosz Brandt, a Hungarian teeterboardA seesaw made of wood, or fiberglass poles tied together, which is used to propel acrobats in the air. acrobat who later became a successful circus agent in France. Vittorio and Billy continued as a duet with the same success: each sibling could indeed hold his or her own individually. Billy was ambitious and resourceful; soon he began to work as the act's agent, and secured for it very good international engagements. In 1965, the Arata Brothers made their first appearance in the United States, at the Desert Inn Casino in Las Vegas, where they remained for two years. They returned to Europe for the 1967 season.
Theirs was a very elegant act—in the best Italian style of the period: well-designed and immaculate costumes, smooth presentation, and an engaging attitude in the ring without ostentation or cheap tricks to catch the audience's attention (their act was spectacular enough in itself). They could work with equal success on an intimate variety stage or in a large circus tent. In 1967, they were featured in the long-running and very popular French television show, La Piste aux Etoiles, filmed at Paris's Cirque d'Hiver, where they had appeared several times; the following year, they were at the Casino du Liban in Beyrouth, which was, in these calmer times, one of the most prestigious international variety dates.
New Careers
In 1973, Billy and Vittorio made a last tour in France with the Cirque Bouglione, and then Billy decided to retire from the ring while he was still at the top of his form. He settled in England, where he created a circus talent agency. Billy was outgoing and very generous; his smile was contagious, and he was well liked by everybody; the mere mention of his name elicited a smile from everyone in the business—not as much for his kindness, however, as for his reputation of being particularly messy in his business deals, although he always ended up solving the problems he himself created.
Billy married Carmen Garcia, whose mother was a Fossett. Together they had three children, Billy, Jr., Vittorio (known as Victor), and Emelia; Carmen and Emelia developed a very good roller-skating act, which has been continued by Victor and his wife, Jenny, as The Skating Aratas. Billy Arata was a colorful and engaging character, a true circus personality; he died prematurely on April 25, 2004, at age fifty-eight.
Vittorio continued to work as a solo performer and, in 1979, got a contract in the United States with Cliff Vargas's original Circus Vargas, the last of the giant American circuses under a big topThe circus tent. America: The main tent of a traveling circus, where the show is performed, as opposed to the other tops. (French, Russian: Chapiteau). Vittorio eventually retired from performing to become Technical Director of the circus. He remained with Circus Vargas after the death of Cliff Vargas in 1989, and continued under the ownership of Roland Kaiser and Joseph Muscarello, rising to the position of General Manager. His daughter, Katya, married Nelson Quiroga, of the Flying Tabares, who had become a star flying actAny aerial act in which an acrobat is propelled in the air from one point to another. at Circus Vargas. When Kaiser and Muscarello retired in 2004, Nelson and Katya Quiroga decided to purchase the circus, which they acquired in 2005.
Today (2015), the youthful Vittorio Arata, who is blessed with, like is late brother, a warm and outgoing personality, is still the General Manager of Circus Vargas—which has indeed become to him a true family affair.
See Also
Image Gallery