The Samwell Family
From Circopedia
By Caroline Cavanagh
Preliminary Note
The Samwell family (whose name was probably Samuel originally, and would sometimes be spelled Samwells later) is one of England's oldest circus dynasties. Although they may never have attained the prominence of Philip Astley, Charles Hughes, Andrew Ducrow, George Sanger, and other luminaries of the British circus, they still hold an important place in circus history.
Their origins are blurred in time, and they have apparently been touring and performing long before the creation of the circus by Philip Astley in 1770. As became the case for many itinerant performers of that era, circus soon proved an ideal setting for their line of work, and the Samwells turned into circus performers and entrepreneurs, thus establishing one of the very first circus dynasties.
The Samwells' story is sketchy, as it often happens with traveling circus families who didn't establish a major, long-running enterprise—generally with a base in a specific city where their achievements would have been regularly chronicled in local newspapers. The following research is centered on members of the family whose activities have been noted or chronicled in various publications over the years. — D.J.
Stephen Samwell (c.1771-1816), Circus Manager
Head of the Samwell family, Stephen Samwell's Circus was on the road in England in the 1700s according to an 1896 interview with his daughter-in-law, Charlotte Samwells, making them amongst the first traveling circuses in England. The earliest detailed recording of his circus found to date was at Hull in 1813—Messrs Kite and Samwell's Equestrian Circus. Stephen had at least one son, William, who carried on the circus business. Stephen died in Lynn, Norfolk, aged 45, as a result of an accident by which an elephant that was part of the circus menagerie had to be killed.
William Samwell (c.1790-1833/5), Circus Manager
Born to Stephen Samwell, William was no doubt part of his father's traveling circus company from the late 1700s. He married Mary Ann Jones in Wakefield, Yorkshire, in 1813 and they had several children over the next twenty years.
William would have inherited the proprietorship of Samwell's Circus on his father's death in 1816. He seems to have concentrated on the circus route of south England, particularly Norfolk, given that the births of most of his children were in that county. A description by Thomas Frost of the Samwell's Circus visit in 1825 to Bartholomew Fair gives a graphic account of William as a "fat, contented, easy proprietor" who was somewhat on the obese side.
In an 1896 interview, his daughter-in-law, Charlotte Samwells, said Samwell's Circus was so successful they did not have time to count their takings and simply threw the money on the floor of their caravans and "walked about in it." Later claims in advertising state that King William IV and Queen Adelaide patronized the circus in August 1835, and it would seem that thereafter, the circus was renamed Samwell's Royal Circus and carried the Royal Crest.
The location and date of William's death is unknown but it must have been between the baptism of his son Thomas in 1833 and July 1835, when his wife was managing the circus.
Mary Ann Samwell, née Jones (c.1792-c.1840), Circus Manager
Married to William Samwell in 1813, and mother to eleven children (with six surviving to adulthood), Mary Ann took over the proprietary of Samwell's Circus on the death of her husband around 1833/5. The circus was thereafter sometimes called Mrs Samwell's Riding School.
Newspaper articles give vivid descriptions of how bad weather affected the Dover Fair in 1836, including Mrs Samwell's "equestrian booth." Later claims in advertising state that Princess Victoria and her mother, the Duchess of Kent, patronized Mrs. Samwell's Royal Circus in Ramsgate, in December 1836.
The next notable event occurred at Blackburn, Lancashire, in April 1839, where Mary Ann set up the circus in the market area only to have it destroyed by the local Police Trustees, who claimed she had not received the correct permission of tenure. Local newspapers loudly supported the "spirited proprietress," lamenting that she was a "widow with a large family" and criticized the Trustees for using her as a scapegoat in their on-going feud with the man who claimed to have ownership of the market area.
The circus was eventually re-established and must have made good business by newspaper advertisements of ongoing patronage by locals and the Army. After their stay, Mary Ann sued the Police Trustees for wrongful damage and won the case. By all accounts available to date, Samwell's Circus never revisited Blackburn. Mary must have died shortly afterward, as an obituary of her son Thomas suggested his parents died within a few years of each other.
Stephen Samwell (c.1817-1859), Equestrian
Born in Mildenhall, Norfolk (now Suffolk), the eldest (living) child of William and Mary Ann Samwell (née Jones). Stephen took over management of Samwell's Royal Circus on the death of his father around 1835, as he is described in playbills as either Riding Master or Manager under the proprietorship of his mother. Following his mother's death there are scant references to his appearances with any circuses; he appears a few times with his brother William in 1852 and 1853 with circuses at Gravesend and Canterbury.
In 1843, in Bristol, he married Sincer Roseler Lee, who no doubt was from the Lee circus family, since she was described as an equestrienneA female equestrian, or horse trainer, horse presenter, or acrobat on horseback. on the marriage record, and one of their sons was named Thomas Lavater, reflecting the names of a Lee acrobat and Lavater Lee, the famous gymnast and equestrian.
Stephen and Roseler had seven children, only one of whom carried on in the circus business (Stephen James, a.k.a. Leon). After Stephen's death, the surviving children (except Leon) took the surname of Roseler's new husband, Cedric Wright, and his occupation of upholstery. Stephen died in 1859 at Greasley, Nottingham, aged forty-two, of heart disease and lung congestion.
Stephen James Samwell (a.k.a. Leon Samwells, 1844-after 1890), Equestrian, Aerialist, Actor
Born in Penzance to Stephen and Roseler Samwell, Stephen worked as an equestrian in his childhood alongside his father. In adulthood he specialized as an acrobat under the name of Leon Samwells. Around 1864 he married Amy Julian, who, in a later newspaper article, was called "the greatest female acrobat of her day."
There have been many Julians working in British circuses, so there is probably a relationship with Amy. Leon and Amy had three children who all worked in the entertainment industry. In 1864-5 Leon and his wife toured some cities of Australia with the Lenton Troupe, who had a trapeze act, and he also acted in some plays. Their daughter Rose was born in Melbourne about 1864. Leon then went to New Zealand with the Lenton Troupe, but was back in Australia in 1866 and 1867.
The next we hear of him (as Stephen) is in San Francisco, where his son Martin was born in 1869, and he and his family were on the U.S. 1870 Census in that city. The next year, his uncle Thomas had migrated to the U.S., and there are some references to Leon appearing with Professor Samwell's Great Combination Circus and Animal Show in that country. By 1875 Leon was back in New Zealand, but he was again in the U.S. the following year.
In 1883, a newspaper reported on Leon attempting to shoot his wife because she would not live with him. Later reports comment that he was tried but acquitted on the grounds of insanity. Amy obtained a divorce from Leon in 1885 and left with the children.
Leon was back in New Zealand and Australia in 1886. In early 1890, Leon's mother, Roseler, made an impassioned plea to the media for the whereabouts of her son, who replied from New Zealand through the press that he was suffering from rheumatism. This is the last we hear of Leon and his fate is unknown. His wife, Amy, died in 1897.
Rosalie Samwell (a.k.a. Rose Julian, c.1864-1903), Acrobat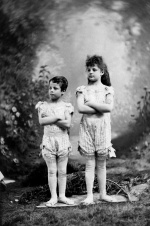 Most probably born in Melbourne (as all newspaper references state, although there is no registration in Victorian records) to Leon and Amy Samwells, née Julian. Along with her brother Martin, she took her mother's maiden name as a surname; they were known as "The Julian Acrobats" in their younger years.
It is not clear whether she traveled with her father, Leon, in his jaunts to and from Australia, New Zealand, and the U.S., although she is recorded with the family in the 1870 and 1880 U.S. Census. It is probable, after the incident where her father shot her mother, and the divorce that was granted in 1885, that she became estranged from her father—particularly considering the change in surname.
The earliest detailed recording of Rose's adult career is her appearance with Barnum's Circus in 1886. This article states she had been performing as a contortionist since she was eight, and had been trained by her mother. After this year, Rose and Martin Julian appear in various performances as The Julian Acrobats, and Rose is frequently praised as the "greatest contortionist" of the time.
In 1892, Rose met the boxer Robert Fitzsimmons when The Julian Acrobats traveled with the Fitzsimmons Show Company. Two years later, Rose married Bob in New York; they had three children. Rose's brother, Martin, became Fitzsimmons's manager. Some newspaper reports described Rose as being very influential over Bob's career; she would urge him on by calling out "Hit him in the slats, Bob!" Rose died in New York in 1903, of typhoid pneumonia.
Stephen Martin Samwell (a.k.a. Martin Julian, 1869-1919), Acrobat, Actor, Boxing Manager
Born in San Francisco to Leon and Amy Samwells, née Julian. From childhood, Martin was part of The Julian Acrobats alongside his sister, Rose. Later reports described him as a "nimble and a natural contortionist." By 1890 he was living in New York as an actor, but he occasionally traveled abroad. Apparently, he put on weight and had to give up acrobatics.
It is not clear when he became manager to the boxer Robert Fitzsimmons, but in 1894 he married Bob's first wife, Louisa, on the same day that Bob married Martin's sister, Rose. Louisa and Martin had two daughters. In a later article about Bob, Martin is described as "short and fat." It would appear that The Julian Acrobats were no more after Martin took over management of Fitzsimmons. By 1899 Bob and Martin had parted company after a much-publicized argument ending in a fight. Martin died in 1919 of pneumonia.
Florence Samwells (a.k.a. Theo or Theoline Julian, c1872-?), Singer, Aerialist
Born in California to Leon and Amy Samwells, née Julian. Florence appears with her family in the U.S. Census of 1880, but her first notation in the entertainment industry is around 1888, when she made her debut as a vaudeville performer. However, a later article states she was a member of the Julian Troupe (this is probably not entirely correct, since the Julian Acrobats were always described as just Rose and Martin).
In 1901 she married Clarke Ball, a boxing promoter and theatrical manager. She continued her singing career, although in 1909 she appeared on the "flying rings" as Florence Julian in New York. That same year, her husband deserted her (he claimed he was broke and destitute) and Florence obtained a divorce in 1912. They do not appear to have had any children. By the 1920 census, she was using the Julian surname again. Her whereabouts after 1920 are unknown.
Mary Ann Samwell (c.1819-1862), Equestrienne
Mary Ann was the first daughter born to William and Mary Ann Samwell (née Jones) in England. She worked in her parents' Samwell's Circus as a child. Advertisements in the 1838 performances in Blackburn introduced several of her acts, such as The French Flower Girl, The Circassian Bride, and The Heroine of the Chase. One performance was for her benefitSpecial performance whose entire profit went to a performer; the number of benefits a performer was offered (usually one, but sometimes more for a star performer during a long engagement) was stipulated in his contract. Benefits disappeared in the early twentieth century., perhaps as a wedding gift, for in June of that year she married Henry Cornwall, an equestrian and musician, in Preston, Lancashire.
Henry and Mary Ann then moved to Jersey, in the Channel Islands, where the census records describe Henry as a riding master and publican. In the 1840s, Henry managed various circus entertainments, such as Cornwall's Temple of Wonder, Cornwall's Circus, and Cornwall's New Equestrian Amphitheatre, which toured northern England with some of Mary Ann's brothers in the companies as equestrians. In one advertisement, Mary Ann was billed as "the First Female Equestrian in England."
By the 1851 census, they were back in St. Helier, with Henry managing a riding school. Since there are no further references to the Cornwalls in England, it would appear they stayed in Jersey for the remainder of their lives. They did not have any children, and in 1862, Mary Ann died, aged forty-four, of a uterine tumor. A few years later, Henry converted his riding school into Cornwall's Royal Amphitheatre and Circus. However, his business did not flourish and, in 1868, he sold out to a London act that renamed it The Theatre Royal. Henry died very soon after in Jersey.
John Samwell or Samwells (c.1820-1883), Equestrian

Born in Norfolk (either Norwich or Lynn) to William and Mary Ann Samwell (née Jones), John appeared as an infant equestrian in his parents' circus shows and, in adulthood, continued the profession with much success. He spent most of his life on the road appearing in various circuses, many with famous names: Hughes,
Cooke
, Macarte,
Ginnett
,
Hengler
, Pablo Fanque,
Sanger
, and Quaglienie. He appeared mainly in England but also on the circus circuit in Ireland.
In early adulthood, John was particularly noted for his portrayal of Dick Turpin on the steed "Black Bess," in the classic pantomimeA circus play, not necessarily mute, with a dramatic story-line (a regular feature in 18th and 19th century circus performances). of Turpin's Ride to York, and he played this popular character for at least fifteen years. He was also a character actor and played the parts of Shylock, Richard III, and other notables in "hippodramas." He was once given great praise for the "novel equestrian feat" of driving twenty horses at the head of a street parade in Bradford in 1853, on a road that was narrow and ill shaped.
In the 1840s, he appeared in his brother-in-law Henry Cornwall's Temple of Wonder at Bristol as "The Energetic Horseman" with "daring leaps". In a playbill for a London show he was described as "one of the most elegant and graceful riders of the day." He may have been the Mr. Samwell who, along with some of his fellow circus performers, was imprisoned for two days on the charge of "playing music and dancing in an unlicensed premises" in 1845, in London.
In 1849, in Gloucester, he married Charlotte Partridge, whose sister Ann was the wife of Jean Pierre Ginnett, and the mother of George Ginnett, the circus proprietor. John and Charlotte had three children, two surviving to adulthood, who continued on in the circus business. John took his family on the road, and at various times in the 1850s-1860s, appeared with some or all of his brothers in different circus companies.
Around 1867, John incurred a serious injury to his right arm, which forced him to curb his equestrian feats and give up his most famous tricks. In the 1881 census, he is recorded alongside his son-in-law, John Walker, as equestrian in Drake's Circus—so perhaps he was able to continue some form of circus performance.
In 1882, his wife, Charlotte, made a passionate plea through the media asking for assistance for John, who was by then quite ill. Unfortunately, John died in Lambeth the next year of cirrhosis of the liver. His death notice described him as "Once a famous equestrian."
Charlotte Samwells, née Partridge (1817-1907), Equestrienne
Born in Leigh, Essex, to Isaac and Ann Partridge. Her sister Ann married Jean Pierre Ginnett; they were parents to George Ginnett, the circus proprietor. In her younger years Charlotte performed as an equestrian in Ginnett's Circus, and this is probably how she became introduced to the Samwells.
Charlotte married John Samwell in 1849 in Gloucester, and they had two surviving children, Amy and Roland. When her husband had to give up circus life due to an injury around 1867, she became a Lodging House Keeper, in premises that were described as a rendezvous for circus folk. On deterioration of her husband, she appealed to the circus industry for support through The Era (the entertainment trade journal) in 1882.
Her husband and her son-in-law, John Walker, died a few months apart in 1883. In the later years of her life, her daughter Amy was living with her. Charlotte gave a long interview to The Era in 1896, in which she described the early years of circus life. She died in 1907 in Midlothian, Scotland, of heart failure and senile decay.
Amy Samwell or Samwells (1851-after 1901), Slack-Wire artiste, Equestrienne
Born Emily Amy in Gravesend, Kent, to John and Charlotte Samwell, she was always known as Amy. In adulthood she added the 's' to her surname, like her brother, Roland. Her infant years were spent on the road alongside her father and brother in the circus business, where she was described as an equestrian actor.
From the age of ten, she was appearing on the tight rope. By her late teens, and after her father's accident, she branched out and appeared in many different circuses across north England. At one stage she was part of an equestrian quadrille, Les Lanciers, a troupe of young women who performed complex and creative maneuvers on horseback. She also spent many seasons with her cousin George Ginnett's circus, mainly in southern England.
By the 1870s, Amy had turned almost exclusively to the slack wireA Tight Wire, or Low Wire, kept slack, and generally used for juggling or balancing tricks., and was frequently described as the "Queen of the Wire." Her expertise and talent earned her high praise, and she performed throughout England, Scotland, Spain, the Continent, as well as South America.
Amy married her first cousin, John Walker, an equestrian, in 1879 in Portsea, and thereafter they frequently advertised their double act. A few months after her marriage, Amy was involved in an incident in Austria, where a stag used in the circus attacked her—but was saved by her husband. In 1882 their only child was born, but he died in February 1883. Amy suffered further sorrow when her husband, John, died in May 1883. She had already lost her father, John Samwells, in January 1883.
In the 1880s-1890s, Amy continued her slack wireA Tight Wire, or Low Wire, kept slack, and generally used for juggling or balancing tricks. performances, often teaming with her brother, Roland. In the early 1890s, she suffered an injury to her knee and had to retire from performing. She took up costume design and wardrobe work for the remainder of the century. Amy was last recorded in the 1901 census, living with her mother Charlotte. Her whereabouts after that year are unknown.
John Henry Walker (1851-1883), Equestrian
Born in Surrey or London to Henry and Nancy Walker, née Samwell. He probably learned his skills from his equestrian father, although no records have been found for his younger years. In his twenties, he performed mainly on the Continent and heralded his many talents in advertisements: "renowned English Equestrian, Arabian Vaulter, Great Slack-Wire Artiste, Twenty-Horse Driver, Double Acts, Equestrian Juggler, Champion Backward and Forward Bareback Juggler, Jockey Act, Ten Horse Leaper Clown, Whimsical Walker (etc)."
In 1879, he married his first cousin, Amy Samwell, in Portsea, Hampshire, and they went on the road in England (and some Irish and European cities) as a double act in many circuses. John and Amy only had one child, Roland William, most probably named after his parents' brothers, but the child lived barely six months. Tragedy struck again when John died in May 1883 in Surrey of tuberculosis. He was thirty-one and was still working two months prior to his death.
Roland Samwell or Samwells (1857-1908), Equestrian, Ringmaster, Scenic Artist
Born to John and Charlotte Samwell in Rochford, Essex. In her 1896 interview, his mother, Charlotte, said that Roland had displayed a talent for drawing and painting from a young age. Roland spent his childhood learning the art of equestrianism under the guidance of his parents. His future career, however, would take him both behind the scenes as an inventor of circus gadgetry and a scenic artist, and out the front as a Ringmaster.
From his early twenties, Roland was advertising his talents as Property Master, Decorative Artist, and Ringmaster. He performed with some of the great names in the British circus— Ginnett's (who were his cousins), Ohmy's, Hengler's, Cooke's, and Sanger's. By the 1880s, he was well known for his inventions—in particular, "the Elaborate Transformation Scene with its Thirty Wonderful Changes, covering the arena with a glittering mass of splendour," and the "Great Mechanical Ring Fencing," amongst other vivid and exciting descriptions.
After the death of her husband in 1883, Roland's sister, Amy, frequently teamed with him and they worked in the company of many circuses throughout Britain. In 1886 Roland performed as Ringmaster before Queen Victoria at Windsor. His father, John, had performed for the Queen before him as a child, when Victoria was still a princess, in 1836.
In 1889 in Edinburgh, Roland married Mary Ann Frances (a.k.a. Marion) Bowen, daughter of Charles Bowen, the circus clownGeneric term for all clowns and augustes. '''Specific:''' In Europe, the elegant, whiteface character who plays the role of the straight man to the Auguste in a clown team.. Her mother, Alice, had the stage name of Madame Elvira, and consequently, Mary Ann's stage name was Miss Elvira, advertised as Mdlle Elvira alongside her husband, Roland Samwells. Miss Elvira's expertise was equestrianism and tight rope dancing. They performed throughout Britain in the 1890s, but from the birthplaces of their children, appear to have been based in Stockport, Cheshire. They had several children—most of whom died in infancy—but none of the survivors took up the circus business.
No references have been found of Roland's performances in the twentieth century, but perhaps he had to retire due to ill health, considering that most of his children died in infancy of lung conditions. Roland died on Boxing Day 1908 of tuberculosis. His wife, Mary Ann, was recorded on the 1911 Stockport census, but her whereabouts thereafter are unknown.
Nancy Harriett Samwell (1821-after 1881), Equestrienne
Born in Norwich, Norfolk, to William and Mary Samwell (née Jones). Compared with her siblings, not much is known about Nancy's life. As a child she performed with her parents' circus on the tight rope and the slack wireA Tight Wire, or Low Wire, kept slack, and generally used for juggling or balancing tricks., and she was also an equestrienneA female equestrian, or horse trainer, horse presenter, or acrobat on horseback.. She married Henry Walker, equestrian, some time between 1838 and 1843 (there are no records of marriage in England). Their first child was born in Ireland around 1843. Other children were born in Norfolk, London and Scotland.
Their son John, a noted equestrian, married Nancy's niece, Amy Samwells. Henry died before 1879, and the last confirmed sighting of Nancy was in the 1881 Aldershot census, where she and her son William were described as "travelers." Thereafter, her whereabouts are unknown.
William Samwell (1827-c.1872/4), Equestrian
Born in Mildenhall, Norfolk (now Suffolk) to William and Mary Samwell (née Jones). As expected, William was taught equestrianism from an early age and appeared in his parents' traveling circus, billed alongside his brothers as an "infant equestrian." Of all the Samwells, William spent the most time performing in circuses in Europe. In the early 1850s (and a few times in the 1860s), he performed with his equestrian brothers in London, Gravesend and Canterbury. Otherwise, he performed in various circuses throughout England during that time.
Exactly when William first went to Jersey we do not know, although he probably visited his sister Mary Ann, married to Henry Cornwall, a riding master and hotelier in St Helier. This may have been how he met his future wife, Mary Ann Fowler, who he married in 1851 in St. Helier. She was a music teacher (or professor of music as described in some census records), whose mother, Mary (née Kinver), had played piano with the violinist Niccolò Paganini.
William and Mary Ann had several children, born in Jersey between 1853 and 1855, with their last child, William, born in Belfast, Ireland. So Mary Ann was obviously on the road with her husband for at least one tour; otherwise she appears to have remained in Jersey. From family stories, the relationship between William and his wife was strained as he took the children on the road throughout England and the Continent, advertising their act as William Samwell and Family.
The first record of William performing with his children is a notice in 1865, advertising "William Samwell and Son" finishing their engagement in Copenhagen, and living in Yorkshire. William, Jr. would have been about seven years old and, probably around this age, he was the subject of a wood carving of his performing a backward somersault on horseback.
Mary Ann died in St Helier in 1867 of consumption, and perhaps this is why William, Jr. ran away from the circus in Suffolk—according to an advertisement his father placed in The Era in 1868. He was obviously located because later advertisements included "and son" to the name of William Samwell, as they travelled throughout England and Europe.
Sometime between July and October 1868, daughter Mary Jane left her father's circus to live with her grandparents, the Fowlers, in Jersey—although she was back for a short stint with her father in 1869. From 1870 on, William was advertising his act with his remaining two children (son William and daughter Adeline).
In mid-1870 William had teamed with Pablo Fanque for the Fanque and Samwell's Circus, playing in Chester. The partnership appears to have been short-lived, for Fanque was appearing alone in Warrington a month later—although it seems William's brother, Thomas, took up management with Fanque later in the same year.
Also in 1870, and in 1871, William and his children were in Switzerland, Prussia, Portugal, and Spain, and performed as well in England. The last we hear of William, he is in Spain in 1872. A later advertisement in The Era in 1874 describes him as "the late William Samwell," so he may have died somewhere on the continent (no death is recorded in England or consular records). His son William appears as a sailor in the 1881 census but disappears afterward. His daughter, Adeline, is not seen again after 1872. (See separate entry for Mary Jane Samwell.)
Mary Jane Samwell (1853-1947), Circus performer in childhood
Born in St Helier, Jersey, to William and Mary Ann Samwell (née Fowler). In childhood she toured with her father's circus, and alongside him in the companies of other circuses. By her own accounts to her children, she did not like being in the circus and talked about how she did sword dances and Spanish dances whilst playing castanets, and how once a horse rolled on top of her.
When her mother died in Jersey in 1867 of consumption she left the circus to live with her grandparents, the Fowlers, in Jersey—although advertisements show her with her father's circus in 1868-1869. When she finally left the circus permanently, she became a milliner and, in 1876, she married Robert Kirby, a marine engineer, in St Helier. They moved to London and had several children—none of whom worked in the circus, although her daughter Adeline (obviously named after her sister) was an opera singer before her marriage. Mary Jane died in Kent in 1947.
Thomas Samwell or Samwells (1833-1906), Animal Trainer, Equestrian
The last child born to William and Mary Samwell (née Jones) in Maidstone, Kent, Thomas was the most famous and successful of the Samwell circus family. In his early adult years, he was a gifted equestrian, once called "the Greatest Horseman in England," but he eventually turned to training dogs and goats.
As a child, Thomas was billed as an "infant equestrian" in the family circus. In his early adult years, during the 1850s, he was on the usual circus equestrian circuit in England, sometimes in the same company as his brothers William, John, and Stephen. In 1856 he married Mary Ann Whiteley in Claines, Worcester. She was an equestrienneA female equestrian, or horse trainer, horse presenter, or acrobat on horseback. from the Whiteley circus family. They had at least four children, but it seems only one continued in the business.
Thomas was on the circus circuit in England, but he must have been abroad in the early 1860s, owing to the birth of his son, John, in Poland in 1861. By 1863, he was back in Britain performing as a "pantomimic horseman" in Scotland and Lancashire. The following year is the first record of his own circus, Thomas Samwell's Circus, playing in Bailston, with his brother William and nephew Henry Whiteley in the company. This circus toured Scotland and some advertisements included "trickAny specific exercise in a circus act. act with performing dog," the first reference to Thomas's future talents.
By early 1868, Thomas had turned to training dogs, billed as his "Unrivaled Troupe of Performing Dogs." He toured extensively in England and seems to have been in great demand according to advertisements. He played London non-stop from July 1868 to November of the following year.
One author wrote that Thomas "has hit upon a new and capital idea" with a "clever Clown Dog." Thomas was now billed as Professor Samwells, a title he retained for the rest of his performing career. As his obituary was later to show, he was so successful at this new act that the famous circus manager "Lord" George Sanger paid Thomas "at the highest salary ever paid an animal trainer up to that time."
Following this successful season in London, Thomas took the dogs on the north England circuit in 1869. His act now included "Miniature Steeplechase Poodles" and performing monkeys. The Clown Dog was still a popular feature and received the most rapturous applause and attention. It was during his Manchester appearances that Rosalie Bowen and her daughter Mary Ann appeared in the company. Mary Ann Bowen would later marry Thomas's nephew, Roland Samwell.
In 1870, Thomas was with Pablo Fanque's circus, and later went into partnership with him, advertising Fanque and Samwell's Circus in northern England for a few months. By the end of that year, Thomas was on his own again with Samwell's Cirque de Variété, displaying equestrian tricks, performing dogs and monkeys, and clowns. His act also now included "the Equestrian Goat," presumably a goat riding a horse.
1871 saw Thomas take his show back to London, but by year's end, he had moved his family to the United States, arriving in New York in December. Within a short time he was headlining performances with his "School of Educated Animals," complete with the "Great Equestrian Goat in his Act of Horse Goatship." In typical florid style for American circuses, Thomas's show was called Professor Samwells' Great Combination Circus and Animal Show.
By 1872 Thomas was in partnership with Conklin Brothers & Samwells' Trained Animals, which toured extensively throughout the U.S., South America, Mexico and South Africa. Thomas's cousin, Leon Samwells, appeared as an aerialistAny acrobat working above the ring on an aerial equipment such as trapeze, Roman Rings, Spanish web, etc. with the show in South America. Near the end of the decade, Thomas was working with various other circuses in America.
By the mid 1880s, Thomas had teamed with the American circus manager Adam Forepaugh to produce Forepaugh and Samwell's Circus, which toured the U.S. for at least three years.
In 1893 newspapers reported an incident with Thomas's act, which by now numbered goats, dogs, cats, and five large apes. One of the apes broke free during the act and attacked Thomas, but his wife came to the rescue. Interestingly, the article states his wife's name was Grace, so what had become of Mary Ann, we do not know. "Grace Samwell's Educated Goats" were exhibiting in New York in 1893.
Although injured in the incident with the ape, Thomas was soon back on the road—this time with ponies and birds added to his menagerie. However, the next we hear of him is not until 1901 in New York, when he accused showman Fred Darling of poisoning him over a dispute about pay.
Thomas was ill only a short time and the court acquitted Darling owing to insufficient evidence. There was also the suggestion that Thomas was under the influence of alcohol at the time of the alleged poisoning. Immediately after the acquittal, Thomas was arrested for stealing a dog, but nothing is known of the outcome. He was exhibiting his dog show in New York later that year.
By mid 1906, Thomas was in Arizona, but in October he died in Shreveport, Louisiana. His obituary stated that he "enjoyed an international reputation second to none in his day as an animal trainer." This report said he died in hospital after a short illness, tended by his wife.
Thomas Lucky Samwells (1869-1941), Circus Performer
Born in London to Thomas Lucky and Mary Ann Samwells, née Whiteley, he was on the passenger list alongside his siblings and parents in 1871, when the family emigrated from England to the United States. He may have been the "India Rubber Boy" sometimes billed with his father's circus, but this may have also been his older brother, John (born about 1861 in Poland). His father's obituary of 1906 states that Thomas, Sr. was survived by wife and son, so obviously son John was deceased—although the report also called for anyone knowing the whereabouts of the surviving son.
It would appear that this son, Thomas, Jr., was in Mexico as the 1910 US census states that he moved to California around the time of his father's death—and perhaps that is the reason why he moved north. He had married a Mexican woman and had a son, Antonio Flores Samwell, born about 1907 in Mexico.
In the 1927 Los Angeles City Directory, Thomas is listed as an Artist. He died in 1944 of heart degeneration and cerebral arteriosclerosis. His occupation on the death certificate states he was an entertainer in the circus. Otherwise, nothing is known of his career.
Suggested Reading
Caroline Cavanagh, Once a Famous Circus — The Saunders and Samwell Travelling Circus Families (Darwin, Uniprint, Charles Darwin University, 2017) — ISBN 978-1-925167-82-5
Image Gallery