The Steben Sisters
From Circopedia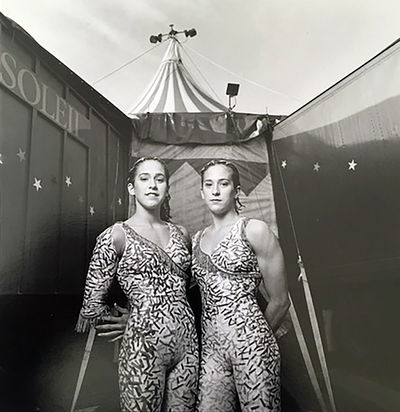 Aerialists
By Dominique Jando

Born July 26, 1974 in Montréal, Québec, twin sisters Karyne and Sarah Steben are third-generation Canadians whose family originally hailed from Italy. Their parents are Michelle Bergeron and Claude Steben—a well-known Canadian singer, actor and television host. Theirs is a large family of seven siblings, all girls!
Claude Steben introduced Karyne and Sarah to show business when they were six-year-old: They participated in his popular children's television show, Les Satellipopettes. As children, the twins were quite physical and they both trained in dance and gymnastics. Their travels began in these early years, during which they visited twenty-two countries and learned to speak German, English and Spanish. (Being from Québec, French was their native language).
At age 16, they were spotted by Andrew Watson, a former aerialistAny acrobat working above the ring on an aerial equipment such as trapeze, Roman Rings, Spanish web, etc. and Artistic Director and Talent Scout for Cirque du Soleil, who helped them build a swinging trapeze duet—inspired in part by Luc Martin and Hélène Turcotte's Duo Mouvance, which had just taken the Festival Mondial du Cirque de Demain in Paris by storm with its amazing duet on the swinging trapeze. (Luc Martin and Hélène Turcotte would soon cut the swinging section of their act, transforming it into a mesmerizing tango on the static trapeze.)
Cirque du Soleil signed them for their production of Saltimbanco, with which they toured in Canada and the United States for two years. In 1992, they followed into Mouvance's footsteps and went to the Paris's festival, where they won a Gold Medal. In December 1994, they won a Gold Medal at the Gran Premio del Circo di Genova in Italy. The following year (1995), they were featured at the famous TigerPalast in Frankfurt, Germany—the "temple" of German varieté(German, from the French: ''variété'') A German variety show whose acts are mostly circus acts, performed in a cabaret atmosphere. Very popular in Germany before WWII, Varieté shows have experienced a renaissance since the 1980s.—and participated in the Circus Prinsessan Festival in Stockholm, Sweden, where they were awarded a Silver Medal. The twins were also featured that year in Patricia Rozema's Canadian film, When Night is Falling (1995).
From Cirque du Soleil to Hollywood
They rejoined Cirque du Soleil in October 1995 for the European tour of Saltimbanco and, while they were in Europe, the participated in the 1996 International Circus Festival of Monte Carlo, where they won the coveted Silver Clown award. They were also invited in June 1996 to entertain the G7 Summit's Heads of State in Lyon, France. In 1998, they returned to North America and settled in Las Vegas, Nevada, where they were featured in Cirque du Soleil's production of O at the Bellagio Hotel and Casino. Between Saltimbanco and O, they would spend a total of eleven years with Cirque du Soleil.
Taking a break from Cirque du Soleil, the Steben Sisters participated in a European show produced by RAI Uno (Italian television) and hosted by Adriano Celentano. In 2001, they re-settled in Los Angeles, following the men in their lives. Being in the American movie and television epicenter brought them new opportunities. They participated in the creation of aerial sequences for Madonna's Drownworld Tour (2001), and, from 2003 to 2005, they played the characters of Calidonia (Sarah) and Alexandria (Karyne) in the HBO television series, Carnivàle, set in 1934 in Oklahoma during the Great Depression and the Dustbowl.
Meanwhile, they performed their act in 2004 at the famous Teatro ZinZanni in San Francisco and Seattle, and, that same year, were involved in Bill Viola's video art work, The Tristan Project, a series of video sequences that served as backdrop to the action on stage during the performance of Peter Sellars's production of Wagner's opera, Tristan und Isolde, which premiered at Disney Hall in Los Angeles, before being performed at Paris's Bastille Opera. The twins were also featured in several commercials and music videos, notably for the group Aerosmith.
Finally, having both become mothers, Karyne and Sarah Steben converted their talents to teaching aerial arts in 2007. Nonetheless, in 2012, they found time to appear in Joss Whedon's movie Much Ado About Nothing, a contemporary, free adaptation of Shakespeare's play. In 2014, they published a book, 150 Daily Tone Up Exercises, for Barnes & Noble's Nook e-books.
Suggested Reading
Karyne Steben, Sarah Steben, Brian Farrell, 150 Daily Tone Up Exercises (Studio 5150, 2014)
See Also
Image Gallery