Tini Berman
From Circopedia
Cat Trainer
By Dominique Jando

Often billed as "Miss Yvonne"—and thus called sometimes Yvonne Berman—Tini (or Tintje, which literally means savor in English) Berman (1929-2013) was a talented and very popular cat trainer(English/American) An trainer or presenter of wild cats such as tigers, lions, leopards, etc. on the European circus scene from the 1950s up to the early 1970s. She was born Katharina Ijzerman on August 22, 1929 in Benthuizen (today Rijnwoude), a small town in the province of South Holland, in the Netherlands, to a family that was not related to the circus. As a young woman, Tini went on to work as a stenographer at the Dutch Defense Ministry, while studying to become a goldsmith.
Her studies were interrupted in 1951, when Tini Ijzerman fell in love with Adriaan Berman, a childhood friend of her brothers. Adriaan had become an animal trainer and presented a group of polar bears at Circus Carré in Amsterdam, during the traditional winter season of Circus Strassburger in the legendary "circus-theater." The polar bears belonged to the Klant Zoo, created by Willy Hagenbeck's stepson, Erie Klant (1912-1990), on the hill of Cauberg in Valkenburg (in the southeastern Dutch province of Limburg). The zoo was particularly renowned for its animal-trainer school: Adriaan had learned his trade with Klant, and when his contract with Strassburger was over, he returned to Cauberg with Klant's bears, and Tini in tow.
Miss Yvonne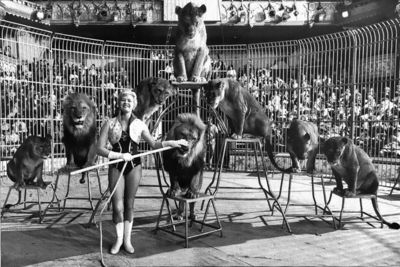 Tini and Adriaan married, but Tini had also fallen in love with the circus, and she was schooled as a
cat trainer
(English/American) An trainer or presenter of wild cats such as tigers, lions, leopards, etc.
at the Klant Zoo. She made her debut the following year, in 1952, at
Circus Willy Hagenbeck
with a group of five lions. Perhaps to tell her apart from Adriaan, she had become Miss Yvonne—a stage name she used principally in Germany. Blonde, athletic, elegant, with a winning smile and a Nordic charm, Tini was an attractive woman indeed, and the audiences liked her; her career quickly took off. She was featured at
Circus Mikkenie
in 1953, and the following year,
Circus Knie
contracted her to present a group of seven lions trained by Ladislav Ira. By then, her marriage was already falling apart.
For the 1954-55 winter season, Tini appeared with Knie's lions at Paris's Cirque Medrano, where she was billed as Miss Tintye (the German spelling of her nickname, Tintje), with the clown Pio Nock doing his comedy high-wire act above the cage. Right after that, she got a contract with Germany's celebrated Circus Williams, where she would spend the next six years of her life. It is with Circus Williams that she appeared for the first time in her native Holland in 1961. It is there, too, that an awestruck Gunther Gebel fell in love with her (unfortunately for him, the feeling was not reciprocated), and eventually took her place in the big cage for one performance—an experience that triggered his passion for big cats.
When Circus Williams went into partnership with the Spanish impresarios Manuel Feijóo and Arturo Castilla in 1962 to create the Spanischer National Circus (in which the first cage act(English/American) Act performed in a cage, such as lion or tiger acts. was that of the famous Spanish lion trainer Pablo Noel), Tini Berman hit the road on her own. She had spent the winter of 1961-62 with the Bertram Mills Circus at London's Olympia, and remained in England, at Blackpool's Tower Circus, for the summer season. She then continued her career in some of Germany's most prominent circuses.
From Lions To Tigers And Other Cats
In 1964, while working with Circus Carl Althoff, she switched from lions to a mixed group of lions and tigers. Then, at Circus Franz Althoff in1966 and 1967, she presented a group of seven tigers, and when she returned to Bertram Mills Circus in London for its farewell season at London's Olympia, in the winter of 1966-67, she worked with a mixed group of lions, tigers, leopards and black panthers belonging to Franz Althoff. Tini Berman was indeed an accomplished cat trainer(English/American) An trainer or presenter of wild cats such as tigers, lions, leopards, etc..
For the summer season of 1973, Miss Yvonne was featured in Germany's premier circus, Circus Krone, where she would finally put an end to her career as a cat trainer(English/American) An trainer or presenter of wild cats such as tigers, lions, leopards, etc.. She remained with Circus Krone, though, where she worked for many years as Box Office Manager. Tini Berman passed away on October 22, 2013, at age eighty-four. She was one of the great female cat trainers of the second half of the twentieth century.
Image Gallery