Uuve Jansson
From Circopedia

Aerialist
By Dominique Jando

Among the swinging trapeze artists of the early twenty-first century, Uuve Jansson stands out: In a period where adding more technical prowess seemed to have been the only path along which the specialty evolved, she brought back to the form an artistry that was hitherto increasingly waning—giving her act a wonderful and unique flavor while maintaining the highest technical standards. She has become indeed one of the world's very best artists of the specialty.
Beginnings
Uuve-Hanna Jansson was born October 8, 1985 in Stockholm, Sweden, into a family that was already deeply involved in the performing arts: Her father, Ulf-Håkan Jansson, was an actor and puppeteer who had also acted as a circus ringmaster(American, English) The name given today to the old position of Equestrian Director, and by extension, to the presenter of the show., and her mother, Eva, worked in the city of Stockholm's Cultural Department. Eva was instrumental in helping a then small circus organization, Cirkus Cirkör, to settle in Botkyrka, a suburb of Stockholm.
Cirkus Cirkör was (and still is) both a circus company and a circus school. Uuve went to see a performance of Cirkus Cirkör, and saw there a swinging trapeze artist by the name of Katja Kortström: Uuve was fascinated by her act, and decided there and then that swinging trapeze was what she wanted to do. Furthermore, Uuve not only wanted to be a swinging trapeze artist, but she also wanted to be the best swinging trapeze artist in the world! So goes the mind of strong-willed young girls…
Thus the Jansson siblings (Uuve and her brother, Ulf-Hampus) went to train at Cirkus Cirkör. Uuve was sixteen then. Immediately, she tried to convince the school's Head Coach to have classes with Sergei Kardionarov, who taught swinging trapeze. The Head Coach eventually gave in the following year, and at age seventeen, Uuve, who had only one year of basic training under her belt, began to learn swinging trapeze. Sergei didn't speak Swedish, and Uuve didn't speak Russian, which certainly wouldn't render her training much easier. Yet, as it often happens under such circumstances, coach and student quickly invented a language of their own with which they could communicate during their training sessions. Only them could understand it, but it fulfilled its function quite well, and it worked!
Uuve was passionate about her training, working assiduously every day, in the morning, at lunchtime, and after school. She had the necessary talent, and with such a regimen, she progressed quickly. She still wanted to be the best, and indeed she had heard of the best coach in the specialty, Victor Fomine, who had trained the world's greatest swinging trapeze artists from Elena Panova onward. Fomine was now in Montreal, and Kardionarov, well aware of Uuve's potential, told her to apply for Montreal's Ecole Nationale de Cirque. So did Uuve, along with her brother Hampus, and they were both accepted in 2005. The parting of ways was bittersweet for Uuve: Kardionarov had been her coach and mentor and had taught her all what she knew; but she also knew that working with Fomine was her best chance to better herself!
Award-Winning Aerialist
Uuve and Hampus went through the three-year professional program at the Montreal's school, both eventually specializing in aerials—and as she had wished, Uuve studied swinging trapeze with the legendary Victor Fomine. She graduated in 2008, and the day after her graduation, she and Hampus were offered a contract by Cirque du Soleil to appear in Dralion… in a double tissu(French) A double piece of hanging fabric, generally made of silk, used for an aerial act. (See also: Fabric, Silks)/strap actAerial act performed hanging from a pair of fabric or leather straps. See Aerial Straps.. Even though her swinging-trapeze act was not what Dralion needed, it was an offer they couldn't refuse.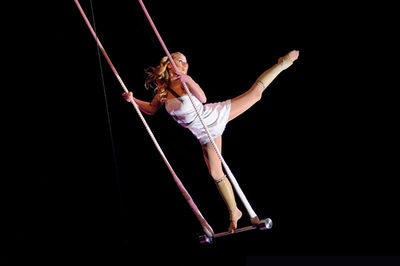 In 2009, Uuve Jansson was invited to participate with her trapeze act in the
Festival Mondial du Cirque de Demain
in Paris, but her on-going contract with Cirque du Soleil prevented her from doing so. The following year (2010), she left
Dralion
to perform at last her swinging trapeze act in the arena tour of Cirque du Soleil's
Alegria
. (Her brother was cast with Cirque du Soleil's
Varekai
, where he performed his solo
strap act
Aerial act performed hanging from a pair of fabric or leather straps. See Aerial Straps.
, and continued a career of his own.)
Uuve's contract with Alegria was relatively short-lived: Later in the year, she was cast in Cirque du Soleil's brand new production, Iris, conceived for the huge Kodak Theater (today the Dolby Theater) in Los Angeles. There she performed her swinging trapeze act, and would remain with the show until its closure in 2013. (In 2012, she performed with the cast of Iris at the Academy Awards® ceremony.)
In January 2011, Uuve Jansson was at long last able to compete in the Festival Mondial du Cirque de Demain. To an audience that had seen, since 1987, every top swinging-trapeze act trained by Victor Fomine, Uuve was a sensation and a breath of artistic fresh air. She was awarded a Gold Medal and the Prize of the President of the Republic—the Festival's top honor. Her childhood dream of being the world's best swinging trapeze artist had eventually come true.
Uuve returned to Paris in 2014, where she was invited to sit on the jury of the 35th Festival Mondial du Cirque de Demain. For this anniversary festival, Elena Panova was also invited to sit on the jury, and Darya Vintilova, another Gold Medalist at the Festival and student of Victor Fomine, was performing as a guest artist: It was a rare star encounter at the summit of the specialty!
See Also
Image Gallery