Difference between revisions of "Walter Jennier"
From Circopedia
Line 31:
Line 31:
 

==See Also==

 

==See Also==

 
 
−

* Biography: [[Ethel Jennier]]

+

* : [[Ethel Jennier]]

 
 
 

==Image Gallery==

 

==Image Gallery==
---
Revision as of 22:31, 2 June 2023
Acrobat, Aerialist, Sea Lion Trainer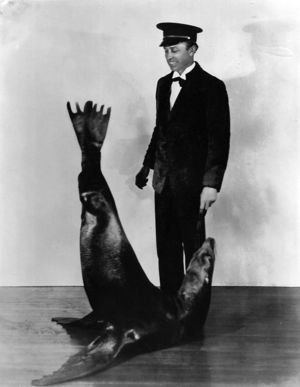 Walter Jennier (1891-1974) was an acrobat and
aerialist
Any acrobat working above the ring on an aerial equipment such as trapeze, Roman Rings, Spanish web, etc.
, who eventually led a brilliant career as an animal trainer with a sea lion named Buddy. He was born august 24, 1891 in Cincinnati, Ohio to George Jennier and Cornelia (Nina) Howland Jennier, who performed in circus and variety venues. George Jennier's family had changed their name from Hesselbach to Jennier.
The Jenniers were not a show business family, but Nina Howland was the niece of Dan Rice (1823-1900), the most famous American clown and entertainer of the nineteenth century, who also managed his own circus. George had been apprenticed to Dan Rice about 1860; he met Nina on one of her visits to her uncle. At that time, George performed a Risley actAct performed by Icarists, in which one acrobat, lying on his back, juggles another acrobat with his feet. (Named after Richard Risley Carlisle, who developed this type of act.), and Nina was a songstress with various shows.
Beginnings
Walter's older brother and sister, George, Jr. and Maud, were already performing a double trapeze act when Walter was born. Walter soon began learning acrobatics and trapeze, along with his younger brother Roy, with whom he created a double trapeze act. When the act was ready, they went on to perform in variety shows, vaudeville and circuses.
Many of the small circuses then traveled by horse-drawn wagons (larger ones traveled by train); truck shows were yet to come. Walter recalled that as boys, he and his brother would sometimes get out of the wagons and walk alongside when they got bored on a trip; the advance man arranged for lodging for the performers in the homes of the residents of the towns they played.
Walter and Roy performed their aerial act and, in addition, Walter rode mule hurdles and practiced bareback riding, which included a somersault on horseback. Later, when they reached adulthood, they worked increasingly the vaudeville circuits with their double trapeze act, to which they had added a comedy acrobatic act.
When the United States entered WW1 in December 1917, both brothers were drafted and joined the Army. They resumed performing after the war. Then, Roy met Julia Schafer, and when they married in 1926, she persuaded Roy to settle down in Washington, DC, where he became head reptile keeper at the National Zoo. Walter had no act that he could perform without his brother, but he still had to make a living.
His sister Maud had married into the Millette family, which was performing their flying actAny aerial act in which an acrobat is propelled in the air from one point to another. on the Ringling Bros. and Barnum & Bailey show that year, so he managed to get a job as a candy butcher(American) Concession vendor; so named because one of the first successful concessionaires of the American circus was a former butcher. (concession vendor) for the season. It is during that time that he started working with Mark Huling. Huling and his brothers ran multiple sea lion acts, and three of them worked in three rings with the Ringling show. The next season, Walter was working one of the sea lion acts.
Walter Jennier & Buddy
In 1929, he started out on his own with a single sea lion named Buddy. As "Walter Jennier & Buddy," he performed to My Buddy (1922), a song made popular by Al Jolson, among many others. Although it was a single sea lion act that used a talking routine, and therefore more suited to the stage than the circus ring, it attracted circus booking agents—perhaps because it was different than the traditional group sea-lion acts that could be seen in the rings at the time. Thus, Walter Jennier began a successful circus career as a sea lion trainer.
While working on the Sam B. Dill show around 1932, Walter met Ethel Harris, who had a successful swinging trapeze act which she performed as "Miss Aerialetta." They fell in love, and they married in 1934 while they were both working on the Tom Mix Circus. Ethel's breathtaking trapeze act and Walter & Buddy made for a perfect booking combination, and they were soon much in demand in circuses all over the country.
They toured with Russell Brothers, Tom Mix, Wallace Brothers, Arthur Brothers, Fred Bradna's circus venture to Cuba in 1937, King Brothers, Carson & Barnes, Wallace & Clark, and Hunt Brothers, along with a multitude of other outdoor and indoor shows, such as Polack Brothers and Orin Davenport, which worked indoor dates. On October 11, 1939, Ethel gave birth to a daughter, Jo-Ann.
In 1955, Walter went to Central America for a series of dates for Jerome Wilson when, sadly, he lost his long-time partner, Buddy. He decided to sit back and let Ethel work with a couple of sea lions that he would train for her. All went well until 1964 when they were working on the Ringling show with their sea lion act and Ethel's trapeze act. Then they began to grow apart and separated at the end of the season. They divorced soon after.
Ethel remarried and became Ethel Joyce; in 1965, Walter decided to retire, and he took that time to help his daughter, Jo-Ann, with her trapeze act and a new edition of the Jennier sea lion act. Walter Jennier died on the road, while traveling with the Royal Brothers Circus, in Toronto, Ontario on June 24, 1974, just shy of his eighty-third birthday. He had spent his entire life in the circus and would have never wanted it another way. He was buried in Riverview, Florida.
See Also
Image Gallery