Walter Nones
From Circopedia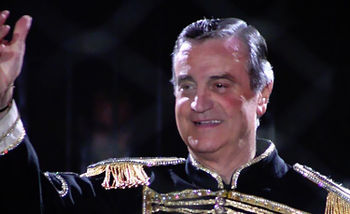 Acrobat, Animal Trainer, Circus Director
By Raffaele De Ritis

Even though he was not born in the circus, Walter Nones (1934-2016) was, in Italy, a reformer of the classic circus form, one of the few circus visionaries who have marked the second half of the 20th century (from Arturo Castilla to Jean Richard and Gerry Cottle) and built true circus empires in their own countries equating in strength the circus empires of yore.
Walter Nones was also a remarkable acrobat and a superb animal trainer; he had an engaging personality—as much when ha addressed his audience as when, away from the spotlight, he acted as the "general" of his enterprises, or in his dealing with the media and the Italian administration. Endowed with a solid intuition and a rare ability for taking calculated risks, he was able to change directions and diversify his company many times; his constant imperative was novelty, for which he was faithful to the style and methods of the great Italian variety entrepreneurs.
Walter Nones was able to build with his wife, Moira Orfei, a legend that went well beyond their circus—a circus that was certainly unique in the fact that it traveled constantly for fifty-five years without ever taking a true break! Nones was among the Italian pioneers of the internationalization of show business and, as such, he even became instrumental in the establishment of new relations between the former URSS and the Vatican.
Beginnings
Walter Nones was born in Trent, capital of the Trentino province in northern Italy, on June 18, 1934, the oldest of the four children of Giuseppe Nones and his wife, Adele, née Medini, a circus artist. Giuseppe was a cabinet maker; he spent his life between his workshop and the gym, following in that an old Trent tradition, whose many citizen had developed over the years a passion for gymnastics. With three of his gymnast friends, he had gone to perform as an acrobat in Bernardo Medini's circus, where he met Adele, the seventh of the fourteen children that Medini had with his wife, Adalgisa Caroli. They fell in love and got married…
At the outbreak of World War II, however, Giuseppe Nones stopped his circus escapades and returned to his workshop and a stable and more secure occupation. Walter, his brother Guglielmo, and his sister Loredana, were sent to study in a Salesian college. Sharing their father's passion for acrobatics, the siblings began to perform in school shows and took lessons from a well-known acrobat, Bruno Marcantoni, who had performed in the United States with the Barnum and Bailey Circus in 1910.
In 1951, the War over, the Nones family decided to embrace definitively a circus life, and they went on to work with two circuses whose directors had married two of Adele's sisters: the arena that Francesco Forgione had just opened in Puglia, and the company of Secondo Caveagna in Northern Italy. Walter Nones's repertoire at the time included juggling, floor acrobatics, aerial arts, and hand-to-handAn acrobatic act in which one or more acrobats do hand-balancing in the hands of an under-stander. balancing with his brother Guglielmo.
From the Trio Nones to Circo Hellas
Sadly, the Nones children lost their father the following year, in 1952; Walter was eighteen. They had now to provide for themselves and for their five-year-old brother, Giuseppe. Walter, Loredana and Guglielmo took dance lessons and created an acrobatic porté-lancé(French) An acrobatic presentation consisting of acrobatic jumps performed by an acrobat propelled by two or more acrobats from one to another. (Also spelled ''porter-lancer'') trio, a genre that was very popular in the late 1950s, and was suitable for variety shows—which were then flourishing—as well as for such major circuses as Togni and Palmiri, where they were eventually featured.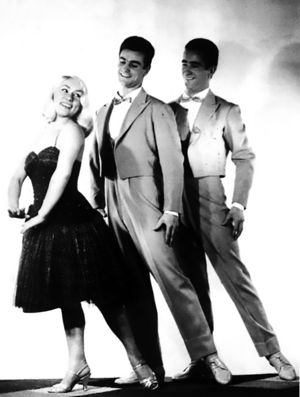 The trio also appeared at the famous cinema-variety Smeraldo of Milan, before joining in 1956 the company of Wanda Osiris (1905-1994), the last of the great Italian "meneuses de revue" (or "soubrettes" as they are called in Italy—the revue's female lead). On October 6, 1956, this led the Trio Nones to a spot on the extremely successful RAI Television special,
Rascel la Nuit
, featuring the celebrated actor-singer-songwriter Renato Rascel (1912-1991), and later to the "World Tour" of the great Neapolitan singer, Renato Carosone (1920-2001), then at the peak of his international fame.
During these years, Walter studied attentively various circus and variety styles and forms and the high-end entertainment genre that was illustrated in Alessandro Blasetti's very popular documentary film, Europa di Notte ("European Nights", 1959). Finally, a performance in the last sketch of Dino Risi's 1960 film Il Mattatore (starring Vittorio Gassman), shot under Orlando Orfei's big topThe circus tent. America: The main tent of a traveling circus, where the show is performed, as opposed to the other tops. (French, Russian: Chapiteau) on April 22, 1959, gave the Trio Nones the opportunity to accept the peripatetic Orlando's offer of a tour in Kuwait the following season.
On March 11, 1961 in San Remo, on the Italian Riviera, Walter married Moira Orfei (1931-2015), Orlando Orfei's niece—a beautiful circus artist who successfully moonlighted as a movie actress. It was a very quick ceremony, since the Trio Nones was then touring in Denmark and Moira was working on two films at Cinecittà. Among the most noticeable guests at the wedding were Hella Swoboda's elephants, who were then working with Orlando Orfei.
The Austrian Helene ("Hella") Swoboda, whose Circus Medrano had gone bankrupt two years earlier, wanted to launch a new circus with her Italian husband, Renato Medini. Walter decided to help and he joined them in the creation of a new company: November 10, 1962 saw the debut in Viareggio of the brand-new Circo Hellas; Walter involved his brothers, Moira's (Paolo, Mauro and Dea), and the Medini-Belley family in the venture. (One of Hella's sisters, Wanda, had married the Italian clown Davide Belley.)
Meanwhile, Orlando Orfei had contracted the German trainer Charly Baumann, one of the best cat trainers of his generation, who came from the famous Klant-Hagenbeck school of Walkenburg, in the Netherlands; Baumann taught Walter the rudiments of cat training with a group of five young lions belonging to Gualberto Niemen. Walter Nones made his debut in the big cage in March 1963, in Arezzo.
Circo Moira Orfei
With about 180 traditional circus enterprises dominated by six or seven large, high-quality establishments, the Italian circus was then at the beginning of an important transitional period. Walter was ambitious and wanted to challenge the status-quo; in May 1963 he opened his and Moira's own circus, Circo Moira Orfei, with a big topThe circus tent. America: The main tent of a traveling circus, where the show is performed, as opposed to the other tops. (French, Russian: Chapiteau) tent provided by Egidio Palmiri. He drew on his power of observation and a taste that his experiences abroad had matured, and applied to their circus his personal approach: simple, intimate and modern, with top-shelf acts.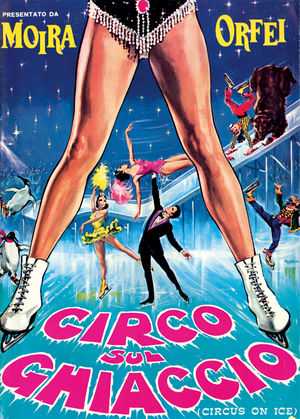 Moira interrupted her movie career to launch Circo Moira Orfei in the fall of 1963. It was then the third establishment on the road bearing the Orfei name: Consequently, advertising focused strongly on Moira's name, which had become a household name through her movies, and on the actual presence in the show, where she was featured with a dove act, and the presentation of three young elephants bought from the French
Cirque Amar
.
Walter had secured the services of Gunther Schmidt and Carola Michon-Petzold, talented animal trainers who came from the Cirque Amar. Gunther, who had helped Walter acquire Moira's elephants, presented a group of lions, while Carola was in charge of the horses. In 1973, Schmidt would return to Circo Moira Orfei to create a new lion act for Walter, and later a tiger act for Walter's brother Massimiliano (Giuseppe).
From then on, Circo Moira Orfei will unfailingly stand out for its warm atmosphere and the increasing popularity of its family nucleus, to which were added top acts often never seen before in Italy—lined up with indisputable talent and taste by Walter Nones. Starting in 1968, with the subtitle Festival Mondiale del Circo ("International Circus Festival"), Walter and Moira began to play regularly Rome and Milan, taking the place that had been traditionally occupied by Egidio Palmiri's circus.
In the fall of 1969, Italian circuses began a competitive race for innovations. On November 15, Walter and Moira previewed their Circo sul Ghiaccio ("Circus on Ice") in Reggio Emilia. If other European traveling circuses had presented "circuses on ice" before by flanking the traditional ring with an ice stage, Circo sul Ghiaccio was a genuine circus ice show production, and the first created in Italy with a team of professionals that didn't come from the circus: John Wertz was the choreographer, the costumes were by the famous opera and revue costume designer Sebastiano Soldati, and the set by Beppe Domenici. Presented under a huge big topThe circus tent. America: The main tent of a traveling circus, where the show is performed, as opposed to the other tops. (French, Russian: Chapiteau), seventy-four meters in diameter, it remains the most accomplished experiment in that genre. Beside Italy, it toured Germany in 1973.
In May 1974, anticipating a fragmentation trend that would spread within all the major Italian circus enterprises, Walter split his circus into two distinct units, entrusting his sister Loredana with his Circo sul Ghiaccio and keeping under his personal management the traditional one-ring Circo Moira Orfei-Festival Mondiale del Circo. Retitled Follie sul Ghiaccio, the ice-show featured the popular television comedian and impersonator Alighiero Noschese (1932-1979). Part of that show, including a guest appearance by Moira Orfei, was filmed for Jean Richard's French television series, Cirques du Monde in 1975.
International Tours
In the spring of 1975, the ice-show toured Spain and Portugal in association with Angel Cristo's Circo Ruso (which means Russian circus—although Cristo's show had nothing to do with Russia or Russian performers). Under the title Circo Ruso sobre Hielo ("Circo Ruso on Ice"), Cristo reverted to the old system of two performing areas: One, a stage with ice, the other a traditional ring for Cristo's animal acts. Loredana's unit returned to Italy in 1976, and went back to its original format. (Cristo toured in Spain for several years with his own version of Circo sobre Hielo).
The two units of Walter and Loredana traveled to several Balkan-Mediterranean countries (Greece, Bulgaria, Turkey, Yugoslavia, Hungary, Israel, and Libya) until 1980. This didn't always go without problems. In 1977, Circo Moira Orfei was contracted by an Iranian agency called Sportrama for a tour of Iran. It began rather well (including a lavish reception at the Imperial palace), but the venture gradually ran into troubles: Iranian religious fundamentalists had begun their revolution and, as an easy Western target, the circus became the object of protests—notably for showing "half-naked women."
The situation quickly deteriorated; first, fires materialized in the circus stables, and then Molotov cocktails were thrown at the artists' caravans during the circus's stay in Abadan. Walter decided to stop the tour and return to safety in Italy—only to discover that the Sportrama agency had vanished, leaving hundreds of dollars in fiscal debts. In the summer of 1978, the circus was shut down by the authorities, and the passports of its ninety employees and their families were confiscated. The circus found itself stranded in Tehran's suburbs, without any money and unable to perform. Horses had to be killed to feed the lions!
The Iranian authorities eventually released Moira in early October 1978, perhaps because of her movie fame. She returned to Italy, where she was able to stir a huge interest in the press. Sadly, having reached the peak of desperation, she also attempted suicide. Finally, the Empress Farah Dibah herself interceded with the Iranian Finance Minister, and starting on October 29, the Italian government was able to arrange the circus's repatriation by air and sea. Two and a half months later, on January 16, the Shah and the Empress fled the country and went into exile: the Iranian revolution had succeeded.
Empire Builder
Showing a remarkable tenacity, Walter Nones recovered from the Iranian disaster and began to lay the foundations of what will be considered a true circus empire. In 1980, in association with the well-known Italian impresario Leo Wätcher, Walter started establishing contacts with the Soviet Union. In the summer of 1981, he brought to Italian festivals and theaters the Russian Piatnisky Folk Chorus. This was the prelude to a more spectacular initiative: The Moscow Circus debuted on January 27, 1982 at the Palasport Olimpico arena of Turin. It had been absent from Italy for thirteen years.
The show offered a very strong program of top Soviet acts and was an unmitigated success. The tour of the Moscow Circus was perceived as a provocation by the Italian circus industry. Walter had kept out of the Italian touring scene for years, but now, with a confident entrepreneurial aggressiveness, he had begun to act on his own, without fear of competing directly with the giant Italian circuses of the time.
Walter's first Moscow Circus tour included Vladimir and Lyudmila Shevchenko's famous cage act(English/American) Act performed in a cage, such as lion or tiger acts., and Marina Kordoban's hula-hoop act, which was a novelty at the time. The second tour occurred in 1987; it included two legendary Soviet "attractions" (production numbers): Tamerlan Nugzarov's Caucasian Legend and Vladimir Volzhansky's high wireA tight, heavy metallic cable placed high above the ground, on which wire walkers do crossings and various acrobatic exercises. Not to be confused with a tight wire. spectacle, Prometheus. In 1990-91, the show was the Moscow Circus on Ice, with Vasiliy Timchenko's sea lions, and Yury Averino's magic production; it was headlined by the talented female clown Antoshka, whom Walter's PR team built into a popular television personality.
In 1980, Walter Nones closed Loredana's ice-show unit, but he had other projects in sight. Having now entered the nascent Italian "palasport" (arena) circuit, he secured the Italian exclusivity of the popular American ice-show, Holiday on Ice, which he toured from 1983 to 1988. On its second year in Italy, the show was presented under canvas; the touring tent, which was the imposing "Follie sul Ghiaccie" structure, was first called "Tenda Palasport" ("canvas arena"), then "Palanones" (the contraction of "palasport" and "Nones"); it was a precursor of the alternative performing spaces used now in Italian major cities.
At the same time, the Circo Moira Orfei offered a training space to the a new generation of children and nephews, while Walter and his brother Giuseppe (Massimiliano) started an ambitious program of new animal acts, and developed innovative housing facilities for their animals. They involved in their project some of the great trainers of the time : Gunther Schmidt, Bernd Jostmann, Henri Wagneur, Diana Antoine, Charles Knie, Gaston Bosman, and the legendary Jean Michon, under whose supervision Massimiliano's tiger act will reward the Orfei-Nones family with the first Italian Gold Clown at the Intenational Circus Festival of Monte Carlo in 1989.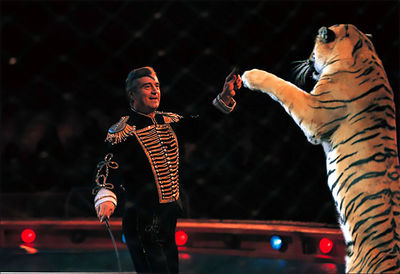 Walter Nones (and with him, Moira) had reached the pinnacle of his prestige. A month after the Monte Carlo triumph, he brought back the Moscow Circus, this time under the
big top
The circus tent. America: The main tent of a traveling circus, where the show is performed, as opposed to the other tops. (French, Russian: Chapiteau)
and with an exceptional program, followed a little later by the Red Army Choir. In the fall of 1987, opening in Modena, Circo Moira Orfei became
Moira piú Mosca
("Moira + Moscow"): In a rare move, the Soviet Ministry of Culture had accepted to send acts for a show that combined Soviet and Western acts—an experience they had done only twice before, once with
Circus Knie
in Switzerland, the other with
Circus Williams
in Germany. This successful collaboration will be renewed regularly until 2003.
In 1989, the Palanones hosted the Chinese Circus produced by the Austrian impresario and creator André Heller, and in 1990-91, the Moscow Circus on Ice. Meanwhile, Walter's universe expanded to television, with an unusually strong relationship between a circus and a network, a rare occurrence in circus history! It started on October 14, 1989 with the debut on RAI Channel 5 of Sabato al Circo ("Saturday at the Circus"), the first of five subsequent editions (sometimes differently titled) that ran until 1993, and which renewed the format of the televised circus show, with some of the world's greatest acts in the light frame of a commercial format.
Other circus ventures will follow, especially the annual Gran Premio del Circo ("Circus Grand Prix"), whose first edition was presented in Milan from January 8-10, 1993. With it, Walter was able to create in a few weeks a project that was then superior to the Festival of Monte Carlo. In 2002, Walter returned to the big cage with his group of tigers—a surprising move considering the passage of time—while continuing tirelessly to supervise the career of his and Moira's son, Stefano, with his cage acts, his constantly renewed circus productions, and the organization of tours, until the last days of his life.
Epilogue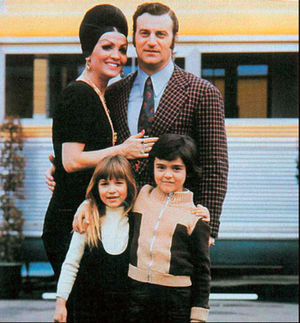 Walter passed away in Santa Donà di Piave, near Venice, in his sister Loredana's home, on September 26, 2016—just ten months after the death of Moira (November 15, 2015). Moira and Walter had two children: Stefano, born June 21, 1966, and Lara, born June 23, 1968, who made their circus debut in
Roberto Jarz
's
flying trapeze
Aerial act in which an acrobat is propelled from a trapeze to a catcher, or to another trapeze. (See also: Short-distance Flying Trapeze)
act, under the guidance of Oscar Papi,
Enzo Cardona
's old
catcher
In an acrobatic or a flying act, the person whose role is to catch acrobats that have been propelled in the air.
. They also had a
high school
A display of equestrian dressage by a rider mounting a horse and leading it into classic moves and steps. (From the French: Haute école)
act prepared by Diana Antoine, with which they won a Silver Clown at the International Circus Festival of Monte Carlo.
Stefano then became a remarkable cat trainer(English/American) An trainer or presenter of wild cats such as tigers, lions, leopards, etc.; he married the Italian actress Brigitta Broccoli with whom he had a son, Manfredi (b. 2008). Lara married the Russian acrobat Mikhail Malashikhin, with whom she had three children: Moira (b.1993), Walter (b.1997), and Alexander (b.2009). Moira had a hula-hoop act before graduating from the University of Milan with a degree in International Relations; Walter is a talented hand balancer.
After Walter's passing, his son Stefano tried to keep the Circo Moira Orfei on the road; it performed in Milan for the winter 2016-17. In the spring of 2017, he brought his animal acts (cage acts, exotic animals, high schoolA display of equestrian dressage by a rider mounting a horse and leading it into classic moves and steps. (From the French: Haute école) act) to the circus of the Montemagno family, which toured under the banner of Circo Moira Orfei. (The Montemagno family had previously toured under the title Circo Miranda Orfei, among other names). Lara has pursued her artistic career in Russia with her husband Mikhail Malashikhin and their children. 
A dreamer with his feet solidly on the ground, Walter Nones was a visionary show-business entrepreneur of immense talent; although he dealt with various forms of entertainment, his true love remained the circus, which he brought to new heights in Italy. He was a performer of great charm and elegance, as was he in life; a discreet man, he used to stand near his circus's entrance to observe anonymously his audience—to whom he gave more than they expected, and who, in return, gave Moira and him their affection and loyalty. Moira Orfei became a circus legend in her own time; to Italian circus audiences, she was the face of Circo Moira Orfei, a famous public personality they recognized and revered. But it can be said that Walter Nones made her the circus legend she was, and then let her take the bravos; without him, Circo Moira Orfei may never have existed, and it would never have become the bright beacon that lit the Italian circus scene for so many years.
See Also
Image Gallery