Annie Fratellini
From Circopedia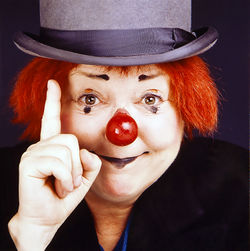 Singer, Actress, Clown, Circus Director, Circus Teacher
By Dominique Jando

Heiress to the legendary clown dynasty, Annie Fratellini (1932-1997) was born in the circus, left the circus, and returned to the circus to become one of France's most celebrated clowns with her husband, Pierre Étaix (and, later, with her daughter, Valérie)—before creating a circus school in 1975, which has become one of her country's major state-sponsored circus schools, the Académie Fratellini.
Annie Violette Fratellini was born in Algiers, where her parents were touring, on November 14, 1932. Her father was the clown and acrobat Victor Fratellini (1901-1979), son of Paul (Paolo) Fratellini (1877-1940) and nephew of François and Albert, of the illustrious trio Fratellini, and her mother, née Suzanne Rousseau (1915-1999), was the daughter of Gaston Rousseau, the director of the defunct Cirque de Paris, the gigantic circus building that stood Avenue de la Motte-Picquet in the French capital from 1906 to 1930.
Running Away From The Circus…
Like all true circus children, Annie was trained in acrobatics and other circus skills—by her uncle Albert—and since her mother was a good musician, she was also given a solid musical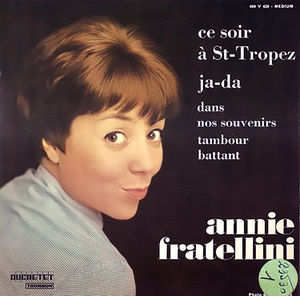 education. As for her clowning skills, she just had to watch her large family's comedy and clown acts to learn all the basics. She made her performing debut at Paris's
Cirque Medrano
at age thirteen, entering the ring within a big rolling globe, from which she emerged to balance on it while playing the saxophone. It was deemed "charming," but it was by no means an act promised to stardom. (A gifted musician, she also played the violin, the vibraphone, the piano, the accordion and the concertina.)
At eighteen, she "ran away" from the circus and formed a small Dixieland jazz band with which she toured the variety circuit, before starting a new career as a variety singer and recording artist, and eventually becoming a movie actress. In 1954 she married the film director Pierre Granier-Deferre, with whom she had a daughter, Valérie. She appeared notably in Louis Malle's controversial film (at the time) Zazie dans le Métro (1960), and in 1965, she had a major role in Granier-Deferre's hit, La Métamorphose des Cloportes. She and Granier-Deferre divorced the following year. Then she met Pierre Étaix, a former comedian who had been Jacques Tati's assistant before becoming a very successful filmmaker in his own right, specializing, like Tati, in mostly visual and relatively silent comedies.
Étaix had a passion for the circus, especially for clowns, whom he often used in his films instead of actors. In 1965, he had produced his masterpiece, Yoyo, the story of a clown who becomes rich and leaves the circus, before realizing that life out of the ring is just emptiness: He eventually returns where he belongs. (Étaix inspiration was, in part, the clown Grock, who had built a palace for himself, in which he never really lived.) Annie Fratellini was touched by the movie and met Pierre Étaix. They fell in love and Pierre asked Annie to star in his film Le Grand Amour (1969)—in effect, a paean to the woman he loved.
Back To Her Roots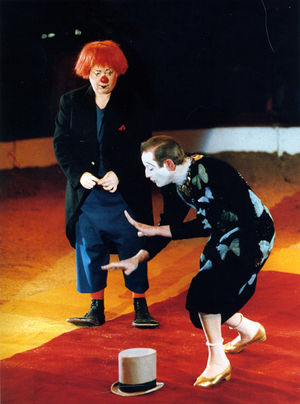 Étaix was quick to notice Annie's innate sense of comedy, and he convinced her to return to her roots and try the family craft: Clowning. So, together, they formed a clown duet in which Pierre was the
clown
Generic term for all clowns and augustes. '''Specific:''' In Europe, the elegant, whiteface character who plays the role of the straight man to the Auguste in a clown team.
, all white face and sequined costume, and Annie the
auguste
In a classic European clown team, the comic, red-nosed character, as opposed to the elegant, whiteface Clown.
. In 1970, they went on tour with
Cirque Pinder
, then one of France's premier circuses. Both were already well-known, and Annie had a name that was magic to French ears: Fratellini! Furthermore, Étaix had been right about Annie's talent. There were immediately successful.
While they continued performing—sometimes with Annie playing straight to Étaix's Yoyo character—they made plans for the creation of a professional circus school, something that didn't exist in the West and was, they believed, sorely needed in France. They opened the École Nationale du Cirque in 1975, and with it, the Nouveau Cirque de Paris, its traveling performing arm—a high-end, intimate circus modeled after Paris's defunct Cirque Medrano, albeit in an itinerant form. They were, for several years, the stars of their own circus.
Annie Fratellini and Pierre Étaix separated in 1987. Valérie Fratellini (Granier-Deferre) had already replaced Étaix as Annie's clownGeneric term for all clowns and augustes. '''Specific:''' In Europe, the elegant, whiteface character who plays the role of the straight man to the Auguste in a clown team.—a "clownesse" this time. Annie continued expanding her school and touring with her circus, where many of her students made their debut. Sadly, she died of cancer, always rampant in the Fratellini family, on July 1, 1997; she was only sixty-five years old. Her passing was sorely felt by her many students and former students, and by her many fans.
As a clownGeneric term for all clowns and augustes. '''Specific:''' In Europe, the elegant, whiteface character who plays the role of the straight man to the Auguste in a clown team., Annie Fratellini had a wonderfully childish and rebellious character—with a strong poetic aura. Dressed in a large overcoat and oversized shoes, reminiscent of her uncle Albert's, and wearing a very simple and identifiable makeup (a red nose, a blackened mouth and sequins on her eyelids), with a red wig and a bowler hat, her appearance was not feminine, but she didn't look like a man either. When asked if her character was male or female, she always answered, "clowns have no gender!"
See Also
Suggested Reading
Jean Monteaux & Annie Fratellini, Un cirque pour l'avenir (Paris, Le Centurion, 1977) — ISBN 2-227-32014-1
Annie Fratellini, Destin de Clown (Lyon, La Manufacture, 1989) — ISBN 2-7377-0145-7
Filmography
Mam'zelle Souris (1957)
Rascel-Fifi (1957)
Et ta Soeur... (1958)
Miss Pigalle (1958)
Zazie dans le Métro (1960)
Tout l'Or du Monde (1961)
Le Pas de Trois (1964)
La Métamorphose des Cloportes (1965)
Le Grand Amour (1969)
Henry & June (1990)
Image Gallery