Main Page
From Circopedia

ATTENTION INTERNET EXPLORER USERS: If you experience some difficulty watching our videos, please switch to another browser (Safari, Chrome, Firefox, or Opera). We are working on a fix for the issues you may encounter with Explorer, and we apologize for the inconvenience.
In The Spotlight
LE CIRQUE LEONCE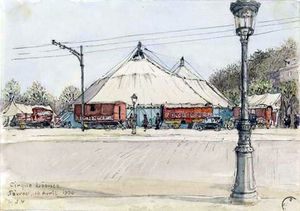 The Cirque Léonce was created in 1907 (and originally called Cirque Printania) by Léonce Chapuis, a circus enthusiast from a well-to-do French provincial family, who left his sedentary life to follow a circus—the well-known and highly reputable Cirque Bureau, one of France's oldest traveling circuses (active from c.1855 to 1953). There, he worked in the circus office as a jack-of-all-trades: Someone with a

high school

education was enough of a rarity in the traveling circus world to be useful in a large range of administrative chores.
However Léonce was a good horseman, and while at Cirque Bureau he trained as an acrobat on horseback—the goal he had set for himself as a circus artist. Unfortunately, he broke a leg in a bad fall, and his dream came to a vanishing point. He left the circus and became a journalist, and then, probably missing show business and touring, he went on to work with the "Tournées Baret," a famous theatrical touring company. But this was not the circus. ... (more...)
New Biographies
New Videos
Featured Oral Histories
Nikolai Pavlenko, tiger trainer - Interview (RIA Novosti, 2012)
Alberto Zoppé, Equestrian - Interview (McCutcheon & Distasio, 2003)
Olivier Taquin, Mime - Interview (Jando, 2008)
Barry Lubin,

Clown

(Grandma) - Interview (Jando, 2008)
Fumagalli,

Clown

- Interview (Jando, 2008)
A Message from the Editor
CIRCOPEDIA is a constantly evolving and expanding encyclopedia of the international circus. New videos, biographies, essays, and documents are added to the site on a weekly—and sometimes daily—basis. So keep visiting us: even if today you don't find what you're looking for, it may well be here tomorrow! And if you are a serious circus scholar and spot a factual or historical inaccuracy, do not hesitate to contact us: we will definitely consider your remarks and suggestions.
Dominique Jando
Editor/Curator