Main Page
From Circopedia
Welcome! ✫ Bienvenue! ✫ Willkommen! ✫ Добро Пожаловать!
Bienvenida! ✫ Benvenuto! ✫ 歡迎 ! ✫ Vítejte! ✫ Καλώς ήρθατε!
Üdvözöljük! ✫ Добре Дошли! ✫ Welkom! ✫ Ласкаво Просимо!
Velkommen! ✫ Tervetuloa! ✫ Дабро Запрашаем! ✫ Välkommen!
In The Spotlight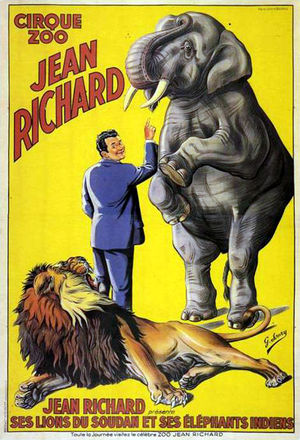 JEAN RICHARD
It was surely a sign: On April 18, 1921, in Bessines, near Niort (in the southwest of France), Jean Richard (1921-2001) was born in a farm named "La Ménagerie." His father was Pierre Richard, a horse dealer, and his mother a homemaker, née Suzanne Boinot.
His early encounters with circus performers (particularly Martha-la-Corse, a cat trainer(English/American) An trainer or presenter of wild cats such as tigers, lions, leopards, etc.) triggered his enduring passion for animals, especially big cats. When he was only ten years old, he was known to tell people: "When I grow up, I'll have a lion or a tiger in my garden!" In high schoolA display of equestrian dressage by a rider mounting a horse and leading it into classic moves and steps. (From the French: Haute école), Richard, who had a gift for drawing, began trying his hand at caricature: he would soon sell his cartoons to local newspapers.
After World War II, Richard organized German tours for French theatrical companies. He began to make a name for himself performing in a famous postwar Parisian cabaret, L'Amiral. There he developed a successful comic character, that of a jovial and naive peasant from the small imaginary village of Champignol. He also began to work as an actor—in the movies, in the theatre, and in comedies that were sometimes a little cheap. During his long career, he appeared in about eighty films.
His ever-growing popularity allowed him to purchase a vast property in Ermenonville, north of Paris, where he began to gather all sorts of wild animals. His menagerie quickly reached impressive proportions. In order to continue maintaining it, he had to open it to the public in 1956. His private zoological collection, the Zoo d'Ermenonville, became the most important in the country.... (more...)
New Essays and Biographies
New Videos
New Oral Histories
Circopedia Books
A Message from Dominique Jando
CIRCOPEDIA is a constantly evolving and expanding archive of the international circus. New videos, biographies, essays, and documents are added to the site on a weekly—and sometimes daily—basis. Keep visiting us: even if today you don't find what you're looking for, it may well be here tomorrow! And if you are a serious circus scholar and spot a factual or historical inaccuracy, do not hesitate to contact us: we will definitely consider your remarks and suggestions.
Dominique Jando
Founder and Curator