Main Page
From Circopedia
WARNING: Some videos may not be available at this time, as we are switching servers. They will return shortly.
---
In The Spotlight
ALI HASSANI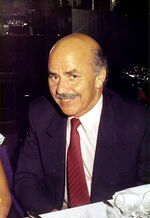 Ali Hassani was born Ali Houssain in a village on the outskirts of Marrakech, in Morocco, on March 7, 1927. Morocco has an age-long tradition of itinerant troupes of acrobats specializing in tumbling and building human pyramids, which for centuries have traveled from market places to village squares. Moroccan tumblers have been part of the circus practically since its inception, and can still be seen today in the ring, performing their traditional acrobatic skills in a style of presentation that has remained by and large unchanged.
Ali belonged to a poor family of thirteen children, and he and his siblings were often left to their own devices to scrap some food or make a few dirhams in the streets of Marrakech. One day, as he was watching a group of tumblers on Djama Al Ifna, a square in Marrakech, Ali, who was seven at the time, was abducted by the acrobats, who saw him as an ideal "top mounter"—the light acrobat who stood at the top of their human pyramids. It must be stressed, though, that Ali was not an unwilling participant; according to his daughter Zayna, "He used to run and watch as a child and the tumblers said 'do you want to do this?' and he was quite cheeky apparently and said 'yes' and they actually took him away with them."... (more...)
New Biographies
New Videos
Featured Oral Histories
Nikolai Pavlenko, tiger trainer - Interview (RIA Novosti, 2012)
Alberto Zoppé, Equestrian - Interview (McCutcheon & Distasio, 2003)
Olivier Taquin, Mime - Interview (Jando, 2008)
Barry Lubin,

Clown

(Grandma) - Interview (Jando, 2008)
Fumagalli,

Clown

- Interview (Jando, 2008)
A Message from the Editor
CIRCOPEDIA is a constantly evolving and expanding encyclopedia of the international circus. New videos, biographies, essays, and documents are added to the site on a weekly—and sometimes daily—basis. So keep visiting us: even if today you don't find what you're looking for, it may well be here tomorrow! And if you are a serious circus scholar and spot a factual or historical inaccuracy, do not hesitate to contact us: we will definitely consider your remarks and suggestions.
Dominique Jando
Editor/Curator