Main Page
From Circopedia
Welcome! ✫ Bienvenue! ✫ Willkommen! ✫ Добро Пожаловать!
Bienvenida! ✫ Benvenuto! ✫ 歡迎 ! ✫ Vítejte! ✫ Καλώς ήρθατε!
Üdvözöljük! ✫ Добре Дошли! ✫ Welkom! ✫ Ласкаво Просимо!
Velkommen! ✫ Tervetuloa! ✫ Дабро Запрашаем! ✫ Välkommen!
In The Spotlight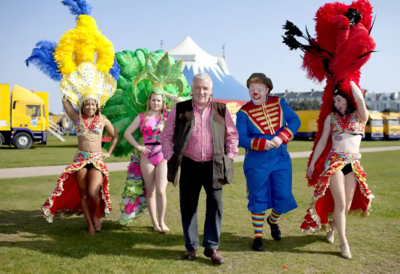 GERRY COTTLE
When Gerry Cottle (1945-2021) opened his first circus in 1970, two of Britain's three major circuses, Bertram Mills and Billy Smart, had folded their tents, and the third, Chipperfield, had become but a pale shadow of its former self. The great British circus impresarios of the post-WWII era, Cyril and Bernard Mills, Billy Smart, Jimmy Chipperfield, and Tom Arnold had left the stage and there was indeed a huge void to fill. The ambitious and gifted Gerry Cottle seized the opportunity, and his name soon became synonymous with "circus" in the United Kingdom and would remain so until Cottle's untimely death in 2021.
He was born Gerald Ward Cottle on April 7, 1945 in Carshalton, in the London borough of Sutton, to a family that had no relation with the circus or, for that matter, with show business: His father, Reg, worked as a stockbroker in the City, and his mother, Joan, née Ward, was a former flight attendant. His was a good middle class, white collar family, and little Gerry was expected to follow in his parents' footsteps. Unfortunately—or fortunately—they took him when he was eight-year-old to Jack Hylton's Circus at Earls Court, in London. He caught the circus bug and, then and there, decided that he would become not a clownGeneric term for all clowns and augustes. '''Specific:''' In Europe, the elegant, whiteface character who plays the role of the straight man to the Auguste in a clown team., an animal trainer, a juggler or an acrobat, but simply a circus director—and this idea would never leave him.
Gerry Cottle grew up at a time when the British circus was in its most glorious period: Billy Smart's and the Chipperfields' circuses were among the largest in Europe, and the Mills brothers had successfully maintained the highest standards of excellence that their father, Bertram Mills, had set for his circus long before the war. For the Christmas season, Londoners had a choice between three circus spectaculars: Jack Hylton's at the Earls Court arena; a massive circus show produced by Tom Arnold at the Harringay arena; and, since 1920, the highly respected Bertram Mills Circus, which presented one of Europe's most acclaimed shows at London's Olympia—the quality and perfection of which fascinated the young Gerry Cottle.... (more...)
New Essays and Biographies
New Videos
New Oral Histories
Circopedia Books
A Message from the Editor
CIRCOPEDIA is a constantly evolving and expanding archive of the international circus. New videos, biographies, essays, and documents are added to the site on a weekly—and sometimes daily—basis. Keep visiting us: even if today you don't find what you're looking for, it may well be here tomorrow! And if you are a serious circus scholar and spot a factual or historical inaccuracy, do not hesitate to contact us: we will definitely consider your remarks and suggestions.
Dominique Jando
Founder and Curator