Main Page
From Circopedia
Welcome! • Bienvenue! • Willkommen! • Добро Пожаловать!
Bienvenida! • Benvenuto! • 歡迎 ! • Vítejte! • Καλώς ήρθατε!
Üdvözöljük! • Добре Дошли! • Welkom! • Ласкаво Просимо!
Velkommen! • Tervetuloa! • Дабро Запрашаем! • Välkommen!
In The Spotlight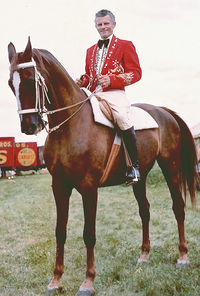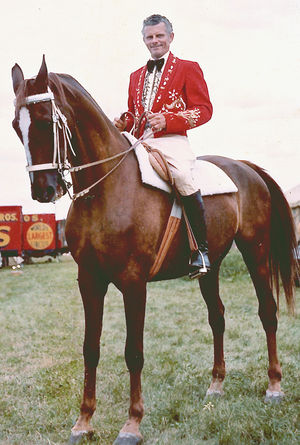 JOHN HERRIOTT
A man of great charm and outstanding talents, John Milton Herriott (1931-2015) was a highly respected equestrian, animal trainer and circus owner, third-generation of one of the few truly American circus dynasties. He was born on January 15, 1931 in St. Peter, Minnesota to Milton Lindsay Herriott (1901-1962) and his wife, Viola (1905-1981), née Engesser. John was the second of their two children; he had an elder sister, Jean.
John Herriott's grandfather was Osmer Pike Herriott (1871-1936), who is said to have been a descendent of the legendary explorer Zebulon Pike (1779-1813). Pike Herriott entered circus life as a cook, at a time when American circuses were huge affairs that traveled with a full Dining Department. Pike started with the Miller Brothers' 101 Ranch Wild West Show, the last of the great American Wild West shows, which toured the United States from 1907 to 1939.
Pike's son, Milton (known as Milt), began to work in the circus at a relatively early age, taking care of animals. He eventually went on to training them, and over the years, he presented all sorts of animal acts, with a preference for horses and elephants. He was also for a time Manager of the Cole Bros. Circus. Milt Herriott's circus career spanned a half-century.... (more...)
New Biographies
New Videos
Featured Oral Histories
A Message from the Editor
CIRCOPEDIA is a constantly evolving and expanding encyclopedia of the international circus. New videos, biographies, essays, and documents are added to the site on a weekly—and sometimes daily—basis. So keep visiting us: even if today you don't find what you're looking for, it may well be here tomorrow! And if you are a serious circus scholar and spot a factual or historical inaccuracy, do not hesitate to contact us: we will definitely consider your remarks and suggestions.
Dominique Jando
Editor/Curator