Main Page
From Circopedia
In The Spotlight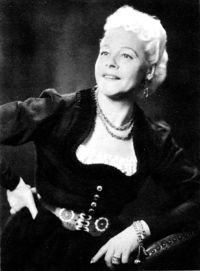 CAROLA WILLIAMS
To write a history of Circus Williams is tantamount to write a biography of its co-founder and, for most of its existence, sole owner, the remarkable Carola Williams (1903-1987). Heiress to the oldest and most important German circus dynasty, the Althoffs, she ran from 1945 to 1968 a very successful circus, which presented elegant shows with excellent artists and outstanding equestrian and animal acts, and was a breeding ground for three of the best animal trainers of the second half of the twentieth century: Charly Baumann, Gunther Gebel-Williams, and Gerd Siemoneit.
Carola Althoff was born on December 1, 1903 in Bad Sassendorf, in North Rhine-Westphalia, Germany. Her father, Dominik Althoff (1882-1974), represented the "Rheinesche Line" (Rhine Line) of this ancient and extensive circus family. He and his wife, Adele, née Mark, had eight children: Carola, Sabine (1906-1978), Helene (1907-1991), Franz (1908-1987), Henriette (1910-2004), Minna (1911-1987), Adolf (1913-1998), and Jeanette (1915-1987), of whom Carola was the eldest. Dominik Athoff had founded the circus that bore his name in 1905, and was a respected director and equestrian.... (more...)
New Biographies
New Videos
Featured Oral Histories
A Message from the Editor
CIRCOPEDIA is a constantly evolving and expanding encyclopedia of the international circus. New videos, biographies, essays, and documents are added to the site on a weekly—and sometimes daily—basis. So keep visiting us: even if today you don't find what you're looking for, it may well be here tomorrow! And if you are a serious circus scholar and spot a factual or historical inaccuracy, do not hesitate to contact us: we will definitely consider your remarks and suggestions.
Dominique Jando
Editor/Curator