Main Page
From Circopedia
Welcome! • Bienvenue! • Willkommen! • Добро Пожаловать!
Bienvenida! • Benvenuto! • 歡迎 ! • Vítejte! • Καλώς ήρθατε!
Üdvözöljük! • Добре Дошли! • Welkom! • Ласкаво Просимо!
Velkommen! • Tervetuloa! • Дабро Запрашаем! • Välkommen!
In The Spotlight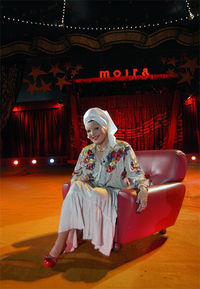 MOIRA ORFEI
Moira Orfei (born Miranda Orfei, 1931-2015) was an Italian pop-culture icon. A member of Italy's most famous circus family, she could compete in fame with any Italian music or movie legend. She was undoubtedly the only circus owner in the world who could get away (for forty years, no less!) with advertising her circus using posters that prominently displayed only her head shot and her first name. Much of her reputation was due to her long movie career, which coincided with the golden age of Italian cinema. But it was also due to the quality of her circus.
The daughter of Riccardo Orfei and Violetta Arata, she was born in the family's living trailer on December 21, 1931 in Codriopo, Italy. As a child, Moira was trained in all the basic circus disciplines. In 1960—without ever leaving the circus—she began a movie career. Ultimately, she appeared in nearly forty films, including popular Italian comedies and a host of internationally successful Italian productions based on mythological themes, such as the Hercules, Ursus, and Samson series.... (more...)
New Biographies
New Videos
Featured Oral Histories
A Message from the Editor
CIRCOPEDIA is a constantly evolving and expanding encyclopedia of the international circus. New videos, biographies, essays, and documents are added to the site on a weekly—and sometimes daily—basis. So keep visiting us: even if today you don't find what you're looking for, it may well be here tomorrow! And if you are a serious circus scholar and spot a factual or historical inaccuracy, do not hesitate to contact us: we will definitely consider your remarks and suggestions.
Dominique Jando
Editor/Curator