Main Page
From Circopedia
Welcome! • Bienvenue! • Willkommen! • Добро Пожаловать!
Bienvenida! • Benvenuto! • 歡迎 ! • Vítejte! • Καλώς ήρθατε!
Üdvözöljük! • Добре Дошли! • Welkom! • Ласкаво Просимо!
Velkommen! • Tervetuloa! • Дабро Запрашаем! • Välkommen!
In The Spotlight
FRANZ CZEISLER (TIHANY)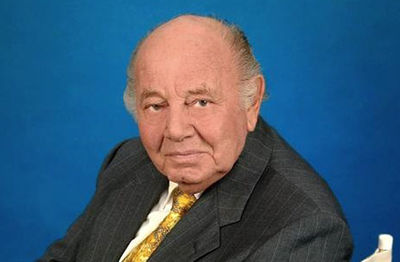 When he passed away on March 2, 2016, Franz Czeisler (1916-2016), better known as Tihany, was said to be the world's oldest circus impresario: He was four months short of his hundredth birthday. His had created in South America one of the continent's largest and most celebrated traveling shows, and had been a beloved figure in the international circus community, highly respected by his colleagues and the artists who had been lucky to work for him.
He was born Ferenc Czeisler to Ludovic Czeisler and Maria Deutch in the village of Kétegyháza, Hungary (then part of Austro-Hungarian Empire), on June 29, 1916. Located in Békés County, in southeast Hungary, Kétegyháza is one of the main centers of Hungary's Romanian minority; Czeisler's family, however, was Jewish. His father awoke Ferenc's interest in magic performing small magic tricks for him when he was a child. Ferenc was twelve years old when his father died in 1928; the Czeislers were poor, and young Ferenc had to find a job in order to help his family survive: He got his first one in a visiting traveling circus, working as a helper in the menagerie
Yet, so far as show business was concerned, magic remained Ferenc's main interest. He was thirteen when he began working as a magician in small venues—that is to say, anywhere he could make a few Pengos, the Hungarian money of the time. Then, in 1930, one of his uncles took Ferenc with him to Uruguay. In Montevideo, Ferenc, now known as Franz, got a job as assistant to the famous Italian "fakir," magician, and animal trainer, Blacaman. Pietro Blacaman became his mentor and teacher, and Franz was eventually able to save enough money to purchase some of his employer's old equipment and create an act of his own..… (more...)
New Biographies
New Videos
Featured Oral Histories
A Message from the Editor
CIRCOPEDIA is a constantly evolving and expanding encyclopedia of the international circus. New videos, biographies, essays, and documents are added to the site on a weekly—and sometimes daily—basis. So keep visiting us: even if today you don't find what you're looking for, it may well be here tomorrow! And if you are a serious circus scholar and spot a factual or historical inaccuracy, do not hesitate to contact us: we will definitely consider your remarks and suggestions.
Dominique Jando
Editor/Curator