Main Page
From Circopedia
Welcome! • Bienvenue! • Willkommen! • Добро Пожаловать!
Bienvenida! • Benvenuto! • 歡迎 ! • Vítejte! • Καλώς ήρθατε!
Üdvözöljük! • Добре Дошли! • Welkom! • Ласкаво Просимо!
Velkommen! • Tervetuloa! • Дабро Запрашаем! • Välkommen!
In The Spotlight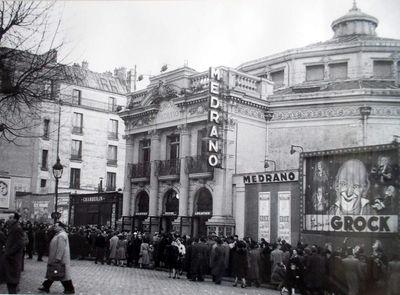 CIRQUE MEDRANO
Paris's legendary Cirque Medrano holds a singular place in the Parisian cultural fabric(See: Tissu) and in circus history. From its beginnings as Cirque Fernando, in 1873, until the end of Jérôme Medrano's management in 1962, it was tightly woven in the artistic life of the French capital, not only as a popular place of entertainment, but also for its long association with artists, writers, journalists, and Paris's literati in general. It has been celebrated in paintings, novels, movies, and even popular songs. Its history is also closely intertwined with the life of its three historic directors: Louis Fernando, Geronimo Medrano, and Jérôme Medrano.
Sometimes referred to as "The Temple of Clowns," it has featured many of the world's greatest clowns, from Geronimo Medrano to Buster Keaton, and launched the extraordinary career of the Fratellinis. It had also sent into the limelight hitherto little known performers of immense talent, transforming them into genuine circus stars; appearing in its ring was a consecration for any circus artist. Its last performance under Jérôme Medrano's reign in January 1963 was an event attended by the Tout-Paris of the arts, and its demolition in December 1973 caused a massive uproar that eventually led to a legislation protecting Paris's historic theaters.… (more...)
New Biographies
New Videos
Featured Oral Histories
A Message from the Editor
CIRCOPEDIA is a constantly evolving and expanding encyclopedia of the international circus. New videos, biographies, essays, and documents are added to the site on a weekly—and sometimes daily—basis. So keep visiting us: even if today you don't find what you're looking for, it may well be here tomorrow! And if you are a serious circus scholar and spot a factual or historical inaccuracy, do not hesitate to contact us: we will definitely consider your remarks and suggestions.
Dominique Jando
Editor/Curator