Main Page
From Circopedia
Welcome! • Bienvenue! • Willkommen! • Добро Пожаловать!
Bienvenida! • Benvenuto! • 歡迎 ! • Vítejte! • Καλώς ήρθατε!
Üdvözöljük! • Добре Дошли! • Welkom! • Ласкаво Просимо!
Velkommen! • Tervetuloa! • Дабро Запрашаем! • Välkommen!
In The Spotlight
THE FALTYNY FAMILY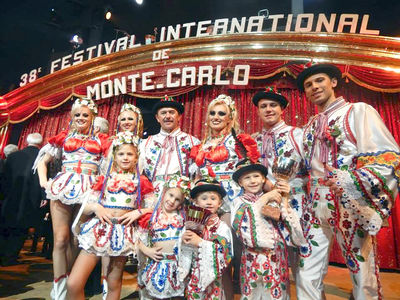 Faltyny is a household name in the Czech circus world. The Faltyny family's real name is Faltynek (plural: Faltynkovi), and they trace their roots to an old circus family from South Moravia. Its story began in the familiar fashion common to many circus families: In the late nineteenth century, in the small village of Kladky, some one-hundred kilometers north of Brno, the son of the miller Faltynek ran away with a troupe of itinerant acrobats for the love of a beautiful wire dancer.
Young Faltynek had fallen in love with the daughter of an acrobat named Flaks, who had visited the village with his family's acrobatic troupe. The Flakses were traveling entertainers who performed outdoors on village squares and at local fairs. The lovely Miss Flaks had a slack wireA Tight Wire, or Low Wire, kept slack, and generally used for juggling or balancing tricks. act, with which she captured the heart of the miller's son: Faltynek left his village and his family, and joined the troupe, married Miss Flaks, and eventually developed his own tight wireA tight, light metallic cable, placed between two platforms not very far from the ground, on which a wire dancer perform dance steps, and acrobatic exercises such as somersaults. (Also: Low Wire) act.
The Faltynkovi had a son, Vojtěch (1904-1988), who became a foot juggler; in time, Vojtěch married another circus performer, Fanny Kockova. They had their own small traveling outfit with which they performed outdoors, touring Moravia and Slovakia. Vojtěch and Fanny had eight children, four boys and four girls. Their second son, Frantisek (November 15, 1931-November 7, 2003), originated the present Faltynek (Faltyny) circus line.... (more...)
New Biographies
New Videos
Featured Oral Histories
A Message from the Editor
CIRCOPEDIA is a constantly evolving and expanding encyclopedia of the international circus. New videos, biographies, essays, and documents are added to the site on a weekly—and sometimes daily—basis. So keep visiting us: even if today you don't find what you're looking for, it may well be here tomorrow! And if you are a serious circus scholar and spot a factual or historical inaccuracy, do not hesitate to contact us: we will definitely consider your remarks and suggestions.
Dominique Jando
Editor/Curator