Main Page
From Circopedia
Welcome! • Bienvenue! • Willkommen! • Добро Пожаловать!
Bienvenida! • Benvenuto! • 歡迎 ! • Vítejte! • Καλώς ήρθατε!
Üdvözöljük! • Добре Дошли! • Welkom! • Ласкаво Просимо!
Velkommen! • Tervetuloa! • Дабро Запрашаем! • Välkommen!
In The Spotlight
THE ARATAS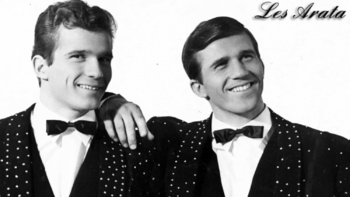 The Aratas performed a truly original and outstanding
tight wire
A tight, light metallic cable, placed between two platforms not very far from the ground, on which a wire dancer perform dance steps, and acrobatic exercises such as somersaults. (Also: Low Wire)
act, which was very successful in Europe in the 1960s and early 1970s. The act originated in 1957 as a trio, with Anna Arata, and her younger brothers, Billy and Vittorio. At that time, Anna performed an amazing wire crossing with her brother Billy head-balancing on her head. Following Anna's retiring from the act in 1962, Vittorio and Billy continued to work as a duet (and continued to perform together Anna's original head-to-head balancing
trick
Any specific exercise in a circus act.
).
The Aratas came from a large Italian circus family that originated in the late nineteenth century. Its founder, Amedeo Arata (c.1872-1947), was a strongman from Massa Carrara who worked on the fairgrounds. Amedeo married Claudia Rizzoli, a Bolognese tight-wire dancer, and together they created the Circo Tea Arata, which remained active until 1943. Amedeo and Claudia had five children: Alfredo, Elena, Fanny, Violetta, and Guido. Guido (1911-?) married Cleofe Denji, who came from another Italian circus family, and together they had three children, Anna (b. January 5, 1940), Vittorio (b. January 26, 1942), and Francesco, known as Billy (February 23, 1946- April 25, 2004). (more...)
New Biographies
New Videos
Featured Oral Histories
A Message from the Editor
CIRCOPEDIA is a constantly evolving and expanding encyclopedia of the international circus. New videos, biographies, essays, and documents are added to the site on a weekly—and sometimes daily—basis. So keep visiting us: even if today you don't find what you're looking for, it may well be here tomorrow! And if you are a serious circus scholar and spot a factual or historical inaccuracy, do not hesitate to contact us: we will definitely consider your remarks and suggestions.
Dominique Jando
Editor/Curator