Main Page
From Circopedia
Welcome! • Bienvenue! • Willkommen! • Добро Пожаловать!
Bienvenida! • Benvenuto! • 歡迎 ! • Vítejte! • Καλώς ήρθατε!
Üdvözöljük! • Добре Дошли! • Welkom! • Ласкаво Просимо!
Velkommen! • Tervetuloa! • Дабро Запрашаем! • Välkommen!
In The Spotlight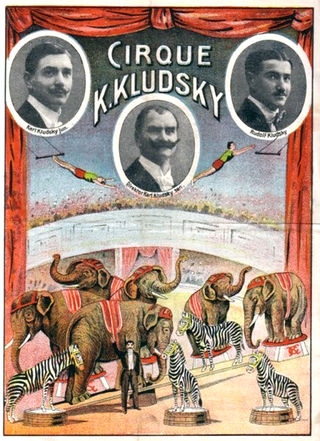 CIRKUS KLUDSKY
Cirkus Kludský, the most famous Czech circus and one of Europe's largest ever, was at its peak a colossal enterprise traveling with an 86 x 54 meters (approximately 280 x 178 feet) three-ring, four-pole big topThe circus tent. America: The main tent of a traveling circus, where the show is performed, as opposed to the other tops. (French, Russian: Chapiteau) that could seat 10,000 spectators. Its menagerie included a herd of 25 elephants, 160 horses, 74 wild animals (lions, tigers, leopards, etc.), and a vast assortment of exotic animals, among which three giraffes and a hippopotamus—an ensemble advertised at some 700 heads. Cirkus Kludský boasted two hundred performers from thirty-five nations, including two large bands, and two hundred wagons traveling by train were used to transport the circus equipment and house the personnel.
In 1929, when Cirkus Kludsky was invited to perform in Rome, Italy, for a run of fifty-two days, more than 600,000 spectators attended its performances. This gigantic organization belonged to the Czech Kludský family, and had been created before WWI by Karel Kludský (Carl Kludsky, as he became known in the West-European circus business). From humble beginnings, Karel Kludský had managed to build one of the biggest traveling circuses in Europe, which was subsequently continued and improved by his sons.... (more...)
New Biographies
New Videos
Featured Oral Histories
A Message from the Editor
CIRCOPEDIA is a constantly evolving and expanding encyclopedia of the international circus. New videos, biographies, essays, and documents are added to the site on a weekly—and sometimes daily—basis. So keep visiting us: even if today you don't find what you're looking for, it may well be here tomorrow! And if you are a serious circus scholar and spot a factual or historical inaccuracy, do not hesitate to contact us: we will definitely consider your remarks and suggestions.
Dominique Jando
Editor/Curator