Main Page
From Circopedia
Welcome! • Bienvenue! • Willkommen! • Добро Пожаловать!
Bienvenida! • Benvenuto! • 歡迎 ! • Vítejte! • Καλώς ήρθατε!
Üdvözöljük! • Добре Дошли! • Welkom! • Ласкаво Просимо!
Velkommen! • Tervetuloa! • Дабро Запрашаем! • Välkommen!
In The Spotlight
GIUSEPPE CHIARINI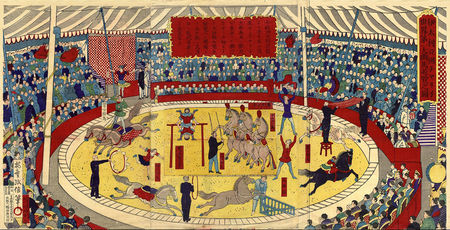 Giuseppe Chiarini (1823-1897) was perhaps the most influential circus director of the nineteenth century: During a professional career that spanned fifty-eight years, his extensive and incessant international tours led him from Europe to North and South America, to India and Asia, and down to Australia. In many places that had not yet been exposed to the circus, Chiarini's was the first circus the locals had ever seen—and this exposure sometimes triggered there the creation of an indigenous circus inspired by Chiarini's shows.
Over the years, Chiarini performed for Tsar Nicholas I of Russia, Emperors Maximilian I of Mexico, Dom Pedro of Brazil, Mitsuhito of Japan, King Rama V of Siam, an assortment of Indian Rajahs, and for various government officials and politicians. His Royal Italian Circus—which could become Royal Spanish Circus when needed—was in fact an American enterprise based in California. A true circus man, Chiarini was indubitably a citizen of the world.
Giuseppe Chiarini came from a large and ancient Italian family of traveling entertainers, whose first recorded appearance was at the Foire Saint-Laurent, one of France's oldest fairs, in 1580. Many Chiarinis, more or less directly related to Giuseppe, have since been chronicled in popular entertainment and circus history—a very diverse crowd of acrobats, ropedancers, puppeteers, ballet dancers, and equestrians.... (more...)
New Biographies
New Videos
Featured Oral Histories
A Message from the Editor
CIRCOPEDIA is a constantly evolving and expanding encyclopedia of the international circus. New videos, biographies, essays, and documents are added to the site on a weekly—and sometimes daily—basis. So keep visiting us: even if today you don't find what you're looking for, it may well be here tomorrow! And if you are a serious circus scholar and spot a factual or historical inaccuracy, do not hesitate to contact us: we will definitely consider your remarks and suggestions.
Dominique Jando
Editor/Curator