Carrie Harvey
From Circopedia
Ringmistress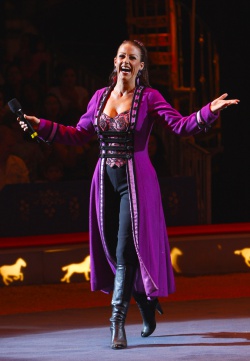 One of the few true circus Ringmistresses, Carrie Harvey has been a performer all her life: She made her stage debut at the age of nine. Later, she trained in Musical Theatre at Guildford School of Acting and Dance, in her native England, and following graduation, she began to work in musical theatre, played theatre classics, appeared on television, radio, and did many TV commercial voice-overs.
Her first circus experience, however, was working for Gerry Cottle and Docktor Haze's Circus of Horrors, directed by Pierrot Bidon, (of Archaos fame): After answering a casting-call for rock singers in The Stage, the British trade newspaper, Carrie auditioned and got the classy part of "Belinda, the Bearded Wonder."
For her first circus show, Carrie landed in a hit show: Circus of Horrors enjoyed tremendous success and toured in the United Kingdom and abroad, and its stage version is still touring to this day (as of 2016). In 1999, "The Bloodiest Show on Earth"—as the production is subtitled—was taken out of the Big Top and reborn on the theatre stage. In 2003 it won The World's Fair Contemporary Circus Award, given by the British entertainment trade newspaper, The World's Fair.
Thus Carrie had begun her love-story with the circus; in 2000, she became the singing Ringmistress at Peter Jay's Hippodrome Circus in Great Yarmouth, the old beach resort in Norfolk, England. There, she presented Peter Jay's first-ever Christmas Extravaganza. She continued to do so for six winter seasons, and also officiated as a Ringmistress for one summer season. In 2003, Carrie was named "Circus Personality of the Year" by The Wold's Fair.
A Very International Career
The following year, Carrie Harvey took the opportunity to present a show in Spanish, at José María González Villa's Gran Circo Mundial, in Spain. Following this engagement, she was offered a contract with the Cirque Amar in France; breaking the traditional mould of "Monsieur Loyal(French) The régisseur or presenter of the show in a French circus. So called because of the many members of the Loyal family who occupied this position brilliantly in Parisian circuses.," she became the first ringmistressFeminine form of ringmaster. in French circus history.
Carrie's dream job, however, was further afield: It came in 2007, when she was invited to join the company of the Big Apple Circus, in the United States, to present the Circus's 30th anniversary production at New York's Lincoln Center. Carrie spent two seasons with the Big Apple Circus, and had to decline an offer to renew her contract as the rest of her family were still in Europe: Carrie is married to the clown Raul Cardinali Nery, seventh-generation of the celebrated Portuguese circus dynasty, the Cardinali family. (Together they have a daughter, Maya, born July 31, 2013.)
Back to Europe, Carrie presented the 3e Festival de Cirque in Tours, France, and then moved to Portugal, where she began working with her husband's family show—adding Portuguese to the list of languages she speaks! One of them being French, Carrie is much in demand to host circus festivals in France: She presented the 16th Festival International du Cirque de Saint Paul-lès-Dax in 2014, the 16th Festival International de Cirque du Val d'Oise in 2015, and the 24th Festival International du Cirque de Massy in 2016. That same year, she was invited to sit in the jury at the Festival International de Cirque du Val d'Oise.
External Link
Image Gallery