Christian Stoinev
From Circopedia
Hand Balancer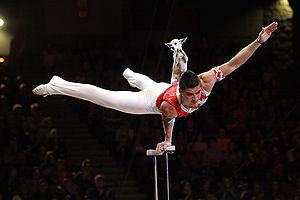 Christian Atayde Stoinev was born on December 4, 1991 in the American "Circus City" of Sarasota, Florida. His father, Ivan Stoinev, is a Bulgarian circus acrobat who left his country at age thirteen to perform at
Ringling Bros. and Barnum & Bailey
Circus with a
teeterboard
A seesaw made of wood, or fiberglass poles tied together, which is used to propel acrobats in the air.
troupe. His mother, Maritza Atayde, a former
aerialist
Any acrobat working above the ring on an aerial equipment such as trapeze, Roman Rings, Spanish web, etc.
, belongs to the
Atayde
family, owners of Mexico's oldest, largest, and most celebrated circus, Circo Atayde Hermanos.
Christian made his circus debut at age six, standing on the shoulders of his father in a free-ladder balancing act. His parents taught him all basic circus disciplines, and over time, Christian became a proficient unicyclist and hand balancer. He spent a large part of his childhood at the Big Apple Circus, where his father was Performance Director, and his mother worked in an administrative capacity.
In 2001, Christian joined the Big Apple Circus resident company as an acrobat, in the Circus's production of Big Top Doo Wop. He also occasionally worked in other circuses, notably with Circo Atayde in the summer of 2003, in an acrobatic break dance act, Los Primos. He premiered his hand-balancing act, for which he was coached by Miguel Morales, in 2004—and he competed the following year in the Festival Première Rampe in Monte Carlo, where he received a Bronze Medal and Prince Rainier's Special Award.
Christian was featured in the NBC TV show America Got Talent in 2007, and in 2008, he participated in the International Circus Festival-Città di Latina, in Italy—where he was awarded the Bolshoi Circus's Special Award, presented to him by Leonid Kostiuk. Christian has appeared in many television shows around the world and, among other venues, he has performed for Britney Spears's Circus tour at Nassau Coliseum on Long Island, N.Y.
In 2010, Christian enrolled in the Illinois State University at Normal, IL, where he was also a member of their Gamma Phi Circus program, to study Broadcasting. Upon graduation, he resumed his successful career as a hand balancer.
See Also
External Link
Image Gallery