David Dimitri
From Circopedia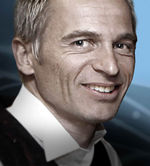 Wire Dancer, Acrobat, Circus Director and Producer
By Dominique Jando

Born David Müller in Switzerland on March 7, 1963, David Dimitri is the son of the legendary Swiss clown Dimitri (1935-2016). He was only seven when he made his debut in the ring of Circus Knie, along with his siblings, all dressed and made-up as miniature versions of their father, who was starring in the show. David worked again with his father at Circus Knie in 1973.
In 1977, David enrolled in the State Circus School of Budapest, Hungary. He graduated in 1981 with a tight-wire act, a version of which he had presented at the Festival Mondial du Cirque de Demain in Paris the previous year, a performance that resulted in a contract with the Big Apple Circus for the following season—David's first professional contract.
David joined the resident company of the Big Apple Circus in 1981. At the same time, he enrolled in the prestigious Juilliard School in New York, where he studied ballet and dance. At the Big Apple Circus, David perfected his tight-wire act, in which he eventually performed both a backward and, more impressively, forward somersaults. He also participated in a Russian Barre act with Marie-Pierre Bénac and Sacha Pavlata, created a tight-wire duet with Bénac, did some horse vaulting and bareback riding, performed an acrobatic act with elephants, and appeared in a host of production numbers.
David remained in the Big Apple Circus's company until 1987. During that period, he also performed at Circus World and Busch Gardens in Florida, the MGM Grand in Las Vegas, and Caesar's Palace in Lake Tahoe; he helped coach the Broadway cast of the musical Barnum; he appeared in the movie Annie; and he danced on a wire at the Metropolitan Opera in Jean-Pierre Ponnelle's 1987 production of Massenet's Manon—among many other activities.
An International And Versatile Career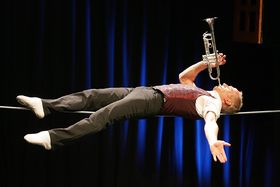 He was featured with Marie-Pierre Bénac at Circus Knie, where they performed their tight-wire duet in 1988 and their Russian Barre act with
Franco Knie
in 1989. Bénac subsequently returned to the Big Apple Circus, but David resettled in Europe. From 1990-97, he participated in the artistic organization of the
International Circus Festival of Monte Carlo
. He was featured at
Cirque du Soleil
in 1992 and collaborated with them on their first Las Vegas show,
Mystère
.
David returned to the Big Apple Circus in 1997-98 for its twentieth anniversary celebration. He was featured with his wire act, as well as in several company acts. In 1998, he acted as Artistic Director for the Circus World Museum's show in Baraboo, Wisconsin, and conceived and staged Disney's The Hunchback of Notre-Dame movie promotional tour.
In 2001, David created his one-man show, L'Homme-Cirque, with help from his father, and began to produce shows and special events. He made his mark with spectacular high-wire crossings, notably in 2005, for the dedication of the new Frankfurter Waldstadium, in Frankfurt, and in 2015 in Athens for the inauguration of the Stavros Niarchos Park. He has performed at the Spoleto Festival USA in Charleston, South Carolina; the Lincoln Center Festival in New York; the Juste pour Rire festival in Montréal, Québec; Jeux de Piste in Strasbourg, France; and the Avignon Festival. He has also toured internationally with La Famiglia Dimitri, a show featuring his father, Dimitri, his sisters, Masha and Nina, and his brother-in-law, Kai Leclerc. The show appeared notably on Broadway, at the New Victory Theater.
See Also
Image Gallery
External Links