Desire Of Flight
From Circopedia
Aerialists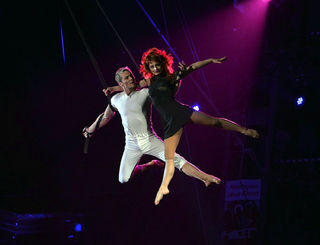 Russian-born Valeriy Sychev is a former competition gymnast, and a member of the Russian National Gymnastics Team. Valeriy converted to circus arts when his competitive career came to an end—as many former Russian gymnasts do. He made his debut in
Perezvony
("The Chimes"),
Valentin Gneushev
's groundbreaking aerial creation, with which he performed on Broadway at the Gershwin Theater in 1991, in Steve Lieber's production of
Cirk Valentin
, and later in
Pavel Brun
's adaptation of the act for
Cirque du Soleil
.
Malvina Abakarova is a third-generation Russian circus performer whose family have performed a famous high-wire act, the Abakarov Troupe. Marina has performed with her family all over Europe, as well as in China and in the United States with tours of the Moscow Circus. Valeriy and Malvina created their arial strap act in 2004. With it, they have participated in (and been awarded by) several international circus festivals, and have worked in Russia and all over Europe (notably at the Cirque d'Hiver in Paris in 2010), and in the United States, where they were featured in the Big Apple Circus 35th anniversary production of Legendarium.
In 2014, Malvina and Valeriy were awarded the coveted Gold Clown at the International Circus Festival of Monte Carlo, which was presented to them by H.S.H. Prince Albert II of Monaco. Malvina has a daughter, Ekaterina Stepanova, who was born in Houston, Texas, in 1990, during a tour of the Moscow Circus. Ekaterina made her debut in the ring in 2005 in England with a remarkable strap act performed on tissus.
See Also
Image Gallery