Eva Vida
From Circopedia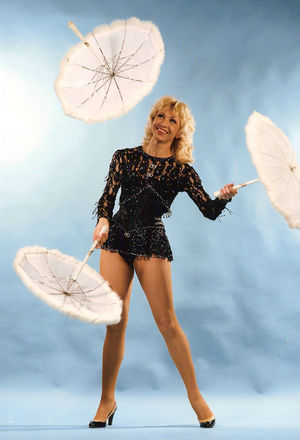 Juggler
Eva Vida was born Éva Vidos in Hungary, and sometimes performed under her real name, especially at the beginning of her career. Her act was glamorous: She was pretty, sexy, elegant, and her costumes and props were carefully designed to fit her image. Her publicity photos described her act with the words "Glamour and Novelty."
She had graduated from Budapest's State School for Circus and Variety Arts in 1959 and soon became an international juggling star. Her career took her all over the world, on stage, in the ring, and on television—including appearances at New York's Radio City Music Hall, in Las Vegas, at the London Palladium, four years at the Casino De Paris, and in South Africa, Australia, Japan, and Russia.
She was an excellent technician, juggling flawlessly three umbrellas, five balls with pocket catches (à la Kara), six rings, and five clubs. She was the co-winner of the Rastelli competition in Bergamo, Italy in 1973—the only woman to ever win that coveted prize, the "Oscar" of the juggling world.
Eva Vida passed away in London on November 8, 2015.
See Also
Image Gallery