Françoise Rochais
From Circopedia
Juggler
By Dominique Jando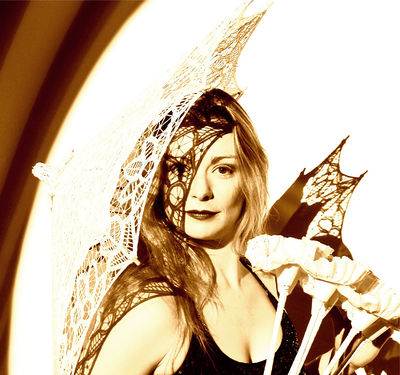 Françoise Rochais was born in Ris-Orangis, near Paris, France on December 19, 1973. It was a premonitory date:
Enrico Rastelli
, the greatest of all juggling legends, was born on a December 19, too&mdashalthough it was seventy-seven years earlier, in 1896. Françoise was the youngest of the four children her mother raised alone—her father, who worked for the IBM company, having left his family when Françoise was five years old.
As a little girl, Françoise had done some baton twirling, and she was introduced to juggling when she was eight years old by an Australian juggler. What was originally just a hobby quickly became a true passion. She continued training by herself, improving her skills by trial and error. In 1984, her juggling mentor invited her to spend a vacation in Australia. Françoise had become so proficient that she was invited there to make her fist television appearance as a juggling prodigy; she was only ten years old.
From then on, Françoise continued to improve her technique, performing in various venues while still going to school. In 1987, she managed to have four juggling records registered in the Guinness Book of World Records, and two years later, she won a Silver Medal with her juggling act at the Festival Mondial du Cirque de Demain in Paris, and a "Silver K" at the Festival Première Rampe in Monte Carlo. In 1990, she won a Bronze Medal at La Piste aux Espoirs in Tournai, Belgium. Finally, upon graduating from High School in 1991, Françoise began in earnest a professional career.
She has since worked extensively in circus and variety shows all over Europe, Asia, and the United States, and has appeared in several juggling conventions, where she continued to garner awards—including a Gold medal at the 1995 International Juggling Association Convention in Las Vegas. Among numerous other international awards and trophies, she also won a Silver Medal at the Circus Prinsessan Festival in Stockholm in 2010, and a Silver Medal at the 1st International Circus Festival in Kiev, Ukraine, in 2011.
In 2001, Françoise Rochais went to train with the great juggler Anthony Gatto, and his father, Nick Gatto; it was, in her own words, a "formidable expérience." The previous year, however, she had again entered the Guinness Book of World Records for her seven-baton juggling! Most recently, in July 2011, she received the Award of Excellence from the International Juggling Association in Rochester, Minnesota.
See Also
Image Gallery
External Link