Jenda Smaha
From Circopedia
By Dominique Jando
Jenda Smaha (1932-2006) was considered one of the best elephant trainers of his generation. Although he came from a well-established European circus family, he spent most of his career on stage in the United States, working in casinos and variety shows. To the public at large, his name is certainly not as famous as that of the elephants he presented, Bertha, and then a string of Tanyas.
The Vinicky-Smahas
Born Jan Vinicky on January 8, 1932 in Bad Salzelmen, a district of Schönebeck in Saxony-Anhalt, Germany, he was fifth generation of a celebrated German family of equestrians and animal trainers who worked under the stage name of Smaha. Jan, nicknamed Jenda, was the son of Antonin and Ingebord Vinicky. His father was a famous circus equestrian known in the business as Toni Smaha (1908-1986), and his mother was also a remarkable equestrienneA female equestrian, or horse trainer, horse presenter, or acrobat on horseback.. Jenda had two brothers, Antonin Joszi, known as Tony Smaha, Jr. (1949-2008), and Pero, equestrians and animal trainers as well. Jenda's uncle (Tony Smaha's brother) was Joszi Vinicky, who had also a brilliant career in Europe as a Master Equestrian and animal trainer.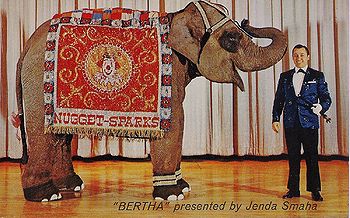 Jenda's grandfather, Joszi Vinicky, Sr., was born in the traveling menagerie business, and had worked as an elephant trainer with the legendary Czech circus
Kludsky
—which owned, at the time of its fateful bankruptcy in 1934, a group of 24 elephants. Joszi's children, Tony and Joszi (Jr.), became accomplished equestrians as well as all-around animal trainers. As a child, Jenda learned horsemanship from his parents, and started working with them in their equestrian displays in some of Europe's most prominent circuses, such as
Circus Strassburger
in Holland,
Cirkus Scott
in Sweden, and
Bertram Mills Circus
in London.
Tony Smaha-Vinicky moved with his family to Australia In 1950, to work with the Wirth's Circus—then Australia's oldest and most prominent circus. They stayed there until they were offered a contract with King Bros. Circus, which brought them to the United States in 1956. By then, Jenda, who had developed a passion for elephants, had become, like his grandfather, an outstanding elephant trainer—and he worked as such in several American circuses. In 1961, the family went to work for Wilbur Deppe's newly created Old Time Circus at the Circus World Museum in Baraboo, Wisconsin—in the old Ringling Bros. Circus winter quarters—and they settled in this history-rich circus town.
Wilbur Deppe had then just purchased a nine-year-old elephant, Bertha, which Jenda had trained and presented at Adams & Sells Circus in the late fifties. Jenda presented Bertha in the Circus World Museum show, and when John Ascuaga's Nugget Hotel & Casino in Sparks, Nevada, purchased the elephant in 1962, Jenda went with her. In Sparks, Bertha became used to working on stage, and she became quite a celebrity after Jenda Smaha appeared with her on television—on NBC's very popular The Steve Allen Show, and on ABC's Hollywood Palace.
Tanya, Star Of Stage And Television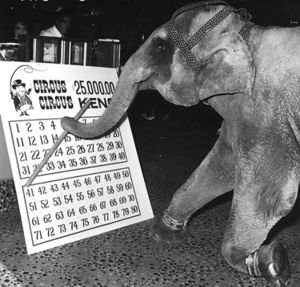 In 1965, Jenda acquired a one-year-old Thai elephant born in captivity,
Tanya
. Like he had done for Bertha, he trained Tanya to work onstage, and she made her entire career in casino showrooms—sometimes playing craps, keno, or working the slot machines as publicity stunts! In 1966, Jenda returned to Europe with Tanya, where they appeared during the 1966-1967 season of the London Palladium, first in the Christmas
pantomime
A circus play, not necessarily mute, with a dramatic story-line (a regular feature in 18th and 19th century circus performances).
Cinderella
, starring Cliff Richard, and then in
Showtime
, starring Frank Ifield; each time, Baby Tanya practically stole the show! In November 1967, still at the Palladium, Jenda and Tanya were invited to participate in a Royal Variety Performance in presence of Queen Elizabeth II and Prince Philip, with a cast that included the great British comedian Tommy Cooper, the French singer Mireille Mathieu, Tom Jones, and Bob Hope.
Back to the United States in 1968, Jenda Smaha appeared with Tanya at Circus Circus Hotel and Casino, and settled in Las Vegas the following year with his wife and stage partner, Rena—a former singer, born Sandra Goldston—and their daughter, Regina. Jenda and Rena would later have a son, Jan Christian (1973-2009). For more than a decade, Jenda, Rena and Tanya were featured in Vegas and Reno's major showrooms. In actuality, during that time, there would be four successive Tanyas, one taking the place of the other as each elephant grew up. Whoever she was at a given time, Tanya, like Bertha, became a television star; she appeared in two Ed Sullivan Shows (in 1967 and 1970), as well as in The Merv Griffin Show, The Mike Douglas Show, and on ABC's Those Amazing Animals in 1980. Tanya also appeared in a James Bond movie, Diamonds are Forever (1971).
In 1980, Jenda, Rena and Tanya, went to work in a casino in Botswana, in southern Africa. Then and there, Jenda fell in love with Africa, where he met Dr. Helena Fitchat, an internationally renowned animal conservationist, who was director of the Centre For Rehabilitation Of Wildlife, in Yellowwood Park, Durban, South Africa. This friendship let Jenda into developing a keen interest in elephant conservation; after his retirement from show business, he would return to Africa, where he enjoyed participating in photo safaris.
Jenda Smaha eventually retired in 1989, and he and Rena settled in Sarasota, Florida, America's circus capital, where they could spend time with their many circus friends who had retired there as well. Jenda died in his sleep in Africa, during one of his cherished photo safaris, on October 27, 2006. In his will, he had asked that memorial donations be made to the Centre For Rehabilitation Of Wildlife, to create a waterhole for elephants in a national wildlife park in Botswania.
See Also
Image Gallery