Joel Baker
From Circopedia
Clown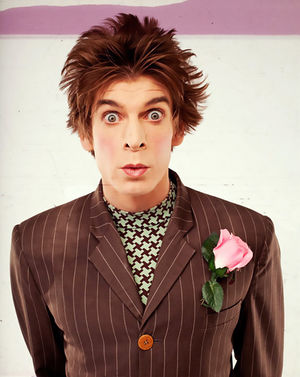 Joel Baker was born June 28, 1973 in New Orleans, Louisiana, in the United States to David Baker and Lynn Wirick. His father was a barber and Joel trained in his father's craft until a cross-country motorcycle trip landed him in San Francisco, where he discovered and fell in love with circus arts.
Joel began to attend circus training at San Francisco's Circus Center. There, he joined the newly-created Clown Conservatory, where he began incorporating acrobatics and balancing into physical comedy under the guidance of Jeff Raz, Dominique Jando, and acrobatic teacher Lu Yi (then Circus Center's Artistic Director). Joel launched his career in 2003 as an acrobatic clown in San Francisco's New Pickle Circus's production of Circumstances, directed by Gypsy Snider.
International Performer
In 2005-2006, Joel was featured in Loft, by Les 7 doigts de la main (7 Fingers), and in 2007-2008 in Soap at the Chamäleon Theatre in Berlin. From 2008 to 2014 he performed the "Nowhere Man"—and served as Artistic Coach—in the award-winning Cirque du Soleil show, The Beatles LOVE, at the Mirage Hotel and Casino in Las Vegas. In 2016, he was featured in Cirque Eloize's Cirkopolis, and he is a regular performer in the Palazzo varieté(German, from the French: ''variété'') A German variety show whose acts are mostly circus acts, performed in a cabaret atmosphere. Very popular in Germany before WWII, Varieté shows have experienced a renaissance since the 1980s. shows throughout Germany and Austria.
Joel Baker has served for multiple seasons as a performer and Assistant Director for the show Alis by Italy's Le Cirque. He has also directed San Francisco's Circus Bella's Summer shows in the parks and has performed with the troupe at the Smithsonian Folklife Festival celebrating Circus Arts in 2017. Other directorial collaborations include the Nevada Ballet Choreographer's Showcase.
He has teamed up with Clowns Without Borders Ireland and Belgium to work with children in Europe's refugee camps. Joel has appeared on television in NBC's America's Got Talent, ABC's The View, CBS's The Night that Changed America: A Grammy Salute to The Beatles, and was featured in James Cameron's film Cirque du Soleil: Worlds Away 3D (2012).
Image Gallery