Johnny Hutch
From Circopedia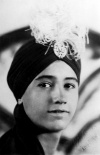 Acrobat
By Dominique Jando

Johnny Hutch (1913-2006) was one of the great British acrobats of the twentieth century, and one of Britain's most beloved circus and TV personalities. His career spanned seventy years, from his debut in 1927, with a Moroccan troupe of tumblers, to his last job as a stunt coordinator for the Royal Shakespeare Company in 1997. Most of it was spent in music halls and circuses, but he also became universally famous, in 1988-89 (and for years thereafter on reruns), as a sidekick of comedian Benny Hill in Thames Television's The Benny Hill Show.
The son of a docker, he was born John Hutchinson in Middlesbrough, England, on August 8, 1913. When Johnny reached fourteen, his father, John, decided that it was time for his son to get a job. Johnny was rather short for his age (in adulthood, he was five feet tall), and the jobs available around were not for him. So, his father suggested that Johnny train as a jockeyClassic equestrian act in which the participants ride standing in various attitudes on a galoping horse, perform various jumps while on the horse, and from the ground to the horse, and perform classic horse-vaulting exercises., but his mother, Margaret, thought it was too dangerous. She eventually saw an ad in a local paper: A troupe of acrobats was looking for a "small boy" to perform in their act as an apprentice.
The Seven Hindustans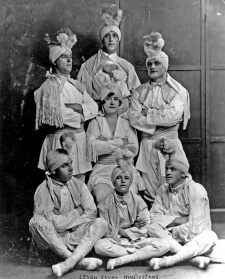 Johnny went to audition and was chosen; on October 27, 1927, he become officially an acrobat, apprentice to Harry Prescott (who was half English, half Moroccan) with the Hadji Mohamid Troupe. Four days later, he made his professional debut as the act's
top mounter
In an acrobatic or balancing act, the performer who holds the top position (on a human column, for instance).
at the Empire Music Hall in Middlesbrough. It was also the beginning of his apprenticeship, which would make Johnny Hutch a remarkable tumbler and acrobat, with a distinct Moroccan style.
At the outset of Johnny's association with it, the troupe was renamed The Seven Hindustans (and sometimes The Royal Hindustans)—perhaps to make it less foreign-sounding without losing its exotic appeal. In any event, the Hindustans were one of the best tumbling acts in Great Britain at the time, and the troupe was soon working on the Moss Circuit, the country's premier chain of variety theaters. It gave Johnny the possibility to study from the wings the best variety acts in the business, thus completing his artistic education.
In the winter of 1927-1928, Johnny Hutch made his debut in a circus ring as the troupe performed in the circus show staged at London's Agricultural Hall in Islington. For Easter, they were at Blackpool's Tower Circus, and then appeared at the London Palladium, Britain's legendary music hall, with Gracie Fields topping the bill. Still in 1928, they performed at another great music hall, the London Coliseum (today home of the English National Opera), in a show starring the celebrated clown Grock. There were plenty to study for him in these prestigious venues.
The Hindustans became a frequent feature at both the Palladium and the Coliseum. On May 22, 1930, the Royal Hindustans participated in a Royal Variety Performance at the Palladium for King George V. That same year, they were featured in Stand Up And Sing!, a revue starring Jack Buchanan at the London Hippodrome, on Leicester Square. In 1932, the Hindustans were performing in Tom Arnold's production of Puss In Boots at the Theatre Royal, Birmingham—in which Johnny also impersonated an octopus! In 1934, while playing the Palace Coliseum on the Isle of Man, Johnny Hutch celebrated his twenty-first birthday: He was now entering adulthood, which would take all its significance a few years later with the advent of World War II.
The Seven Volants
In 1940, Johnny and the Hindustans were at the Windmill Theatre in London, where Johnny met and fell in love with a pretty showgirl, Jean Phillips (1920-2006). They were married on September 16, 1940; a year later, Jean gave birth to their son, Brian. Finally, after a few more engagements in 1940, Johnny Hutch joined the military; he became a Staff Sergeant in a Parachute Regiment, and fought in North Africa and Italy. His career, like that of many of his colleagues in show business, was put on a hiatus.
After the war, Johnny struck a partnership with Victor Scott, an old acrobat who had an act before the war called The Rapid Four. Together, Hutch and Scott rebuilt The Rapid Four with two other acrobats, and Johnny Hutch was back in show business. He toured with The Rapid Four for twelve months, ending at the London Coliseum. Then, Johnny decided to form his own act with Harold Robinson, a war buddy who had been one of the Rapid Four, and three girls who were good acrobatic dancers. The act was called The Five Volants.
The Five Volants toured successfully for nine months, and then, Val Parnell, the director of the Moss Empire circuit, offered Johnny a contract, but this time for a larger group of seven acrobats, doing something comparable to the old Hindustans' act. Johnny Hutch seized the opportunity, and his new act, The Seven Volants, was born. It toured the Moss Empires from 1949 to 1956, including an engagement at the Glasgow Empire with Judy Garland in 1951.
1951 was also the year Johnny appeared for the first time (with the Seven Volants) with Benny Hill on television, on Hill's BBC show, Hi There!. On October 29, the Seven Volants participated in a Royal Variety Performance—the second for Johnny Hutch—at the Victoria Palace Theatre in London, in presence of Queen Elizabeth, and her daughters, Princess Elizabeth (the future Elizabeth II) and Princess Margaret; King George VI was too ill to attend: He would die four months later.
The Seven Volants, like before them The Seven Hindustans, were a very successful acrobatic act, much in demand in British circuses and variety shows. They also spent the 1957 and 1958 seasons in South Africa with the Boswell Circus, a prestigious venue for any European circus artist. In the sixties, The Seven Volants participated in several Christmas pantomimes at the London Palladium. Johnny also created and wrote with David Jackley The Handy Gang, a comedy series for BBC Television, which aired in 1963, and in which he and Jackley also performed. Then, in the pantomimeA circus play, not necessarily mute, with a dramatic story-line (a regular feature in 18th and 19th century circus performances). Babes In The Woods in 1965, Johnny Hutch's Seven Volants had changed the style and composition of their act; they had become The Herculeans.
From The Herculeans To The Royal Shakespeare Company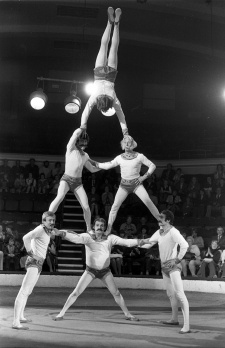 The Herculeans, a group of turn-of-the-century (the twentieth) mustachioed acrobats in white leotards and red bloomers, were perhaps Johnny Hutch's most successful act, and certainly the most imitated: It still is to this day an inspiration for many comedy acrobatic acts. The Herculeans, six in number, appeared several times on
Billy Smart's Circus
's BBC Television specials, and on Thames Television's
Live From The Hippodrome
—a show that was also broadcast in the United States, thus gaining The Herculeans international fame.
In 1973 and 1974, they toured for two seasons with Cirque Jean Richard, then France's premier and most popular circus. On this occasion, Johnny Hutch added a second act to the troupe's repertoire, a comedy tumbling act with a cast of eccentric characters named the Halfwits. The Halfwits also appeared on Billy Smart's Circus's BBC Television special in 1977, and would eventually become Johnny's sole (and last) acrobatic act. Like The Herculeans, The Halfwits have inspired many other comedy acts of the same type.
The last appearance of The Halfwits was at Blackpool's Tower Circus in 1982. By then, Johnny Hutch was sixty-nine, and he thought it was time for him to stop performing as an acrobat! He went on to create the Johnny Hutch School of Professional Acrobatics and Stagecraft—"Producers of High Class Specialty Acts. Knockabout and Fight Sequences. Traditional Trap Routines." In 1988-1989, he appeared in the last series of The Benny Hill Show, in which he would eventually replace Hill's diminutive and ancient sidekick, Jackie Wright.
Hutch still appeared in the occasional pantomimeA circus play, not necessarily mute, with a dramatic story-line (a regular feature in 18th and 19th century circus performances)., and his teaching activities led him to be hired as a stunt coordinator by the Royal Shakespeare Company—for Marlove's Tamburlaine The Great (1992) and Rostand's Cyrano de Bergerac (1997)—and to work as a consultant on the movie Chaplin (1992), starring Robert Downey, Jr. On June 11, 1994, Johnny Hutch was made an MBE and awarded the Order of the British Empire by Queen Elizabeth II at Buckingham Palace, "for service to young people of the theatrical profession." Jean Hutch passed away in March 2006; Johnny Hutch followed her a few months later, on December 9, 2006.
In the obituary he wrote for The Guardian, actor Antony Sher reminisced: "I first met Johnny when he trained me for the rope climbing and other acrobatics required for Terry Hands' 1992 RSC production of Marlowe's Tamburlaine the Great. I shall never forget the surprise of walking into the gym for our first session and discovering that my teacher was a diminutive man of 79. In reply to my 'Hello, how are you?' he said in a broad Yorkshire accent, 'No alright, ta, just a bit of arthritis in me wrists—it stops me walking on me hands, and I always like to start the day with a little walk on me hands.' I was speechless. My own father was roughly the same age, and could barely walk on his feet. Who was this man? Quite a phenomenon, it turned out." And indeed he was.
See Also
Suggested Reading
Image Gallery