The Charlivels
From Circopedia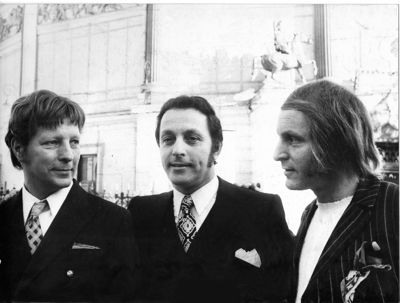 Acrobats
By Dominique Jando

In the 1950-1960s, The Charlivels were one of the most successful acrobatic acts on the international circus and variety scene, in constant demand in Europe and America. Their work was technically remarkable and artistically elegant, a flawless mix of acrobatics, music and dance—a combination ideally suited for variety theaters and nightclubs, but which remained as efficient in a circus ring. (Oftentimes, what seems spectacular on the stage loses its efficiency in a circus ring, which is a far more challenging performing space.)
Juanito (1922-2004), Charlie, Jr. (1925-2011), and Valentino (1927-2006) Andreu Busto were the sons of the legendary clown Charlie Rivel, and the brothers of Paulina Schumann. They were born on the road, during the international tours of their illustrious father: Juanito at sea, between Palma de Mallorca and Valencia, Spain; Charlie, Jr. in London during an engagement of The Andreu-Rivels, Charlie Rivel's family act, with Bertram Mills Circus; and Valentino in Brussels. They all began performing at a tender age, working along their father and uncles in circuses and variety theaters; Juanito and his sister Paulina had an act together as toddlers and performed a dance duet by the 1930s.
From The Charlie Rivel's Babies To The Charlivels
Although all the Andreu children received a thorough training in acrobatics and other circus disciplines, dance and music were an important part of their education, since it made it easier for them to present a novelty act in variety theaters, where Charlie Rivel often worked with his brothers, and later with his partners. The Andreu children became known on the variety circuit as Charlie Rivel's Babies. When Paulina left the act to marry the great equestrian and circus director Albert Schumann in 1946, her brothers built up their own act, The Charlivels.
With their unique mixture of music, dance and acrobatics, The Charlivels became an immediate sensation. During the 1950s and the 1960s, they worked in the most prestigious sedentary circuses in Europe, notably Cirkus Schumann in Copenhagen and the Cirque Medrano in Paris, and the best variety theaters and nightclubs around the world, from The Olympia and the Lido in Paris, and the Talk Of The Town and the Palladium in London, to Ciro's in Hollywood, the Latin Quarter in New York, and several Las Vegas early lounges.
Juanito Rivel
When the act was disbanded in the early 1970s, the brothers went their own ways, but only Juanito continued in the circus business. He had a short career as a talented clownGeneric term for all clowns and augustes. '''Specific:''' In Europe, the elegant, whiteface character who plays the role of the straight man to the Auguste in a clown team., and appeared notably with Circus Knie in Switzerland in 1974 and 1975. He later worked occasionally with his father as his straight man. Juanito eventually retired in Eskilstuna, not far from Stockholm in Sweden, where his brother Charlie, Jr. also lived. Valentino retired in Portugal.
The Charlivels have appeared in two movies: Wolfgang Staudte's Akrobat Schöön (1943), which starred their father, Charlie Rivel, and James V. Kern's musical, Two Tickets To Broadway (1951), starring Tony Martin, Janet Leigh and Ann Miller.
See Also
Image Gallery