Little Billy Merchant
From Circopedia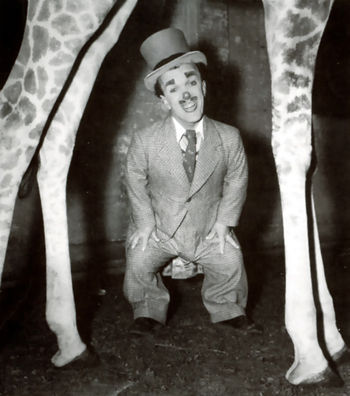 Clown
By Dominique Jando

Little Billy (1919-2001) was a very popular English augusteIn a classic European clown team, the comic, red-nosed character, as opposed to the elegant, whiteface Clown. whose long and rich career, which began on the music-hall stage, took him to some of the most prestigious circuses of Britain and Europe. He truly came to the spotlight when he eventually partnered with the popular augusteIn a classic European clown team, the comic, red-nosed character, as opposed to the elegant, whiteface Clown. Jacko Fossett, a successful association that began at Bertram Mills Circus and morphed into a lifelong friendship.
Early Years
He was born William Alfred Merchant on July 31, 1919, in Bristol, England. His father was unknown—and practically nothing is known of his mother, either. This lack of a father may be the reason why—along with the fact that William was afflicted with achondroplasia (dwarfism)—his mother chose to abandon him at an early age. Billy, as he became known, was placed in an orphanage in Bristol where he spent his childhood and adolescence.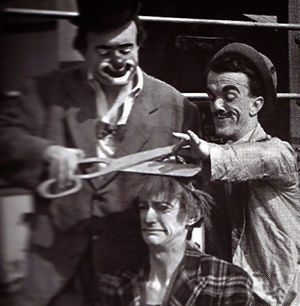 As a teenager, he became increasingly attracted to show business and spent his free time visiting the local music-halls, notably Bristol's Hippodrome and Empire theatres. In 1937, the Empire featured the celebrated troupe of performing "midgets" of John Lester (1870-1950), a former American
aerialist
Any acrobat working above the ring on an aerial equipment such as trapeze, Roman Rings, Spanish web, etc.
turned impresario. Lester's troupe was mostly composed of little people, perfectly proportioned, as opposed to dwarves such as Billy. Nonetheless, he went to the theater to see John Lester. Asked by the impresario what he could do, Billy answered that he could tumble; that was good enough for a comedy part, and he was hired.
Billy did a tumbling act with two diminutive partners that was in effect a visual parody of popular acts of the genre, such as The Craddocks and, later, Charlivels. Lester was not the easiest of directors, and after a while, Billy, who now had stage experience, joined the acrobatic troupe of Joe Boganny (John Clifton, 1874-1943), whose act, very popular on the British variety circuit, traditionally included dwarf acrobats. With Boganny, Billy became truly exposed to "big time" variety and what is more, he could fully express his nascent comedic talents. He finally was in show business, and there to stay.
Then, in 1939, as the outbreak of WWII, Billy, who could not enroll in the military, did nonetheless his patriotic bit and went to work as an aircraft fitter at the Bristol Aeroplane Company. Finally, as the war was coming to an end, he resumed his performing career at Blackpool's Tower Circus, and for the 1944 season, he teamed up with the augusteIn a classic European clown team, the comic, red-nosed character, as opposed to the elegant, whiteface Clown. Fiery Jack (Fred Zetina) at the Chessington Zoo Circus, in Surrey, southwest of London. For the summer of 1945, he returned to the Tower Circus in Blackpool, where became part of Charlie Cairoli's act. Coco, another great British clownGeneric term for all clowns and augustes. '''Specific:''' In Europe, the elegant, whiteface character who plays the role of the straight man to the Auguste in a clown team., and a Bertram Mills Circus's fixture before the war was also in the show.
Charlie Cairoli was indeed a great mentor, from whom Billy learnt a lot, and whose simple, minimal French-style make-up he adopted for himself. He must have done well with Charlie Cairoli because when Cyril Mills visited Blackpool on his talent search before restarting Bertram Mills Circus after the war hiatus, he offered Little Billy a contract for the first post-war tour of Britain's premier circus in the summer of 1946. Before that, Billy spent the winter season with Len ("Spider") and Albert ("Alby") Austin, who had also been contracted by Cyril Mills for his circus's reopening.
From Bertram Mills Circus to Copenhagen
As The Austins, Billy and the Austin brothers performed in Tom Arnold stage shows on the Moss-Empire circuit, and at Belle Vue International Circus, Manchester's huge and prestigious Christmas show at Belle Vue Zoological Gardens. (Founded in 1929, it was, after Mills, the biggest winter show in England, and it had the longest winter season: six to seven weeks.) Then, still as a trio, they performed in the first post-war tour of Mills in 1946—but they didn't participate in the London winter show at Olympia. (Coco rejoined Mills in 1947 and would become its most iconic figure.) After Mills, Billy and the Austins spent the 1948 and 1949 seasons with Chipperfields Circus.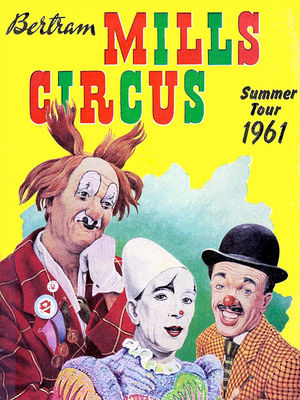 Then, Len and Alby parted company; Little Billy and Alby Austin returned to Bertram Mills Circus for the summer tour of 1950. Billy would remain with Mills until the end of the tenting show in 1964; he also participated in the winter shows at Olympia until that year, although these ended in 1967, when the Mills brothers decided to dissolve their company. Meanwhile, in the summer of 1962, the popular
auguste
In a classic European clown team, the comic, red-nosed character, as opposed to the elegant, whiteface Clown.
Jacko Fossett
, an old stalwart of the
Robert Brothers Circus
, joined Mills and would remain with the show until the end in 1967. Billy and Jacko had met previously when Billy was still with the Austins; during their time together at Mills, they would often partner in the clown reprises.
After Mills had folded its tent, Billy Merchant decided to retire from show business, and went to live in Reading, Berkshire, in a theatrical guesthouse ran by friends of his where he used to stay between contracts. But this didn't last long. In 1966, the Schumanns, the legendary equestrian family that had been long associated with Bertram Mills Circus, had asked Jacko Fossett to join their prestigious Cirkus Schumann in Copenhagen, Denmark, along with Antonio, a dwarf augusteIn a classic European clown team, the comic, red-nosed character, as opposed to the elegant, whiteface Clown. from Bertram Mills. There, the duo partnered with another diminutive augusteIn a classic European clown team, the comic, red-nosed character, as opposed to the elegant, whiteface Clown. named Kiki (Otto Moskovitz, 1908-1985), a Romanian who was a Cirkus Schumann's favorite. When Kiki retired in 1968, Jacko called Billy Merchant to replace him; it was the beginning of a long and fruitful collaboration.
That same year, Jacko Fossett and Little Billy were invited to perform for the winter season at Manchester's Belle Vue International Circus. In 1975, they were rejoined there by Jacko's old friend, Norman Barrett, who became the show's ringmaster(American, English) The name given today to the old position of Equestrian Director, and by extension, to the presenter of the show. in replacement of Nelly Jane Benneweis. (From 1929 to 1970, Belle Vue's legendary ringmaster(American, English) The name given today to the old position of Equestrian Director, and by extension, to the presenter of the show. had been the indestructible George Lockhart—1883-1979). Jacko Fossett and Little Billy (as well as Norman) would appear each winter at Belle Vue until 1982, when the show was sadly discontinued.
Jacko and Billy spent their summer seasons with Cirkus Schumann until 1969, at which point, facing the same financial realities as the Mills brothers, the Schumanns also called it quits. Since 1916, Cirkus Schumann, Denmark's premier circus, had played the longest part of its season at the Cirkusbygningen ("circus building") of Copenhagen. After the Schumanns' demise, their main competition, Cirkus Benneweis, succeeded them at the Cirkusbygningen while maintaining their tenting unit at the same time. Little Billy and Jacko Fossett, who had quickly become popular figures in Copenhagen, were immediately re-hired by Eli Benneweis.
International Travels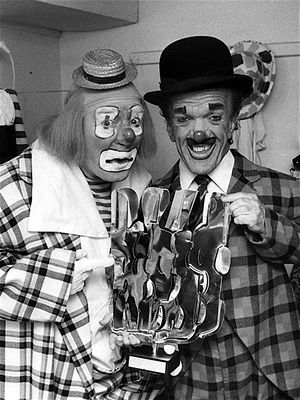 Fossett and Billy performed with Benneweis in Copenhagen until 1972. Then, they returned to England where they became fixtures of
Billy Russell
's Circus at the
Hippodrome
of Great Yarmouth (a popular seaside resort in Norfolk), which was then under the management of John Russell (Billy Russell's son) and Ben Dean. Jacko and Little Billy would be featured at the Hippodrome for six consecutive summer seasons, from 1973 to 1979. During all that time, they also appeared in several circus performances on British television presented by the
Chipperfields
or
Billy Smart
.
Jacko Fossett and Little Billy continued to work occasionally abroad. In the winter of 1973, they spent one month at the Kronebau, Circus Krone's building in Munich. They were quite successful there, but their next engagement (billed as "Les Fossetts") at the Cirque Pinder-Jean Richard in Paris flopped miserably. Their broad slapstick humor, which worked very well in Britain and Northern Europe, didn't score well with French audiences, used as they were to a more "theatrical" style of clowning—well-structured and spiked with verbal humor and music (illustrated in England by Charlie Cairoli, who was of French origin).
Nonetheless, in 1978, they did well at the Cirque de la Voix du Nord in Lille, near the French-Belgian border, and they even won an award at the Festival International des Clowns held in the seaside resort of Blankenberge in Belgium. Their Parisian failure was one of the rare instances where their act didn't translate well; they were generally very well received abroad, including in such shows as the huge ATA (Artisten Tiere Attraktionen) at Vienna's Stadthalle, or in Italy with Enis Togni.
Then, at the end of the 1978-1979 winter season at Belle Vue, Little Billy Merchant, who was now nearing his sixtieth birthday and had been on stage and in the ring for forty-one years, decided to retire from performing. He returned to his friends' home in Reading, and in 1984, he moved to Skegness, a Lincolnshire seaside resort, where he and Fossett would eventually reunite.
Epilogue
In 1990, Jacko Fossett went to work at the Blackpool Tower Circus, home of superlative clowning thanks to Charlie Cairoli. This had been an old dream of his. Unfortunately, he suffered a heart attack in the middle of the season, and he was told by his doctors that it was time for him to retire from the ring. He was sixty-nine. He returned to the ring for the last performance of the season, to receive a special award presented to him by the Circus Friends Association of Great Britain.
Then Fossett retired to a house he and his wife Connie owned in Skegness. There, Billy and Jacko often spent time together. On occasions they even found themselves in neighboring beds when ill health necessitated hospital treatment for both! In all of their years together, they never exchanged a cross word. Fossett said Billy was "the best partner I have ever had, and the one with whom I never had an argument."
Billy moved to Seacroft Court Nursing Home, a retirement home in Skegness, where Jacko Fossett would eventually rejoin him. In 2000, Billy Merchant received a Lifetime Achievement Award presented to him in Skegness by the Circus Friends Association of Great Britain. Little Billy passed away the following year, on May 26, 2001; he was eighty-one years old. Jacko Fossett, his partner of many years, followed him three years later.
See Also
Image Gallery