Regina Dobrovitskaya
From Circopedia
Aerialist, Acrobat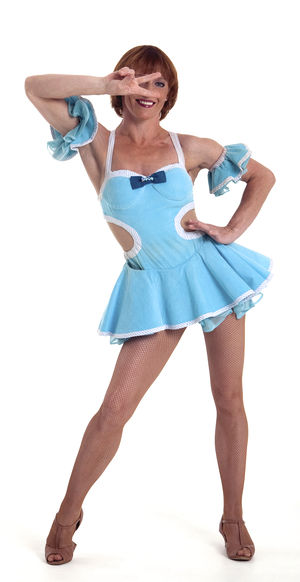 By Dominique Jando

Born February 9, 1968 in St. Petersburg, Russia, to a family not related with the circus, Regina Dobrovitskaya started training in competitive gymnastics at the age of seven. She became part of the National Gymnastic Team of the Soviet Union and competed internationally from 1979 to 1984 – gathering gold, silver and bronze medals along the way, and several Russian championships titles.
In 1985, when her competition years were over, she went to train at the Circus Studio in Moscow, the professional training center of SoyuzGosTsirk, then the central state organization of the Russian circus (today RosGosTsirk). There she began working under Piotr Maistrenko with Vladimir Egorov in a combination act involving aerial upright cradle and Russian barre. Then Egorov and his troupe moved to the "Old Circus" on Tsvetnoy Boulevard (today Circus Nikulin) and made two acts out of one, which were directed by Natalia Makovskaya. Regina participated in both acts (flying actAny aerial act in which an acrobat is propelled in the air from one point to another. and Russian barreFlexible pole, held horizontally by two catchers, or under-standers, with which they propelled a flyer in acrobatic figures from and to the pole.).
She made her debut at Moscow's Bolshoi Circus with these acts in 1988. For ten years, she was a member of the Egorov Troupe, performing in both acts and touring extensively in Europe and Asia with various units of the Moscow Circus. The Egorov Troupe made its American debut in 1992 at the Big Apple Circus, where they returned regularly with one act or the other until 1996, at which point Vladimir Egorov dissolved his troupe.
Regina chose to stay with the Big Apple Circus as a member of its resident company. A remarkably versatile and talented artist, Regina performed there, from 1997 to 2011, all sorts of acrobatic and aerial acts, including hand-to-handAn acrobatic act in which one or more acrobats do hand-balancing in the hands of an under-stander. balancing, aerial "bambou(French - Russian: Bambuk) Aerial apparatus, generally a hanging perch, from where the performers hang with the help of hand or ankle loops. See also: Aerial perch." (aerial perchAn aerial apparatus, generally a hanging perch, from where the performers hang with the help of hand or ankle loops. (French: Bambou - Russian: Bambuk)) with Valdis Yanovskis, swinging trapeze, tissu(French) A double piece of hanging fabric, generally made of silk, used for an aerial act. (See also: Fabric, Silks), cloud swing(English, American) The ancestor of the trapeze: a slack rope hanging from both ends, used as an aerial swinging apparatus. The addition of a bar in the middle led to the creation of the trapeze., and even an acrobatic act with dogs! She retired from performing in July 2011 and settled in Las Vegas, where she coaches young gymnasts.
See Also
Image Gallery