Rogana
From Circopedia
Sword Balancer
By Don Stacey

Dora Rogge was born in October 1933 in Germany to a well-known circus family; her grandmother was Leopoldine Lange (1873-1956), and her cousins were the famous Mascotts sisters. Dora began performing in the ring at age six with her sisters, Gerda and Vera. In time, the three Rogge Sisters developed a rolling globe act in which they ascended narrow inclined ramps to reach a set of elevated platforms. It eventually became one of Europe's most celebrated numbers of the genre: The Rogge Sisters had revived a specialty that had not been seen for a long time in the circus—and their act was subsequently widely copied by other artistes.
The Rogge Sisters
After working in Germany for some years, the Rogge Sisters went to London to appear for the first time in England in Tom Arnold's prestigious circus at the Harringay Arena for the winter season of 1950-51—thus launching their international career. They were featured afterwards in leading European shows, including Circus Knie in Switzerland, and Circus Krone and Circus Franz Althoff in Germany, in England at Blackpool's Tower Circus in 1952, and at the Kelvin Hall Circus in Glasgow, Scotlamd, for the 1952-53 winter season.
They returned to London for the Bertram Mills Circus's 1953-54 winter season at Olympia. Afterwards, Dora, Vera and Gerda were booked for three consecutive tenting tours with Bertram Mills Circus from 1955 to 1957. At the end of the 1957 tour, Dora left her sisters and remained with the Bertram Mills Circus to marry one of its two long-serving ringmasters, Frank Foster Jnr.. (Together, Frank and Dora would have a son, Francis.)
Vera and Gerda regrouped the Rogge Sisters act with Frank's sister, Juliette. For a brief period in 1963-64, they were featured with Ringling Bros. and Barnum & Bailey Circus during its short-lived European tour. The act was still doing very well, but it eventually disbanded after Vera's tragic death in the fire of her living trailer; Gerda Rogge went on to create a successful "strong lady" act of her own under the name of Miss Atlas. (She died in Hamburg in 1996, at the age of sixty.)
Enter Rogana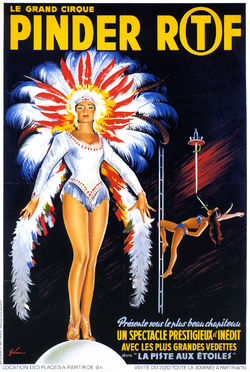 In the winter of 1957-58, a young East-German performer,
Marco
, appeared on the bill at Bertram Mills Circus in London; his was a very successful number in which he ascended a swaying ladder, holding in his mouth a dagger, on the tip of which he balanced a sword, tip-to-tip. Circus director
Cyril Mills
, who held an engineering degree, was able to recreate Marco's apparatus for a new act for Dora. Thus, as Rogana, Dora Rogge created a magnificent act in the same vein, to which she added her juggling and rolling-globe balancing skills.
Rogana's act made its debut at the Bertram Mills' tenting show in 1961, remaining with the touring version until 1963, and appearing at Olympia in London for the winter season of 1961-62. Her husband, Frank Foster Jnr., later said, "There is nothing new in this business, but a copy must be better and improved in every way." While Marco was undoubtedly the best post-war male exponent of this particular specialty, Rogana became its first and best female performer, and was later widely copied around the world.
After 1963, both Dora and her husband left the Mills organisation to travel the world with Rogana's sword-and-dagger balancing act. They appeared in many European leading circuses and variety theatres and cabarets, as well as at Blackpool's Tower Circus in England in the summers of 1966, 1972 and 1977. American engagements included Ringling Bros. and Barnum & Bailey (1969-1971), and the tented Circus Vargas (1974-1975). As late as 1996-1997, Rogana was featured in The Fabulous Palm Springs Follies—a very popular revue whose performers have to be over fifty—along Hollywood legend Howard Keel.
Rogana has also appeared in many television shows in Europe and the United States. She and Frank Foster Jnr. established their home for a while in Hamburg, Germany, but after working in America, they finally settled in Tokomis, Florida, where they live in happy retirement.
See Also
Image Gallery