Ross Mollison
From Circopedia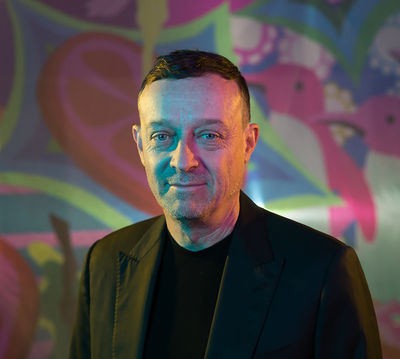 Circus Producer
An Australian native, Ross Mollison is the founder of Spiegelworld, a circus company producing very successful high-quality, adult-oriented contemporary circus and circus-cabaret shows, based in Las Vegas, Nevada, and currently (2023) active in Las Vegas and Atlantic City, New Jersey. In 2022, Spiegelworld purchased the tiny town of Nipton, in California's Mojave Desert, with a vision of creating Circus Town, a creative development retreat for the circus community.
Ross was born October 21, 1963, in Melbourne, Australia, in a family that had no ties with show business; however, the family's next-door neighbors were circus fans, and they took Ross to see a visiting company of the Moscow Circus when he was a child: He got instantly hooked! Later, he attended Monash University (where he graduated with a bachelor's degree in economics) and got heavily involved in student theater. This led him to set up in 1989, immediately after graduation, his own theater marketing agency and to begin a successful career in show business.
Over three decades, Ross Mollison worked with a wide range of high-end clients that included Cirque du Soleil, the Sydney Opera House, Sydney Theatre Company, Circus Oz, and the Moscow Circus. In 1999, Ross co-produced an innovative production of Andrew Lloyd Webber's musical Cats which toured Australia in a 2000-seat black big topThe circus tent. America: The main tent of a traveling circus, where the show is performed, as opposed to the other tops. (French, Russian: Chapiteau). Meanwhile, in 1998, he had became involved with an original hit show, Puppetry of the Penis, which opened to rave reviews at the Melbourne International Comedy Festival and, after an extensive Australian tour, became an world-wide sensation.
Spiegelworld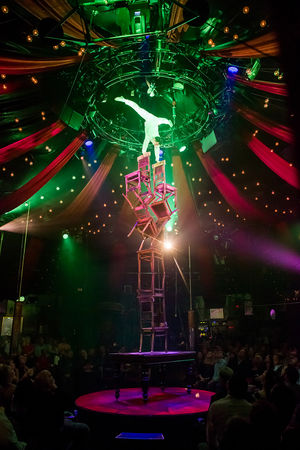 Ross brought it to New York at the off-Broadway John Houseman Theatre on 42nd Street; the show began to preview on September 25, 2001, two weeks after the 9/11 attacks on the World Trade Center. However,
Puppetry of the Penis
was good comedy entertainment and it proved to be what New Yorkers desperately needed at the time; it became an unmitigated success that enjoyed a solid two-year run. This experience encouraged Ross to continue producing shows on the off-Broadway scene—starting in 2005-2006 with
Slava Polunin
's internationally acclaimed clown show,
Slava's Snowshow
.
Ross created Spiegelworld in 2006 and presented the first incarnation of the show Absinthe in a spiegeltent located at the end of the old Pier 17 on New York City's East River, under the Brooklyn Bridge near the Fulton Fish Market. Conceived for an adult audience, it was a new approach to contemporary circus, with a mixture of uninhibited in-your-face comedy, sexual undertones, and, most importantly, high-quality international circus acts; it was a huge success that lasted three summer seasons.
Absinthe eventually opened in Las Vegas in 2011, where it enjoyed a phenomenal success, offering a refreshing circus alternative to the well-established juggernauts produced by Cirque du Soleil and its offspring. Since then, Spiegelworld has based its operations in Vegas, where it runs three permanent shows on the Las Vegas strip: Absinthe at Caesars Palace, OPM at The Cosmopolitan, and Atomic Saloon Show at The Venetian.
More recently, Spiegelworld's first "Superfrico" restaurant opened at OPM in September 2021. Then, the company's first east-coast permanent home, The Hook, opened at Caesars Atlantic City in July 2023 with a brand-new show and another Superfrico restaurant. Today, Spiegelworld has developed into a passionate team of more than 500 creators, performers and staff who transport guests out of their real worlds to a universe where raucous hilarity, intimacy and beauty take the center stage.
See Also
Image Gallery