The Rastellis
From Circopedia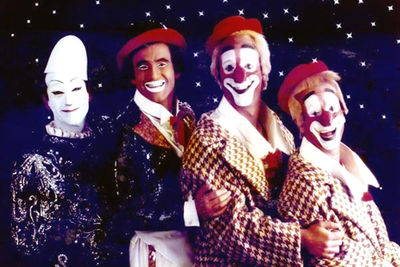 Clowns
By Raffaele de Ritis and Dominique Jando

The Rastellis were perhaps the longest-running clown act in circus history: created in the early 1930s, it lasted well into the twenty-first century, performing until 2002 with unremitting success! New generations of Rastellis replaced the elders, but they kept the composition and the style of the act unchanged for nearly three quarters of a century. For seventy years, The Rastellis made audiences laugh on five continents, performing in the most prestigious venues of the international circus and variety scene.
The founder of the act was the Italian acrobat Oreste Rastelli (1900-1962), a third-generation circus performer who was a cousin of the legendary juggler, Enrico Rastelli. Oreste started his career with a hand-to-handAn acrobatic act in which one or more acrobats do hand-balancing in the hands of an under-stander. balancing act, which he performed with his brother Adolfo (1895-1928). Unfortunately, Adolfo's untimely death from pneumonia at the age of thirty-five put an abrupt end to their act. So Oreste, who had received a very thorough and complete training within his family—like all Italian circus kids—became a solo contortionist, and occasionally appeared as a bareback rider or an acrobat, according to what was needed for the show he was in, and sometimes as a clownGeneric term for all clowns and augustes. '''Specific:''' In Europe, the elegant, whiteface character who plays the role of the straight man to the Auguste in a clown team..
Oreste Rastelli married Lina Pollastrini, whose father ran a circus in Brazil. Their son Alfredo (1923-2005), who was born in Paris on December 2, 1923 when the family was working at Cirque Medrano, soon showed a particular talent for music and a passion for clowning. He made his debut in the ring at age four in Germany, and he first put on a red nose in 1932 in Warsaw; his clown career would continue uninterrupted for the next seventy years.
Circus, Pantomimes And Ice Shows
In the mid-1930s, the Rastellis began to acquire a solid reputation for their trampoline act, which combined trampoline and casting cradlePiece of apparatus (generally aerial) composed of two horizontal parallel bars in which a catcher locks his legs to be in position of catching a flyer. (Variant: Korean Cradle.). Beside Oreste, Lina and Alfredo, the act included the Spanish catcherIn an acrobatic or a flying act, the person whose role is to catch acrobats that have been propelled in the air. José Gabastou, and the flyerAn acrobat that is propelled in the air, either in a flying act, or in an acrobatic act (i.e. teeterboard). Antonio Poletto who had been part of the famous icaristAcrobat who juggle another acrobat with his feet. See Icarism, Risley Act. troupe, The Bedinis. The central element of the act, however, was the diminutive Brazilian acrobat Aristide Alves Ferreira, whom the Rastellis had brought back with them after an engagement with Pollastrini's circus in Brazil.
Ferreira, who was of African descent, was first nicknamed Negrito, and later Chocolate—the quasi-official nickname for any Black artist since the days of the famous augusteIn a classic European clown team, the comic, red-nosed character, as opposed to the elegant, whiteface Clown. Chocolat, of Foottit & Chocolat's fame. Dressed in a white sailor outfit, Chocolate Ferreira could perform an amazingly long series of somersaults at breakneck speed on the trampoline; his record, it is said, was a succession of 508 somersaults. Then, following the example of many families of acrobats and equestrians (like the Andreus and the Carolis), the Rastellis put together a clown act that they sold as their "second act"—a move that made them economically more attractive to producers and agents. The clown act, which was billed as Chocolate & Co., was originally composed of Oreste, Alfredo, and Chocolate Ferreira, to whom were added various whiteface clowns; one of the first of them was Rolph Zavatta (who performed with the Rastellis at Paris's Cirque Medrano in 1937). Zavatta would soon be replaced by José Gabastou.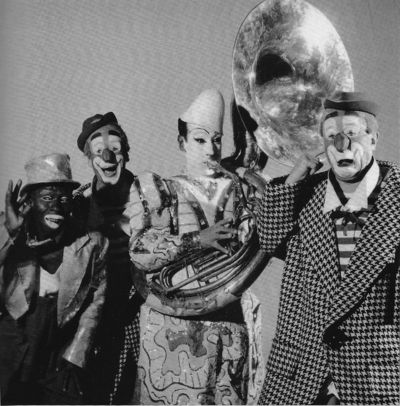 Chocolate & Co. probably made their clown debut in Warsaw, at
Circus Staniewsky
in 1932. From the start, the language
barrier
(Russian. French: Banquette. U.S.: Ring Curb) The circular barrier that defines the ring, and separates it from the audience.
forced them to create an act mostly built on visual gags. They later worked in France with
Cirque Pourtier
, in Spain with
Circo Alegria
in 1936, then at Cirque Medrano in Paris the following year. They also found a fertile market in England, starting in the winter of 1934-35 with an engagement at the
Crystal Palace Circus
in London, followed by winter seasons at
Belle Vue Circus
in Manchester,
Kelvin Hall Circus
in Glasgow, and at the Royal Agricultural Hall in London in 1937-38. They also appeared briefly on the British music-hall circuit.
During WWII, the Rastellis (and Chocolate & Co.) worked for the German circuses Hagenbeck (in the old Circus Renz building in Vienna), and Krone in Munich—where they appeared when the Bavarian capital was bombed by the Allied Forces. (Italy was part of the Axis, and many Italian circus performers worked in Germany then.) The year 1944 found them at Circus Apollo in Czechoslovakia. It is also in Czechoslovakia, in 1946, that Alfredo met his wife, Agnese Vertain, when they were both working at Circus Henry.
They Rastellis spent the 1946 season at Switzerland's Circus Knie (during which time Alfredo married Agnese in Lugano). They appeared there with their trampoline act, The Rastellis, and a musical act, which they performed in evening clothes, and in which Alfredo played a host of different instruments. In 1949, their acts were featured at Cirkus Schumann in Sweden and Denmark. From then on, they would appear only in the most prestigious shows, in Europe and abroad.
In the winter of 1948-49, they returned to London, where they were featured at Tom Arnold's Mammoth Circus at Harringay for the Christmas season. Tom Arnold booked them afterward at the Alhambra Theatre in Glasgow, where the Rastellis-Chocolates were featured in a traditional British Christmas pantomimeA circus play, not necessarily mute, with a dramatic story-line (a regular feature in 18th and 19th century circus performances).. They became a popular guest act in subsequent British pantomimes: Dick Whittington on Ice in 1950-51 at the Wembley Empire Pool (the first of many ice shows in which they would work), then Robinson Crusoe (1951-52), Sleeping Beauty (1952-53), Humpty Dumpty (1953-54), Aladdin (1954-55), Cinderella (1956-57), and Peter Pan (1962-63). The elaborate visual gags used in the British pantomimeA circus play, not necessarily mute, with a dramatic story-line (a regular feature in 18th and 19th century circus performances)., as well as the strong English slapstick tradition would considerably influence the Rastellis' style of clowning, which departed greatly from the classical entrée(French) Clown piece with a dramatic structure, generally in the form of a short story or scene. tradition usually favored by Latin clowns.
With the success of their clown act, The Rastellis' trampoline act slowly faded away, and by the mid-1950s, they turned their energies exclusively toward their clown career. Ice show spectaculars were very popular in the 1960s and 1970s, and the Rastellis' clown act appeared in several of them in Great Britain, eventually becoming for many years a fixture of the international ice spectacular Holiday On Ice, with which they toured Europe, Asia, Australia and South America, and appeared at the New York World Fair in 1964.
Filmed in one of these ice shows, their clown act appeared in its entirety in Alessandro Blasetti's movie Europa di Notte ("European Nights", 1956)—the forerunner of the hip "Mondo" movies of the 1960s—which gave the Rastellis a remarkable exposure all over the world. They occasionally returned to the circus, appearing with Cirkus Schumann in 1954, and with Circus Knie in 1956 and 1967—two of Europe's most prestigious venues.
The Rastellis' Style
When the Rastellis' clown act reached its maturity in the 1960s, it didn't have much left of the traditional Italian or European clown entrées—although it kept such classical elements as a traditional whiteface clown confronted with traditional augustes. However, it parted with the age-old primacy of the verbal component, which was reduced to a bare minimum (but didn't completely disappear). The Rastellis' clown act had become a perfectly oiled machine that produced a fast succession of absurd sight gags, coming in and out of the ring at breakneck pace.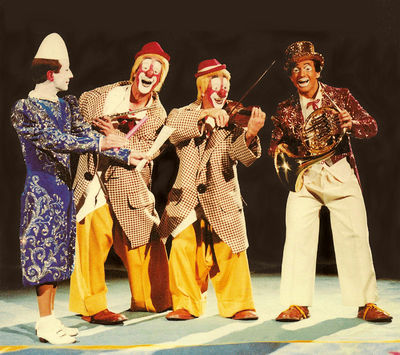 Oreste and Alfredo had created colorful twin characters (vaguely reminiscent of
Albert Fratellini
's extravagant archetype) with identical, over-the-top costumes and makeup that prevented them from expressing any restrained emotion: Prospective verbal arguments were immediately replaced by short outbursts of physical violence—it was almost a perfect style for the upcoming social alienation of the 1960s. By then, the Rastellis had finally found a magnificent whiteface clown in Antonio Poletto, who asserted his authority in both a physical and playful way. Chocolate Ferreira's character added to the ensemble a subtly contrasting brushstroke.
Alfredo's musical talents enhanced the act in a way that few could emulate: his two-trumpet medley (More and O Sole Mio) remains a strong emotional moment in circus lore. The Rastellis "inspired" nonetheless many other clown troupes, who shamelessly copied their style and their repertoire. None, however, were ever able to reach their musical virtuosity or to replicate the intricacy of some of their mechanical props: For a two-second sight gag, their grand piano was shot by a cannon and exploded in a constellation of broken parts—which the Rastellis could barely put back together in time for the next show when they had two matinees the same day!
Over the years, the act saw a few changes of personnel. After Oreste's death in 1962, Alfredo's son, Oreste Jr. (b.1947) replaced him as one of the twin augustes. Like his father, he was an accomplished musician, originally destined to a musical career. In 1969, Chocolate Ferreira retired from the act, and was replaced by Alfredos's second son, Vittorio (b.1955), who performed in blackface—a character reminiscent of American Minstrelsy. By then, Chocolate & Co. had become The Rastellis. Finally, after Antonio Poletto's retirement in the early 1980s, his role was taken over by Oreste Jr.'s wife, Francesca, a former ice-show skater from Switzerland.
In 1966, the Rastellis went on tour with the Togni family's Circo Heros in Italy, Germany, and Holland. Then, after three seasons with Sweden's Circus Scott, they returned to the Tognis and became a recurrent fixture of their Circo Americano from 1979 to 1996. Their act, which had been fashioned to play the big arenas used by Holiday On Ice and other ice shows, was perfectly suited for the Tognis' huge big topThe circus tent. America: The main tent of a traveling circus, where the show is performed, as opposed to the other tops. (French, Russian: Chapiteau), and easily generated laughs between large groups of animals, three-ring displays, and the Circo Americano's lavish production numbers; and it worked with equal success in Italy, France, Austria, and Germany, where the circus took them.
Final Years And Revival
The Rastellis took a break from Circo Americano in the summers of 1980, 1981, and 1982, when they went to Blackpool's Tower Circus to replace its legendary star, the great augusteIn a classic European clown team, the comic, red-nosed character, as opposed to the elegant, whiteface Clown. Charlie Cairoli (1910-1980), who had passed away. It was an interesting moment for circus enthusiasts, since the Rastellis had to renew their material from one season to another: Beside their well-seasoned slapstick-cum-music act, they proved in their second entrée(French) Clown piece with a dramatic structure, generally in the form of a short story or scene. that they were still able to produce efficiently a more traditional type of clowning.
In 1985, they returned to Holiday On Ice for three years, after which they stopped touring. They settled in their home in Bergamo, Italy, and performed in the summer in Italian amusement parks and, in the winter, gave jazz concert in Italian theaters and concert halls, and appeared in Christmas shows in France and elsewhere. The climax of their long and illustrious career was reached in January 2000, when the Rastellis were invited to perform at the International Circus Festival of Monte Carlo. There, Alfredo received a Life Achievement Award presented to him by Prince Rainier III of Monaco. Beside the traditional Rastellis' clown entrée(French) Clown piece with a dramatic structure, generally in the form of a short story or scene., Alfredo also gave a special performance of his musical act: In blue tuxedo, he played twenty musical instruments and gave a little tap-dance exhibition. Alfredo was then seventy-eight years old!
Then, the family went into an ice-rink rental and production business. In the winter of 2001-2002, in association with Casartelli-De Rocchi, they produced a small ice show, Pinocchio On Ice. The last appearances of the original Rastellis' clown act were at Circus Kronebau in Munich in March 2002, followed by the Euroclown Festival in Barcelona, Spain, that same year. Sadly, after a long and rich career, Alfredo Rastelli passed away on May 1, 2005. It was believed that with him, one of the most celebrated clown acts in circus history had disappeared.
Yet, did it? It seems that the name Rastelli cannot leave the world of clowning: the Rastellis were revived by Oreste, Jr. and Vittorio in 2011, first as a musical clown duo, then as a trio, and finally, in 2015, in its original form as a quatuor, reviving the perennial Rastelli "exploding piano" entrée(French) Clown piece with a dramatic structure, generally in the form of a short story or scene.. The new Rastellis resumed their international appearances with Circkus Scott, in Sweden, and have continued with success ever since. In January 2016, the New Rastellis (as they call themselves) were featured at the Internatioinal Circus Festival of Monte Carlo's 40th Anniversary show. Great clowns never die...
See Also
Image Gallery