Tom Dougherty
From Circopedia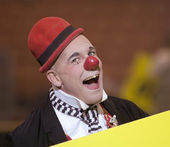 Clown
By Dominique Jando

Tom Dougherty was born in Brooklyn, New York on May 27, 1956, the son of James A. Dougherty, a lawyer, and Elizabeth Dougherty, née Muller, a private school Principal—none of each connected to show business in any way. Yet Tom's grandfather, Adolf L. Müller, who was one of the main architects of Brooklyn's historic Williamsburg Savings Bank building, taught him drawing and oil painting from an early age, and is also credited with teaching him how to amuse others. This gave Tom an artistic leaning, although no one expected him to become a clownGeneric term for all clowns and augustes. '''Specific:''' In Europe, the elegant, whiteface character who plays the role of the straight man to the Auguste in a clown team.. (According to Tom, his parents pointed to each other accusingly when asked later about their son…)
In High School, Tom was naturally drawn to art classes and began to create comics. After graduation, he went to the Pratt Institute to study animation, but college life didn't suit his rebellious disposition (this was in the turbulent 1970s) and he tried another school to study Political Science—but that, too, didn't last long. One summer, a friend asked him to help paint a set for a theatrical production in Brooklyn. While he was working on the set, an actor got sick and the director asked Tom if he wanted to replace the missing actor: "We had a rehearsal and they offered me a contract at the end of the day."
From The Stage To The Ring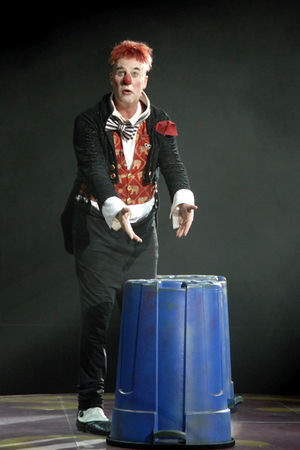 Then and there Tom discovered that performing was his true calling, and in 1978, he went to study acting at New York's Neighborhood Playhouse School for Theatre under Sanford Meisner. His interest in comics and animation naturally drew him to physical comedy (
Buster Keaton
was his main inspiration), which in turn led him to develop the idea of creating a one-man show on Shakespeare's clowns. As fate had it, he saw in a newspaper that
Ringling Bros. and Barnum & Bailey
was holding auditions for its
Clown College
: Tom didn't know what Clown College was, but it seemed a perfect fit for his project and he decided to apply.
He was accepted and studied there under the legendary Lou Jacobs, among others. Said Tom: "Clown College [was] a life-changing experience. I had no idea what a clown was about. I had a very limited view. I was into theater…" Upon graduation (the year was 1979), Ringling Bros. and Barnum & Bailey offered him a contract. Thus Tom Dougherty toured as a clown with The Greatest Show On Earth's Blue Unit for the next three seasons. It was a great learning experience: Tom had become a bona-fide clownGeneric term for all clowns and augustes. '''Specific:''' In Europe, the elegant, whiteface character who plays the role of the straight man to the Auguste in a clown team., and he liked it!
When his circus contract was over, he returned to the stage, but didn't abandon clowning: He created his own theatrical one-clown show, which he performed all over the country, including such prestigious venues as the National Theatre in Washington, D.C., Wolf Trap, and the Lucille Ball Comedy Festival (LuciFest) in Jamestown, New York. Additionally, he performed stories with music (such as Tubby The Tuba) with the Baltimore Symphony, the Cleveland Orchestra, and the Detroit Symphony.
In 1989, he co-founded "Theatricks" with actress and director Julie Herber—a professional touring clown company based in Baltimore, where in 1995 he began teaching clowning at the Baltimore School For The Arts. Meanwhile, Tom had also become a clowning instructor at his alma mater, Clown College. In 1997, he was the first American clown to perform in Vietnam, in Hanoi's first International Circus Festival, where he was awarded the Silver Medal. That same year, he joined the Big Apple Circus's celebrated Clown Care Unit®, bringing much needed comic relief to hospitalized children.
Tom Dougherty returned to the circus ring in 2000-2001, where he starred with Jeff Gordon in the Big Apple Circus production of Clown Around Town, a tale vaguely inspired by Aesop's The Town Mouse And The Country Mouse, in which Tom was the country clown visiting his clown cousin in Manhattan. Following that, he resumed his stage activities, and also had a stint with the already-fading Circus Chimera in 2002, where he was its featured clown while serving as the circus's Artistic Director.
Tom & Pepe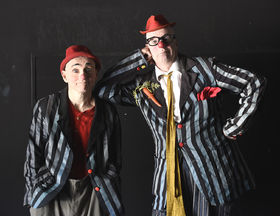 In 2003, Tom Dougherty returned with Ringling Bros. and Barnum & Bailey, this time to be featured as a solo clown in their newly formed one-ring Gold Unit—gleaming the
Otto Griebling Award
along the way (2007). He spent four seasons with the Gold Unit, and in 2008, he joined the much larger Blue Unit, where he was featured as the star clown of their latest production,
Over The Top
. There Tom met and teamed up with
Pepe Silva
, a very talented Spanish
auguste
In a classic European clown team, the comic, red-nosed character, as opposed to the elegant, whiteface Clown.
with a strong European training. The chemistry worked well and after their two-year contract with
The Greatest Show On Earth
, they decided to form a clown duet, and continue to work together.
Their first appearance in Europe was at the International Circus Festival of Albecete, in Spain, in 2010, where they made a very strong impression on the European circus community. European contracts followed, notably a season in France with Cirque Arlette Gruss's production of L'autre monde in 2012. They also appeared at the International Circus Festival of Budapest in Hungary in 2013, at the Circo Teatro Price in Madrid in 2014, and at Circus Kronebau in Munich in 2015. Today, Tom and Pepe work either separately as solo performers or together as a duo, both in the United States (where Tom still teaches occasionally) and in Europe.
See Also
Image Gallery