Dolly Jacobs
From Circopedia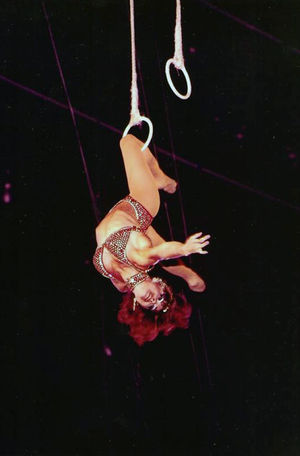 Roman Rings
By Dominique Jando

Dolly Jacobs was born to a circus family: her father, the celebrated clown Lou Jacobs (1903-1992), was for decades associated with Ringling Bros. and Barnum & Bailey, where he performed from 1925 to 1985. Her mother was born Jean Rockwell. An adventurous woman, she was a photographer, a published writer, a model and cover girl, and even held a pilot's license—all this at a time when women were supposedly destined to become homemakers regardless of their own inclinations.
In 1948, Jean ran away and joined the circus. She became a showgirl with the Ringling Bros. This was still the era of the giant traveling big tops and circus trains, and the job not only meant dancing, but also riding elephants, parading in elaborate costumes, and participating in ensemble aerial presentations. Jean's circus career was short-lived. On May 5, 1948, a few days after her debut at Madison Square Garden, she fell from an aerial revolving ladder while working in the aerial ballet. Lou Jacobs visited the beautiful aerialistAny acrobat working above the ring on an aerial equipment such as trapeze, Roman Rings, Spanish web, etc. in the hospital as often as he could. When Jean recovered, they married. They had two daughters, Lou Ann and Dolly Jean.
Born in Sarasota, Florida, winter home of Ringling Bros. and Barnum & Bailey until 1958, Dolly, like many other circus children in the area, began training at Sailor's Circus, the Sarasota High School's youth circus. After graduating from Sarasota High, she followed in her mother's footsteps and, at age thirteen, joined the Ringling show's battalion of showgirls, which allowed her to be near her father.
From Showgirl To Star Aerialist
While in the show, Dolly began developing an act of her own. She first tried the tight wireA tight, light metallic cable, placed between two platforms not very far from the ground, on which a wire dancer perform dance steps, and acrobatic exercises such as somersaults. (Also: Low Wire), but preferred the freedom of aerial work and eventually decided on an aerial act. Her godmother, Margie Geiger, came to help. Margie was married to Joe Geiger, a member of the original Wallendas, and she was herself a former aerialistAny acrobat working above the ring on an aerial equipment such as trapeze, Roman Rings, Spanish web, etc. who had enjoyed a brilliant career in North America with a Roman Rings act, which was partially performed in full swing: It was something rarely seen in Roman Rings acts, which were usually performed in a static version.
After attempting to develop a trapeze act for Dolly, Margie took her old rings from their box and, during the summer of 1976, in three hot months of unrelenting work, the two women managed to create a presentable first version of Dolly's Roman Rings act—just in time to audition for Ringling Brother's new show. Dolly's act was accepted, and she debuted it in the 1976 edition of The Greatest Show On Earth.
At first, of course, Dolly's was just another act in a show that, at the time, featured dozens of acts. But she had all the qualities of a circus star: a hardworking perfectionist, she had ambition and a keen artistic sense, and she never took no for an answer. Moreover, she was strikingly beautiful and had a charismatic personality. In 1977, Irvin Feld sent her to the International Circus Festival of Monte-Carlo. Dolly came back with the coveted Dame du Cirque award. Even so, she felt she had gone there unprepared, and decided to return to Monaco one day with an act that could win the highest awards of the Festival—a Gold or a Silver Clown.
For the next two years, Dolly worked on fine-tuning her act. She also trained on the flying trapezeAerial act in which an acrobat is propelled from a trapeze to a catcher, or to another trapeze. (See also: Short-distance Flying Trapeze) with Armando Farfan, whose act, the Flying Farfans, was one of the show's highlights. This came in handy when Joe Geiger thought of an idea for Dolly's finale: he had seen an aerialistAny acrobat working above the ring on an aerial equipment such as trapeze, Roman Rings, Spanish web, etc., Frank Sheppard, who, at the end of his act, jumped from his trapeze to catch a vertical rope. Even though Sheppard actually killed himself doing this trickAny specific exercise in a circus act. (his rope's attachment broke one day under the shock of his catch), Dolly thought it was worth a try.
She began practicing Sheppard's trickAny specific exercise in a circus act. with the help of high-wire walker Pedro Carillo and bear trainer Wally Naghtin. The first step was to find the right distance between her release point and the rope. Then she improved on Sheppard's flight by transforming it into a layout somersault instead of a straight flight. She presented her new act in 1979 to Irvin Feld, who gave her a solo spot above the center ring in the new production of The Greatest Show On Earth. Dolly Jacobs was an immediate sensation: a star was born.
Silver Clown and Circus Sarasota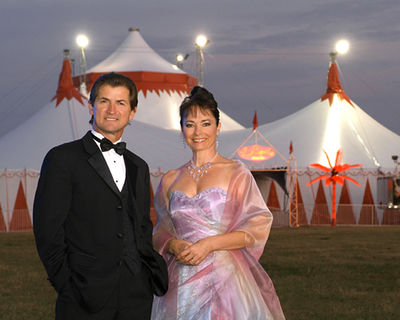 In 1984, Dolly left Ringling and joined the
Big Apple Circus
, with which she performed until 1985, and again in 1987 and 1988. She then returned to the International Circus festival of Monte Carlo. This time, she won a Silver Clown.
Dolly met South African aerialistAny acrobat working above the ring on an aerial equipment such as trapeze, Roman Rings, Spanish web, etc. Pedro Reis when he joined the Ringling show in 1984 with his aerial act, The Survivors. They were smitten with each other. Although they worked in different shows, they managed to develop a strong bond. In 1990, Pedro, who was then featured at the Big Apple Circus as a solo performer with a Cloud Swing act, proposed to Dolly. It was July 4. Two days later, he had an accident that grounded him for a long time. The marriage was put off for a startling length of time—until October 26, 2007. Meanwhile, in 1994, after Pedro had fully recovered, he and Dolly began performing an aerial duet together, titled On Wings Of Love.
Then, in 1997, Dolly and Pedro created Circus Sarasota, a non-profit organization devoted to teaching circus arts and celebrating Sarasota's rich circus heritage through high-quality circus performances. In spite of its short winter season, Circus Sarasota has become one of the most respected circuses in the United States, and Dolly appears regularly in its shows. In 2010, Circus Sarasota inherited Sarasota's very own Sailor Circus, one of the oldest and most successful youth circuses in the US, created in 1948. In 2013, Pedro and Dolly renamed their organization "The Circus Arts Consevatory", thus embracing all its activities: performance, circus education, and various outreach activities.
Rightly considered one of the brightest stars of the American circus, Dolly Jacobs was honored in 1997 by a plaque on the Circus Ring of Fame at St. Armands Circle in Sarasota. The following year, she was honored by Sarasota's John and Mable Ringling Museum of Art. In 2015, she was awarded a National Heritage Fellowship by the National Endowment for the Arts.
See Also
Image Gallery