Katja Schumann
From Circopedia
Equestrienne
By Dominique Jando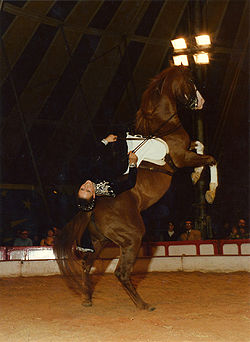 Katja Schumann was born September 16, 1949 in Copenhagen, Denmark, to one of the circus world's oldest and most respected families. Circus lore attaches the Schumanns first to Berlin, then to Denmark. Although the family originated in Germany, the Schumanns of Copenhagen were in actuality Swedish, as is Katja, who held both Danish and Swedish nationalities.
The daughter of Max Schumann (1916-2004), the last director of Cirkus Schumann, Katja made her first appearance in the ring of the family circus at age 10, as a ballerina on horseback. She subsequently worked in her family's outstanding equestrian acts, notably in high school (dressage) presentations, along with her father, her uncle Albert Schumann (1915-2001), her aunt Paulina, and her cousins, Benny and Jacques.
Every year, the Schumanns' season included performances at the circus building of Göteborg, in Sweden, then under Cirkus Schumann's big top in Stockholm, and from May to September at Cirkus Schumann (as Copenhagen's circus building near the Tivoli Park was then known). They spent the winter season in London with Bertram Mills Circus at the Olympia of Kensington. Economic considerations, and the closings of Bertram Mills Circus in 1967 and the circus building of Göteborg in 1969, led Albert Schumann, its director in title, to close Cirkus Schumann in 1969, putting an abrupt end to a long and brilliant story that had begun in 1891.
Solo Career
After the closing of the family circus, Katja easily found engagements with some of Europe's leading circuses. She performed a solo high school act and established a strong reputation as one of the best high school riders of her generation. She participated in the first International Circus Festival of Monte Carlo in 1974, where she won La Dame du Cirque award, given to the best female performer of the Festival. In 1976, she won a Gold Medal at the Circus World Championships in London.
In 1977, Max Schumann revived Cirkus Schumann with his children Philip and Katja, touring under a brand-new big top. Unfortunately, this adventure was short-lived: The new Cirkus Schumann folded its tents in 1983. Since 1981, Katja had appeared during the winter season at the Big Apple Circus in New York with her high school acts, and she decided to settle there. She became a member of the circus's resident company and married its Director, Paul Binder.
From 1983 on, she created a long list of original liberty and high-school acts, sometimes with the help of her father, Max (who rejoined her in 1992 and remained with the Big Apple Circus until 2003), or of Katherine and Max, her and Paul's children. She also presented her version of the equestrian classic, The Courier of St. Petersburg, in 1986 and again in 1989-90.
Katja and Paul separated in 2004, at which time Katja went to work with Circus Flora in St. Louis, Missouri, before returning to Europe in 2007, where she worked with such circuses as Cirkus Dannebrog and Circus Mascot in Denmark, and other organizations.
See Also
Image Gallery