Liana Orfei
From Circopedia
Circus Director, Circus Performer, Singer, Actress
By Raffaele De Ritis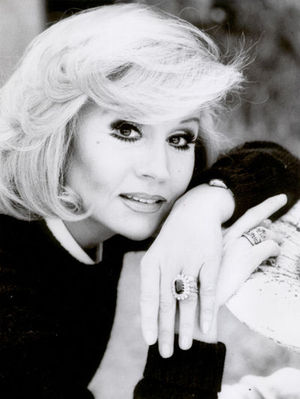 Born in San Giovanni, in Calabria, Italy, one June 6, 1937, Liana Orfei is the daughter of clown and circus owner
Paride "Pippo" Orfei
(1909-1956) and Alba Furini (1912-1932). She began her circus career at age two, appearing in the ring as a miniature clown called
Lacrima
("Tear"). Later, she became a trapeze artist, acrobat, dancer, juggler, and a lion- and horse-trainer. In 1954, she married the juggler Angelo Piccinelli. Five years later, in 1959—without ever leaving the circus—she embarked upon a long movie career. She appeared in thirty-seven films, including Fellini's
I Clowns
(1972) and dozens of peplum and adventure movies. She also acted onstage under the direction of legendary playwright Eduardo De Filippo.
In 1962, with her brothers Nando (1934-2014) and Rinaldo, she created her own circus, one of the first three-ring shows in Italy, titled Circo a 3 piste Orfei. This became, in 1970, Circorama, a show that included sumptuous parades as well as films projected on a cinemascope screen both between and during the acts. Liana booked some of the finest acts in the world. The show included a herd of nearly twenty elephants, three rings of liberty"Liberty act", "Horses at liberty": Unmounted horses presented from the center of the ring by an equestrian directing his charges with his voice, body movements, and signals from a ''chambrière'' (French), or long whip. horses, and a remarkable menagerie of wild and exotic animals.
Circorama's success led to the production Il Circo delle Mille e una Notte (The Circus of the 1001 Arabian Nights) (1973-75), a circus revue that used five hundred costumes designed by Danilo Donati (the costume designer of Federico Fellini's and Pierpaolo Pasolini's movies). This was followed in 1976 by Il Circo delle Amazzoni, an all-female circus show inspired by Greek mythology.
In 1977, the Orfei siblings split into two circuses: Nando Orfei created Circo Nando Orfei, while Liana and Rinaldo established a smaller but still astounding version of their Circorama (with which Liana was involved until 1984).
In 1978, Liana began touring as a singer in her one-woman show. She did a few recordings and hosted several TV shows. In 1975, she met the man who would become her second husband, producer Paolo Pristipino. In 1977, they opened the Teatro Tendastrisce, a large concert hall in Rome. There, in 1982, they hosted the world premiere of a company from the State Circus of North Korea. In 1984, they created the Golden Circus Festival, which has been held each winter in Rome. The festival celebrated its twenty-fifth anniversary in 2008.
See Also
External Link
Image Gallery