Main Page
From Circopedia
Welcome! • Bienvenue! • Willkommen! • Добро Пожаловать!
Bienvenida! • Benvenuto! • 歡迎 ! • Vítejte! • Καλώς ήρθατε!
Üdvözöljük! • Добре Дошли! • Welkom! • Ласкаво Просимо!
Velkommen! • Tervetuloa! • Дабро Запрашаем! • Välkommen!
In The Spotlight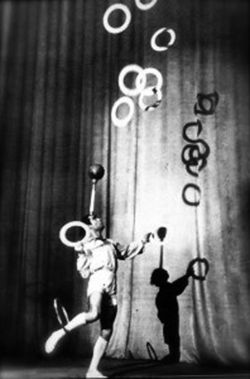 ITALO MEDINI
Italo Medini (1924-2015) was one of the greatest jugglers of the past century who worked in the Italian tradition exemplified by the legendary Enrico Rastelli. He and his twin brother, Franco (1924-2014) were born June 9, 1924 in Orléans, France, to Carlo Medini and his wife, Anna, née Périé, during an engagement of their parents with the Cirque Alphonse Rancy. A clown and acrobat, Carlo Medini belonged to an old and numerous Italian circus family; his wife, Anna, whom he married in 1920, was the daughter of Pierre Périé, the owner of a highly respected French provincial circus before WWII.
Italo made his circus debut at age three, as a miniature clown in his father's clown act. He would later become his father's whiteface clownGeneric term for all clowns and augustes. '''Specific:''' In Europe, the elegant, whiteface character who plays the role of the straight man to the Auguste in a clown team., in which role he showed great proficiency as a saxophone and concertina player. Quite early, too, Italo became part of the Carlo Medini aerial casting and acrobatic act. He found his true calling, however, when he saw the German juggling prodigy Trixie Firschke (1920-2001), with whom the Medinis shared a bill at Vienna's Circus Renz. From then on, Italo began training in a specialty for which he showed an uncanny ability.
The Medinis and the Rastellis were friends, and in Sptember 1931, Carlo took Italo to Paris's Cirque Medrano to see Enrico Rastelli (1896-1931). Rastelli, who was universally considered as the world's greatest juggler, was starring in the famous Parisian circus; the opportunity to get a few tips and lessons from the Master, even for a short time, was not something to be missed! As fate had it, it was also just in time, for Rastelli died unexpectedly three months later.... (more...)
New Biographies
New Videos
Featured Oral Histories
A Message from the Editor
CIRCOPEDIA is a constantly evolving and expanding encyclopedia of the international circus. New videos, biographies, essays, and documents are added to the site on a weekly—and sometimes daily—basis. So keep visiting us: even if today you don't find what you're looking for, it may well be here tomorrow! And if you are a serious circus scholar and spot a factual or historical inaccuracy, do not hesitate to contact us: we will definitely consider your remarks and suggestions.
Dominique Jando
Editor/Curator