Main Page
From Circopedia
Welcome! • Bienvenue! • Willkommen! • Добро Пожаловать!
Bienvenida! • Benvenuto! • 歡迎 ! • Vítejte! • Καλώς ήρθατε!
Üdvözöljük! • Добре Дошли! • Welkom! • Ласкаво Просимо!
Velkommen! • Tervetuloa! • Дабро Запрашаем! • Välkommen!
In The Spotlight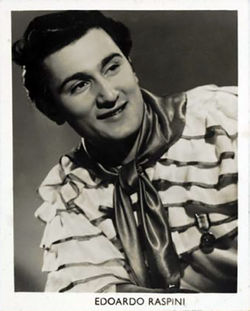 EDOARDO RASPINI
Edoardo Raspini (1928-2015) was one of the great jugglers of the mid-twentieth century, one of the last proponents of the classical Italian style popularized by Enrico Rastelli. He was born in Russia on January 19, 1928 to Oreste and Tamara Raspini. The Raspinis were one of many old Italian circus families established in the Russian Empire prior to the Bolshevik Revolution—like the Truzzis and the Cinisellis, for instance. (Although his parents didn't settle there, Rastelli was also born in Russia.) Tamara, Edoardo's mother, was pure Russian.
Edoardo made his performing debut at age seven in his parents' free ladderUnsupported vertical ladder on which acrobats perform balancing and/or juggling tricks. act, the Three Raspinis. His parents had previously been part of the juggling act of the Four Zerbinis, and they trained Edoardo as a juggler, thus adding to the family's package of offerings. By age fourteen, he was already an accomplished juggler; he made his solo debut in 1942, at Circus Mikkenie-Strassburger in Holland, with his beautiful sister, Elvira, as his assistant. Beside his amazing technical abilities, Edoardo was very charismatic and good-looking, which contributed to his success; he would later be known as "The Don Juan of the Ring."… (more...)
New Biographies
New Videos
Featured Oral Histories
A Message from the Editor
CIRCOPEDIA is a constantly evolving and expanding encyclopedia of the international circus. New videos, biographies, essays, and documents are added to the site on a weekly—and sometimes daily—basis. So keep visiting us: even if today you don't find what you're looking for, it may well be here tomorrow! And if you are a serious circus scholar and spot a factual or historical inaccuracy, do not hesitate to contact us: we will definitely consider your remarks and suggestions.
Dominique Jando
Editor/Curator