Main Page
From Circopedia
In The Spotlight
UUVE JANSSON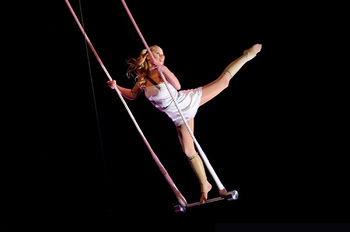 Among the swinging trapeze artists of the early twenty-first century, Uuve Jansson stands out: In a period where adding more technical prowess seemed to have been the only path along which the specialty evolved, she brought back to the form an artistry that was hitherto increasingly waning—giving her act a wonderful and unique flavor while maintaining the highest technical standards. She has become indeed one of the world's very best artists of the specialty.
Uuve-Hanna Jansson was born October 8, 1985 in Stockholm, Sweden, into a family that was already deeply involved in the performing arts: Her father, Ulf-Håkan Jansson, was an actor and puppeteer who had also acted as a circus ringmaster, and her mother, Eva, worked in the city of Stockholm's Cultural Department. Eva was instrumental in helping a then small circus organization, Cirkus Cirkör, to settle in Botkyrka, a suburb of Stockholm.
Cirkus Cirkör was (and still is) both a circus company and a circus school. Uuve went to see a performance of Cirkus Cirkör, and saw there a swinging trapeze artist by the name of Katja Kortström: Uuve was fascinated by her act, and decided there and then that swinging trapeze was what she wanted to do. Furthermore, Uuve not only wanted to be a swinging trapeze artist, but she also wanted to be the best swinging trapeze artist in the world! So goes the mind of strong-willed young girls…. (more...)
New Biographies
New Videos
Featured Oral Histories
Nikolai Pavlenko, tiger trainer - Interview (RIA Novosti, 2012)
Alberto Zoppé, Equestrian - Interview (McCutcheon & Distasio, 2003)
Olivier Taquin, Mime - Interview (Jando, 2008)
Barry Lubin,

Clown

(Grandma) - Interview (Jando, 2008)
Fumagalli,

Clown

- Interview (Jando, 2008)
A Message from the Editor
CIRCOPEDIA is a constantly evolving and expanding encyclopedia of the international circus. New videos, biographies, essays, and documents are added to the site on a weekly—and sometimes daily—basis. So keep visiting us: even if today you don't find what you're looking for, it may well be here tomorrow! And if you are a serious circus scholar and spot a factual or historical inaccuracy, do not hesitate to contact us: we will definitely consider your remarks and suggestions.
Dominique Jando
Editor/Curator