Main Page
From Circopedia
Welcome! ✫ Bienvenue! ✫ Willkommen! ✫ Добро Пожаловать!
Bienvenida! ✫ Benvenuto! ✫ 歡迎 ! ✫ Vítejte! ✫ Καλώς ήρθατε!
Üdvözöljük! ✫ Добре Дошли! ✫ Welkom! ✫ Ласкаво Просимо!
Velkommen! ✫ Tervetuloa! ✫ Дабро Запрашаем! ✫ Välkommen!
In The Spotlight
ARTURO CASTILLA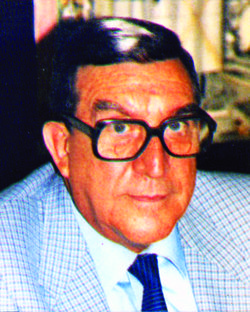 In post-WWII Europe, the Spanish impresario Arturo Castilla (1916-1996) was one of the most active and successful advocates of the circus's integration into the modern entertainment industry. In this, he followed a few other visionary mavericks such as Jérôme Medrano and Bertram Mills, and preceded Jean Richard, Bernhard Paul, Pierrot Bidon, and others. Castilla's major achievements were the introduction of theatrical aesthetics into the traveling circus performance, a modern approach to public relations and marketing, his foresight of the emerging sport arenas' potential, and the pioneering of trans-national synergies between major European circuses.
With his partner and brother-in-law, Manuel Feijóo (1897-1969), Castilla produced circus shows in Spain and abroad, managed the legendary Circo Price building in Madrid, organized circus festivals and congresses, and presented foreign circus companies in Spain. These activities, added to his remarkable talent at establishing connections with the media and the political establishment of Francisco Franco's Spain, helped him build a conservative aesthetic of the circus as a celebration of diverse "national" identities, and as a tool for "cultural" propagandistic exchanges, which would be widely emulated.
Arturo Castilla Rodriguez was born in Bilbao, Spain, on October 22, 1916. His father, Raimundo, was a journalist. Arturo was thirteen years old, in 1929, when Raimundo took him to see the colossal German circus Krone, which was visiting Bilbao. This visit triggered Arturo's fascination with the circus world. Arturo Castilla eventually studied fine arts at the Escuela de Artes y Oficios de Atxuri, in Bilbao, and joined at the same time an amateur circus clubA juggling pin.. Circus eventually took precedence over painting, and Arturo formed a clown act with three old friends of his: Carlos Izquierdo, Pedro Talavera, and Esteban Galdós. Together, as the Hermanos Cape, they went on to perform for various Spanish circuses. (Clowns have always been very popular in Spain—a country that has produced over several generations a remarkable number of outstanding clown stars.).... (more...)
New Biographies
New Videos
Featured Oral Histories
A Message from the Editor
CIRCOPEDIA is a constantly evolving and expanding encyclopedia of the international circus. New videos, biographies, essays, and documents are added to the site on a weekly—and sometimes daily—basis. So keep visiting us: even if today you don't find what you're looking for, it may well be here tomorrow! And if you are a serious circus scholar and spot a factual or historical inaccuracy, do not hesitate to contact us: we will definitely consider your remarks and suggestions.
Dominique Jando
Editor/Curator