Main Page
From Circopedia
Welcome! • Bienvenue! • Willkommen! • Добро Пожаловать!
Bienvenida! • Benvenuto! • 歡迎 ! • Vítejte! • Καλώς ήρθατε!
Üdvözöljük! • Добре Дошли! • Welkom! • Ласкаво Просимо!
Velkommen! • Tervetuloa! • Дабро Запрашаем! • Välkommen!
In The Spotlight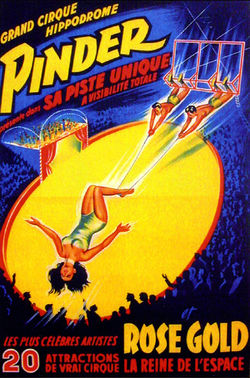 ROSE GOLD
Rose Gold (1922-1998) was, in the 1940s and 1950s, a genuine circus star and one of the greatest aerialists of her time, with an act that stood alone in its concept and originality, not to mention its daring. Although she was not very photogenic (her photographs often belie her actual beauty), she had in the ring a magnetic presence and a charm that stirred unbridled enthusiasm among circus aficionados and journalists alike.
She was born Rosemarie Goldnagel in 1922 in Vienna, Austria. She didn't belong to a circus family but she was a very physical and active child, and her parents made her study ballet and train in gymnastics. When Walt Disney released his animated movie, Snow White and The Seven Dwarfs in 1937, her father nicknamed Rosemarie, Snow White: Her opulent jay-black mane, which would become her most recognizable feature, made her look like the Disney character.
She was still a teenager when The Barlays, a German aerial act in search of a female partner, spotted her. Thus she started her circus career as one third of The 3 Barlays. And she was barely twenty when she met and fell in love with André Pahin, a French trapeze artist who worked with the famous bar-to-barA flying trapeze act in which flyers leap from a trapeze to another, instead of from a trapeze to a catcher as is most commonly seen today. flying actAny aerial act in which an acrobat is propelled in the air from one point to another. of The Zemgannos... (more...)
New Biographies
New Videos
Featured Oral Histories
A Message from the Editor
CIRCOPEDIA is a constantly evolving and expanding encyclopedia of the international circus. New videos, biographies, essays, and documents are added to the site on a weekly—and sometimes daily—basis. So keep visiting us: even if today you don't find what you're looking for, it may well be here tomorrow! And if you are a serious circus scholar and spot a factual or historical inaccuracy, do not hesitate to contact us: we will definitely consider your remarks and suggestions.
Dominique Jando
Editor/Curator