Main Page
From Circopedia
Welcome! ✫ Bienvenue! ✫ Willkommen! ✫ Добро Пожаловать!
Bienvenida! ✫ Benvenuto! ✫ 歡迎 ! ✫ Vítejte! ✫ Καλώς ήρθατε!
Üdvözöljük! ✫ Добре Дошли! ✫ Welkom! ✫ Ласкаво Просимо!
Velkommen! ✫ Tervetuloa! ✫ Дабро Запрашаем! ✫ Välkommen!
In The Spotlight
NELL GIFFORD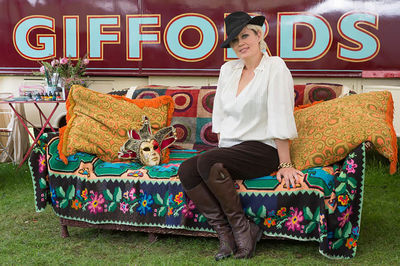 The founder of England's Giffords Circus, Nell Gifford (1974-2019) wrote: "A good circus is a sublimely existential thing, living acutely and only for the present moment." She also wrote: "A good circus should make you cry." She created a circus conform to these ideas, a circus with a soul, which understands its purpose. In time, Giffords Circus has generated an amazingly faithful and enthusiastic following in the countryside of the south of England—not a large territory, but Nell Gifford wanted hers to be a "village-green circus." And indeed, Giffords Circus has this unique quality: it takes its audience into a nostalgic world of quaint simplicity and tangible wonder.
Nell Gifford was born Eleanor Rose Stroud on January 24, 1974 in Oxford. Her father, Rick Stroud, was a successful television director and producer, and her mother, Charlotte, née Pumphrey and known as Char, was also artistically inclined. Char had three children from her first marriage with publisher Matthew Bridgewater, among whom Emma Bridgewater, the founder of the eponymous British pottery and ceramics manufacturing company. Nell also had a younger sister, Clover Stroud (b.1975), who became a successful writer. When Nell was ten, the family moved from Oxford to a farm in a village called Minety, in Wiltshire. In the English countryside, horse riding is an integral part of life and Nell became indeed a horse enthusiast.
Yet, it is a catastrophic riding accident that brought tragedy into the Stroud and Bridgewater families. In 1991, Char fell from her horse while hunting and suffered a head injury that left her in a coma for two weeks and kept her mentally incapacitated for the following twenty-two years (she passed away in 2013). At the time of the accident, Nell and Clover were eighteen and sixteen respectively and, in effect, they had suddenly lost the brilliant person they had known as their mother. Their lives changed forever..... (more...)
New Biographies
New Videos
New Oral Histories
Circopedia Books
A Message from the Editor
CIRCOPEDIA is a constantly evolving and expanding archive of the international circus. New videos, biographies, essays, and documents are added to the site on a weekly—and sometimes daily—basis. Keep visiting us: even if today you don't find what you're looking for, it may well be here tomorrow! And if you are a serious circus scholar and spot a factual or historical inaccuracy, do not hesitate to contact us: we will definitely consider your remarks and suggestions.
Dominique Jando
Founder and Curator