Arne Arnardo
From Circopedia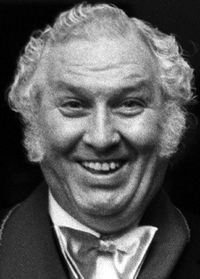 Circus Owner, Magician
By Dominique Jando

With his bushy sideburns, his Stetson hat, and his jolly personality, Arne Arnardo (1912-1995) was a legendary figure in his native Norway—where he was known as The Circus King—and in the European circus community. He had created Cirkus Arnardo in 1949; it became Norway's largest and best-known circus, and remained so until the late 1970s, when Knut Dahl's new Cirkus Merano slowly rose to a dominant position in that country, before folding its tents in 2015. Yet Cirkus Arnardo never lost its reputation and is still recognized today (2020) as Norway's premier circus.
From Armido to Arnardo
Arne Arnardo was born Arne Otto Lorang Andersen on October 12, 1912 in Sarpsborg, on the southeastern tip of Norway, the son of Einar (1888-1967) and Elna (1895-1920) Andersen. His father was a lumberjack. At a very early age, Arne showed an interest in show business; he is said to have given his first performance at age six—a puppet show that he presented in his parents' home.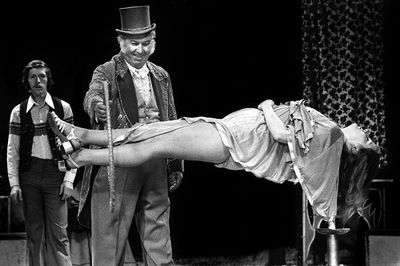 He was fourteen when, in 1926, he "ran away and joined the circus": He found a job as a stable boy with Hartvig "Leonardi" Berg's
Cirkus Empress
, which had just visited Frederikshald (today Halden), not far from Sarpsborg. Although Arne was now in an environment that suited him better than the world of lumberjacks, he was not yet satisfied: His primary ambition was to perform. He trained as a contortionist and wirewalker, and made his debut in the ring in 1929 under the name of
Armido
. Soon he changed it to
Arnardo
, which he thought sounded better.
On April 29, 1937, Arnardo made the headlines (and, most importantly, the newsreels) when he did a chair-balancing act atop of the Odd Fellow-Gården building in Oslo, which had been recently completed and housed the brand-new Scala variety theater, where Arne had been contracted. Arne, who had an innate talent for public relations, made the most of this publicity stunt for his personal promotion. This talent for advertising eventually led him to a different path: In 1939, he became Business and Advertising Manager of Cirkus Berny, a well-known Norwegian circus.
The job didn't last long however: Nazi Germany occupied neutral Norway in 1940, and the circus went into a hiatus until the end of WWII. It was nonetheless an experience that had revitalized in Arne an old ambition: to own and operate his own circus. Meanwhile Arnardo resumed his performing career as an acrobat, and developed a magic act, which became the specialty for which he is best remembered as an artist. In 1941 he married Gerd Gløgård (1915-1970), with whom he had two children, Arild (b. January 16, 1942) and Wenche (b.1944).
Cirkus Arnardo
The war over, Arne bought a second-hand big topThe circus tent. America: The main tent of a traveling circus, where the show is performed, as opposed to the other tops. (French, Russian: Chapiteau) for 1,500 Norwegian Crowns, and began to put together all what was needed to run a traveling circus. Cirkus Arnardo gave its first performance in the spring of 1949. The show included fifteen traditional circus acts, but its true star was Arnardo himself, who presented his magic act. Magic acts—with or without Arne— would remain a staple of Arnardo's programs over the years, a tradition that continues to this day (2015).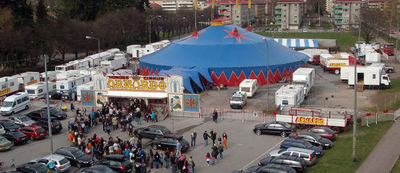 Arne Arnardo was not content to work behind the scenes: Not only was he the star of his own show, he was also its PR frontman: His outgoing personality and his very recognizable and jovial appearance worked wonders with journalists and the public as a whole. He soon became a Norwegian media celebrity, and was able to put his circus in the spotlight just at the right time: the immediate after-war years were a boon for the circuses everywhere in Europe—and Arne instinctively knew how to make the best of it.
Arne Arnardo became in Norway the idealized image of a circus director. He played that role in a movie, Arne Skouen's Cirkus Fandango (1954), of which he was the leading actor. On Constitution Day, Norway's national holiday on May 17, Arnardo organized a circus parade in Ålesund, where the circus traditionally played (and still does) at that date, in which he duly participated, waving to the crowds from his convertible; it became a tradition that continued till the end, even though, after several strokes, Arne paraded in his wheelchair.
Cirkus Arnardo quickly rose to prominence, and Arne made sure that neither he nor his circus left the spotlight. He jumped on any opportunity to make the headlines. In 1966 he tried to bring one of his elephants in the Oslo District Court as a witness in an lawsuit against a former employee; the three-ton elephant didn't make it through the door, but it was indeed a great photo-op—and great publicity!
Epilogue
Arne Arnardo became a familiar face in European circuses, which he visited regularly in search of talent. He was a regular at the International Circus Festival of Monte Carlo, a much welcome guest of that prestigious international circus rendezvous. Arne Arnardo was a circus man through and through, and he continued to travel with his circus even after his health had begun to falter in the late eighties. Increasingly then, his son Arnild (a wirewalker) took care of the management of Cirkus Arnardo, with his daughter Helen (a talented equestrienneA female equestrian, or horse trainer, horse presenter, or acrobat on horseback.) and her son, Are—who followed in his grandfather's footsteps and became a magician.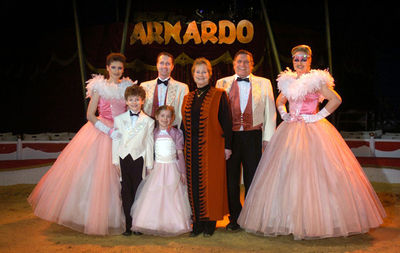 In 1962, Arne Arnardo had already published his memoirs,
Sirkusliv
("Circus Life"), written with Bjørn Bjørnsen. After the death of his first wife, Gerd, in 1970, he married Eva Sørensen, née Steen. Then a series of distinctions were showered on to the great circus director: In 1973, he received the King's Gold Medal of Merit; on April 21, 1985, a bust of Arne Arnardo by the sculptor Per Palle Storm (1910-1994) was unveiled on Utsiktsveien in Alvim, Sarpsborg, to commemorate Arne's birthplace; and in 1988, he was made Knight of the Royal Norwegian Order of St. Olaf, First Class.
Still, and in spite of his failing health, Arne Arnardo continued to live in his caravan and traveled with his circus, catching a performance in his wheelchair every now and then. He passed away in his caravan, on the circus lot, during a performance in Tøyen, Oslo, on May 4, 1995. His son, who had been in effect in charge of the circus for a while, decided not to interrupt the season in homage to his father who was a fierce believer in the show business adage, "The show must go on!"
Arne Arnardo is buried at Vestre Moland cemetery in Lillesand. His circus has indeed survived him, and Arild, Helen and Are Arnardo have maintained it successfully (as of 2015) on its place of prominence in Norway, especially since its main competition, Cirkus Merano, put its tours on a hiatus in 2015.
Suggested Reading
Arne Arnardo and Bjørn Bjørnsen, Sirkusliv (Oslo, Cappelen, 1962)
Finn Jor and Jørg-Kr. Jørgensen, I livets manesje: et møte med Arnardo og hans cirkus — i går, i dag og i morgen (Oslo, Grøndahl Dreyer, 1998) — ISBN 82-504-2517-0
Image Gallery