Borzovi Troupe
From Circopedia
Flying Act
By Dominique Jando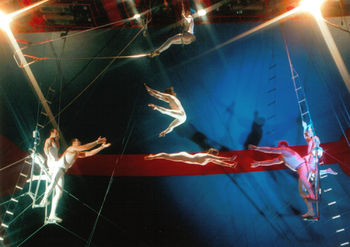 The Borzovi Troupe (named after its leader, Sergei Borzov) is considered one of the greatest flying groups of all times, along with Vil Golovko's
Cranes
, and a few anonymous North-Korean acts. The troupe first made its mark by presenting a drastically different and innovative
flying act
Any aerial act in which an acrobat is propelled in the air from one point to another.
that includes upright, traditional, and Korean cradles, and Russian Barre. The act was created by the legendary Russian act director,
Piotr Maistrenko
, who also produced The Cranes.
Born in Russia on January 15, 1967, Sergei Borzov competed in gymnastics before joining a group of acrobats training at Moscow's Circus Studio in 1987. The group was working on a new aerial act under the direction of Piotr Maistrenko. The act was very complex, and even included the setting of the full apparatus and the net in view of the audience, as part of its choreography—a true technical exploit that had never been attempted before.
Even with already highly trained gymnasts and acrobats, it took Maistrenko several years to bring the act to fruition, and its personnel changed along the way. When it was finally ready, only Sergei Borzov and the catcherIn an acrobatic or a flying act, the person whose role is to catch acrobats that have been propelled in the air. A. Glebov remained from the original group; Sergei became the head of the troupe, whose other members were the flyers A. Lysianskiy and S. Kovalenko, and V. Tishchenko, E. Rozhkova, and N. Gribova.
The act premiered at the regrettably short-lived International Circus Festival of Verona, in Italy, on January 15, 1993. A savvy audience of circus directors, artists, agents, and aficionados greeted it with a prolonged standing ovation, and the Borzovi Troupe was awarded the festival's highest honor, the Golden Star. The following year, they participated in the International Circus Festival of Monte Carlo, where they received the prestigious Gold Clown award from the hands of Prince Rainier III.
The Borzovi Troupe joined Germany's Circus Krone in 1995, and embarked into a long association with that prestigious circus, performing sometimes in other venues during the Christmas season. The composition of the troupe changed over the years, but the quality of the act remained the same. Then, in 2005, Sergei Borzov created a new and different flying actAny aerial act in which an acrobat is propelled in the air from one point to another., with which he toured a few more years with Circus Krone, before retiring from performing in 2010.
See Also
Image Gallery