Circus Medrano-Swoboda
From Circopedia
By Dominique Jando

Circus Medrano aus Wien was, between the two World Wars, one of Austria's most important circuses—and one whose name was made famous in large part by the Medrano Sisters (Therese, Wanda, and Anita Swoboda), who performed one of the great equestrian acts of the period in top circuses and variety theaters all over Europe. The name of that circus was homonymous to that of the legendary Parisian circus, but had no connection with it. It was "the other Medrano"—and still is today, since the title has survived and belongs now (2011) to the Italian Casartelli family.
Zirkus Lajos
Its founder, Ludwig Swoboda (1881-1952), was born on December 9, 1881 in Dürnbach, Burgenland, in what was then the Hungarian part of the Austro-Hungarian Empire (Dürnbach became part of Austria in 1918). His parents were of Czechoslovakian descent and although they didn't come from a circus family, they owned a small circus that traveled in the Austro-Hungarian Empire. They always called Ludwig, who was born in the family's horse-drawn living wagon, Lajos—the Hungarian equivalent of his German name.
Ludwig received a traditional circus education within his family and was trained in all facets of circus arts, from tumbling to equestrianism. He grew into an ambitious young man and, at twenty-three, he decided to run his own circus. Zirkus Lajos, as he called it, opened in Vienna on June 3, 1904. It was not yet an important enterprise when Ludwig Swoboda married Therese Karfiol (1893-1971) on January 16, 1912 in Vienna. Therese was fifth-generation of an old family of comedians and entertainers, allied to the Czech Berosini circus family; she was an equestrienneA female equestrian, or horse trainer, horse presenter, or acrobat on horseback. and she knew the circus business in and out. Therese would be instrumental in the management and development of her husband's circus.
In 1914, at the outset of the First World War, Ludwig was drafted into the Imperial Army and the circus went into a long hibernation. The war over, Zirkus Lajos finally reopened; the year was 1919, and it started its tour in its home city of Vienna, where it played during the Easter season. After the deadly conflict that had devastated Europe, popular entertainment was much in demand, and circuses were flourishing; under the management of Ludwig and Therese Swoboda, Zirkus Lajos was no exception, and by 1920, it performed under a large, two-pole big topThe circus tent. America: The main tent of a traveling circus, where the show is performed, as opposed to the other tops. (French, Russian: Chapiteau) and was one of Austria's largest circuses.
Circus Medrano aus Wien
Austria, however, had become a much smaller country, and the Swobodas began to expand their tours to Hungary, Poland, Czechoslovakia, Russia and the Balkans. It was for their first visit to Poland, in 1920, that Therese Swoboda decided to rename their circus, Circus Medrano aus Wien (Circus Medrano from Vienna): Right after the war, Zirkus Lajos sounded a little too Austro-Hungarian for a visit to Poland. It didn't seem to matter that Medrano was already a very famous and respected name in the circus world; but being that of a Parisian resident circus, which performed exclusively (at the time) in the French capital, it had only been heard of, but never seen, outside France—neither, for that matter, outside Paris.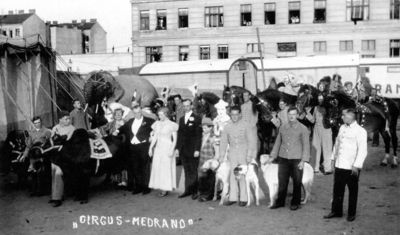 Furthermore, the name sounded good—neither French, German, nor Hungarian: Medrano is in fact a Spanish name—and in Austria, it had this vague aura of international fame. So it seemed a good choice, and Zirkus Lajos henceforth became known as Circus Medrano. It would be referred to in the business as
Medrano-Swoboda
, to differentiate it from its famous French homonym.
Jérôme Medrano
, director of the original Cirque Medrano in Paris, tried on many occasions to protect the use of his name outside France, but European countries didn't have many legal agreements with each other at the time, and his efforts remained unsuccessful.
While Zirkus Lajos, and then Circus Medrano, prospered, Ludwig and Therese Swoboda produced six children, all girls. The elder, Therese, (known as Reserl) was born August 19, 1911. She married the juggler Rob Carry (Robert Hiebner) in 1938, and together they had two sons, Robert (known as Peter, born October 6, 1940) and Alfred (born July 10, 1942). Their second daughter, Wanda was born August 28, 1913; she married the Italian equestrian and clown Davide Belley, with whom she had three children, Silvia (born May 23, 1941), Renate (May 23, 1942), and Wanda (born March 6, 1946). Her sister, Stefanie, was born September 25, 1914; she married in 1938 the icaristAcrobat who juggle another acrobat with his feet. See Icarism, Risley Act. Nicolas (Kola) Karpi. Sadly, Stefanie died in Berlin on February 20, 1941, after having given birth to twins. The fourth sister, Anita, was born September 9, 1918, and married the Italian painter Vincenze Monti. Then, Helene, known as Hella, was born March 31, 1920. She also married an Italian, Renato Medini, a versatile circus performer and jack-of-all-trades, on September 26, 1946. Together they had two children, Clarissa (born December 24, 1950) and Mario (born December 17, 1951). Finally, the last of the six sisters, Krimhilde (known as Tulli) was born July 17, 1935. She married an American, of whom little has been recorded.
The Medrano Sisters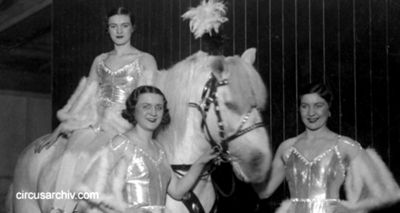 The Swoboda sisters were all trained as circus artists, but three of them, Reserl, Wanda and Anita, became famous in the circus world for their remarkable equestrian act, known as The Medrano Sisters. They had created it under the guidance of their mother and the German circus director
Adolph Fischer
, and it premiered at Circus Medrano-Swoboda in 1933. When the circus rested in its Viennese winter quarters, the Medrano Sisters found engagements in Europe's most prestigious circuses and variety theaters—but tellingly, they never appeared at the Cirque Medrano in Paris... Arguably, the stellar reputation of the Medrano Sisters did much in Western Europe for that of the Medrano-Swoboda Circus, whose travels had confined it mostly in Central and Eastern Europe.
During WWII, Circus Medrano-Swoboda continued its touring in the Axis countries, opening traditionally in Vienna at Easter. The Swobodas' winter quarters were located on Engerthstrasse in Vienna, close to the railway station and the train depot, which was a convenient location for a circus traveling by rail. But in time of war, it was also a strategic location, and the winter quarters were destroyed in the 1944 bombings of Vienna by the Allied forces. Then, in 1945, the traveling circus found itself on the path of the Soviet troops advancing on Vienna: Wagons and horses had to be abandoned in a hurry.
The war over, the company regrouped and began reconstruction in Linz, where Circus Medrano finally re-opened on April 12, 1946. The following year, the Swobodas built a winter circus in Graz. Unfortunately, their first season there failed completely; the building was sold and its new owners used it for a different purpose. Once again, Medrano's survival depended on expanding its territory. Since two of the Swoboda sisters had married Italian men, and were in consequence Italian, touring in Italy didn't present any problem. Over the subsequent years, Circus Medrano-Swoboda built a good reputation in that country, and from there, expanded its tours to Greece, Turkey, Lebanon, Syria and Egypt.
Ludwig Swoboda passed away on May 21, 1952, at age seventy-one, while the circus was touring in Greece. His daughter Reserl had preceded him on October 1, 1951. Wanda, Anita, Hella and Tulli took over the management of the circus with their mother, Therese. It returned briefly to Austria in 1954, and, for the 1955-56 season, the Swobodas decided to visit West Germany. Circus Medrano at the time toured with a large Italian big topThe circus tent. America: The main tent of a traveling circus, where the show is performed, as opposed to the other tops. (French, Russian: Chapiteau), fifty meters in diameter, 114 wagons and caravans, 180 employees and artists, and a vast menagerie: it was not a small affair. Unfortunately, in spite of a nine-week stay in Berlin that was apparently very successful, the tour proved a financial disaster, and Circus Medrano went bankrupt.
The Final Years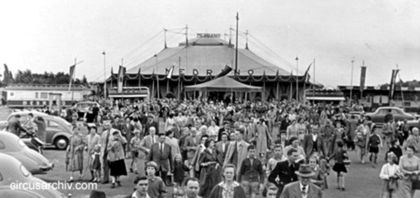 The equipment returned to Viareggio, Italy, where Anita and her mother lived. The sisters began to rent their name and material to various Italian circus operators, who took it on tour. In 1959, Circus Medrano "borrowed" the name of
Radio Circus
, another famous French title used by the
Gruss-Jeannet
circus. In the fifties, Radio Luxembourg (today, RTL) recorded its most popular game shows in front of the Radio Circus's audiences during the second half of the show, attracting huge crowds of listeners under the
big top
The circus tent. America: The main tent of a traveling circus, where the show is performed, as opposed to the other tops. (French, Russian: Chapiteau)
. Nothing similar at the Italian Radio Circus: Its drawing cards were simply a well-known actress, Pina Renzi, and a famous singer, Luciano Tajoli. Yet a borrowed name and radio personalities don't make the success of a circus show, and the enterprise was short-lived.
Then, from 1960 to 1962, Medrano-Swoboda stayed in its winter quarters. In 1963, the Swoboda sisters tried to revive the company, first as Circus Hellas, in association with Moira Orfei and Walter Nones, and then again under the Medrano title. The circus resumed its tours of Eastern and Southern Europe, with more or less success—generally less, and by the end of 1968, the circus was again bankrupt. It was stranded in, of all places, Austria! The sisters had to sell all their equipment.
The Austrian press commented heavily on the tragic fate of what had once been Austria's premier circus. Taking advantage of this free publicity, the Swoboda sisters made a last-ditch effort to revive Circus Medrano; with the help of German circus owner Werner Zinnecker, who provided the tent, equipment, and animals of his Circus Europa, they reopened in Vienna on October 20, 1968 at the Schwendermarkt—not far from where their winter quarters had once stood. The Viennese engagement was financially successful, and the sisters resumed their Austrian tour in 1969. But, out of Vienna, the name Medrano had evidently lost its appeal, and the tour was another financial disaster. Circus Medrano aus Wien gave its final performance on August 30, 1969.
Therese Swoboda passed away on March 24, 1971 in Viareggio, in the home of her daughter Anita. In 1972, Hella Swoboda-Medini and her husband eventually sold the title Medrano to the successful Italian circus director Leonida Casartelli. Circo Medrano (now known in the business as Medrano-Casartelli), resumed its international tours, and became one of Italy's premier circuses.
Image Gallery