Cirque Léonce
From Circopedia
By Dominique Jando

The Cirque Léonce was created in 1907 (and originally called Cirque Printania) by Léonce Chapuis, a circus enthusiast from a well-to-do French provincial family, who left his sedentary life to follow a circus—the well-known and highly reputable Cirque Bureau, one of France's oldest traveling circuses (active from c.1855 to 1953). There, he worked in the circus office as a jack-of-all-trades: Someone with a high schoolA display of equestrian dressage by a rider mounting a horse and leading it into classic moves and steps. (From the French: Haute école) education was enough of a rarity in the traveling circus world to be useful in a large range of administrative chores.
However Léonce was a good horseman and while at Cirque Bureau, he trained as an acrobat on horseback—the goal he had set for himself as a circus artist. Unfortunately, he broke a leg in a bad fall, and his dream came to a vanishing point. He left the circus and became a journalist, and then, probably missing show business and touring, he went on to work with the "Tournées Baret," a famous theatrical touring company. But this was not the circus.
When his road crossed that of the popular Cirque Pinder (then still under the management of Arthur Pinder), Léonce asked for a job, and was hired as Régisseur—in the old French circus, a job whose fuzzy description embraced the duties of performance director, artistic administrator, stage manager, and probably, in Léonce's case, anything that required a minimum of academic education.
Léonce met his wife, who worked as a "clairvoyant" in a magic act, the Pickman Troupe, at the Cirque Pinder. Soon after their wedding, they decided to go into circus business on their own. Thus in 1907, Léonce Chapuis opened his first circus, the Cirque Printania. Unfortunately, if Léonce had acquired by then a good knowledge of the general administration of a circus, he didn't have any experience in the actual day-to-day operational management of a traveling circus—a job that often required more survival skills and cunning than traditional business savvy.
From Cirque Printania to Cirque Léonce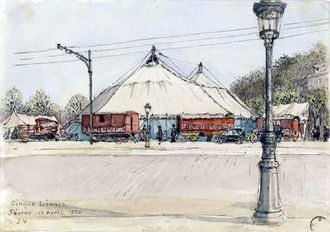 Regrettably, the clairvoyant Mrs. Chapuis couldn't foresee that in 1911, after only four years of existence, the Cirque Printania would be bankrupt and put for sale. Léonce managed to keep his horses, though, and he went to work as an equestrian for other circuses, presenting horses at
liberty
"Liberty act", "Horses at liberty": Unmounted horses presented from the center of the ring by an equestrian directing his charges with his voice, body movements, and signals from a ''chambrière'' (French), or long whip.
and
high school
A display of equestrian dressage by a rider mounting a horse and leading it into classic moves and steps. (From the French: Haute école)
acts. But luck struck with a significant inheritance, and with that money and the money he had put aside as an artist, he was able to start a new circus to which he gave his name, the
Cirque Léonce
.
In the period between the two World Wars, the Cirque Léonce toured the French provinces with good success (Léonce Chapuis had learned his lessons), and in time, it acquired a very good reputation. It was by no means a large enterprise—and it didn't have any ambition to be so—but it presented programs of quality, and the public knew it. Léonce avoided superlatives and bluff in his advertising, a fact his faithful audiences appreciated. This probity, however, may have also been detrimental to his business, at a time when the traveling circus competition had become fierce.
The Cirque Léonce gradually vanished from the scene: The tenting circus was replaced by occasional appearances of the Cirque Léonce in seasonal fairs, playing under a temporary construction(French) A temporary circus building, originally made of wood and canvas, and later, of steel elements supporting a canvas top and wooden wall. Also known as a "semi-construction.". And then, it disappeared altogether; no precise date of its last performance has been recorded. Léonce Chapuis went into retirement, and spent his last years as the President of the Amicale des Cirque de France, a non-profit circus association. He was seventy-three when he died—but unfortunately, the place and the date have not been recorded by historians, and need to be researched. The Cirque Léonce had been one of a wonderful group of high-quality, medium-size circuses that roamed the French provinces, entertaining a faithful audience until the end of the Second World War.
See Also
Adrian, Sur les Chemins des Grands Cirques Voyageurs (Bourg-la-Reine, Paul Adrian Edit., 1959)
Image Gallery