Ethel Jennier
From Circopedia
Aerialist, Animal Trainer
Born November 24, 1914, in Dothan, Alabama, Ethel Harris (later Jennier, 1914-1984) was an orphan: she never knew her parents and was raised in the Methodist Orphanage of Selma, Alabama. There, beside her academic education, she had the opportunity to learn dance and acrobatics. She had a very outgoing personality and was not afraid of showing off her skills to anyone who would watch. She left the orphanage at fourteen and went on to live with an aunt and uncle.
Miss Aerialetta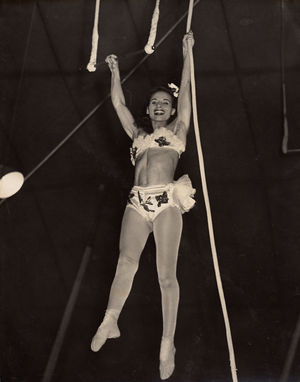 As luck would have it, she was spotted by a representative of the
Mighty Haag Circus
doing acrobatics in her front yard; he offered to take her as an apprentice on the show, and her uncle accepted. There she started learning the circus way of life, as well as acrobatics, aerial work, and anything else that rendered her "generally useful," as was what was expected of circus performers in those days.
After her initial training on the Mighty Haag show, she continued her circus apprenticeship on the Sam B. Dill Circus in 1930; she had by now a trapeze act to which she added a cloud swing(English, American) The ancestor of the trapeze: a slack rope hanging from both ends, used as an aerial swinging apparatus. The addition of a bar in the middle led to the creation of the trapeze. and iron jawAerial trick in which a performer hangs from a small apparatus fitting in his/her mouth (a ''mouthpiece'' — French: ''mâchoire'') and hooked to another apparatus or piece of equipment. routines, which she performed as Miss Aerialetta. She also learned horsemanship, taking advice from experts on the show and practicing relentlessly.
It is on the Sam B. Dill's Circus that she met Walter Jennier, a seasoned performer who was featured in the show with his trained sea lion, Buddy. Walter was a former acrobat and aerialistAny acrobat working above the ring on an aerial equipment such as trapeze, Roman Rings, Spanish web, etc., and he started working with Ethel to polish her trapeze act and eventually helped her build a new swinging trapeze act—a grueling and dangerous specialty—which ended with a spectacular somersault to a web, without any safety or protection. Ethel was a dedicated performer, enhancing her work with endless energy and an amazing smile.
Inevitably, she and Walter fell in love. They wed on March 15, 1934, while working on the Tom Mix Circus. Their sea lion and trapeze acts were a good combination for booking agents, and they were featured on many circuses, including Tom Mix, Wallace Brothers, Arthur Brothers, Russel Brothers, and Polack Brothers. (After the initial success of the Ringling Brothers show, American circuses took on to present themselves as family organizations run by brothers—although few of them genuinely were!)
Ethel took time off in 1939 to have her daughter Jo-Ann, who was born on October 11. Then she returned to performing and went off again in the winter of 1945-1946 for Jo-Ann's first year of school, and to have a son, Walter, Jr., who was born March 27, 1946, in Sarasota, Florida. When she resumed her trapeze act, it was without her signature somersault to the web, but she kept her roll-ups, one-arm revolving planges, a neck hang, ankle drops with an open one-hock catch, and a standing ankle drop, still with no safety devices.
Animal Trainer
Walter's sea lion, Buddy, died during a tour in Central America in 1955. Since Walter considered retiring from performing, Ethel suggested to take over and present a two-sea-lion act trained by Walter, and Walter approved the idea. With his assistance, Ethel worked with the sea lions, and, after two years with the Polack show, she also resumed her swinging trapeze act as Miss Aerialetta. In 1964, her two acts were hired by Ringling Bros. and Barnum and Bailey.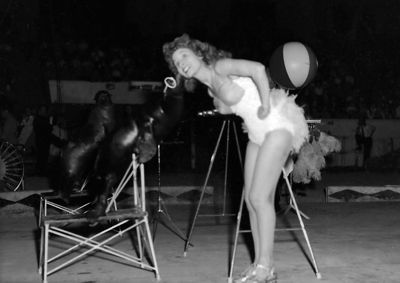 Unfortunately, this was the beginning of the end for Ethel and Walter. They had a huge age difference: Walter was seventy-three, and at fifty, Ethel was still an attractive woman and full of life. They divorced at the end of the season and Ethel married
Jack Joyce
, a veteran animal trainer, who presented a
liberty
"Liberty act", "Horses at liberty": Unmounted horses presented from the center of the ring by an equestrian directing his charges with his voice, body movements, and signals from a ''chambrière'' (French), or long whip.
act in the show (along with
Charles Mroczkowski
in the center ring, and Mroczkowski's wife, Gena Lipowska, in the third ring).
Ethel and Jack were featured in the show for the 1965 and 1966 seasons. They presented a mixed animal act composed of camels, a zebra, and a llama, which Ethel led alone in 1966. She also worked as a showgirl, appearing in the aerial ballet—which her prior work on the trapeze made quite easy for her. With her personality, the animal act was also a good fit. On his side, Walter retired definitely from performing.
Jack and Ethel remained on the Ringling show in various capacities until in 1971. Then Jack became performance director for a new Buffalo Bill's Wild West—a short-lived venture. They joined the Clyde Beatty-Cole Bros. Circus for the 1972 -1973 seasons. In addition to the mixed animal act, they trained a greyhound act that was presented by Ethel. Charles Schlarbaum, the Beatty-Cole circus's bandleader, arranged music for the greyhound act using an appropriate Alabamy Bound at fast tempo and a high-speed version of Honky Tonk Woman that perfectly suited the pace of the act.
"Zack the shaggy dog" added comedy to the act and, despite the greyhounds' thrilling hurdle jumping, it is Zack that was the shining star. Ethel eventually added a sword-balancing act to her repertoire, which she performed, along with her dog act, on the Royal Bros. Circus in 1974. On the same program was her daughter Jo-Ann, with the trapeze act that Jo-Ann's father, Walter Jennier, had helped her create. Walter also traveled with the show; sadly, he died on the road during the season, on June 24, 1974, in Toronto, Canada. Then Ethel worked with Jo-Ann, offering the three acts as a package, and did spot dates for a variety of producers.
Epilogue
In 1977 she and Jack parted ways, and on January 16, 1978, Ethel married Horst Geyer, a musician on the Beatty-Cole Circus. In the summer of 1980, she played dates with the then-fledgling Big Apple Circus, where she presented her dog act. Then, in 1983, she was touring with Carden & Johnson Circus in Newfoundland, Canada, when she fell ill. She left the show and returned to her home in Gibsonton, Florida, where she was diagnosed with leukemia. She had to quit performing, but she didn't lose her positive attitude and continued working part-time jobs in security and as a security driver. She passed away on August 27, 1984, at age seventy, in Tampa, Florida.
See Also
Image Gallery