Difference between revisions of "Main Page"
From Circopedia
 

(249 intermediate revisions by the same user not shown)
Line 13:
Line 13:
 

|}

 

|}

 

|}

 

|}

 
+
 
+
 

==In The Spotlight==

 

==In The Spotlight==

−

[[Image:Philip_Astley.jpg|right|250px|Philip Astley]]

 
−

===A SHORT HISTORY OF THE CIRCUS===

 
 
 
−

If the history of theater, ballet, opera, vaudeville, movies, and television is generally well documented, serious studies of circus history are sparse, and known only to a few circus enthusiasts and scholars. What little the public at large knows, on the other hand, is circus history as told over the years by imaginative circus press agents, and repeated—and often misunderstood and distorted—by writers of popular fiction, Hollywood screenwriters, and journalists too busy to investigate further. One of the most popular misapprehensions about circus history is the oft-repeated idea that circus dates back to the Roman antiquity. But the Roman circus was in actuality the precursor of the modern racetrack; the only common denominator between Roman and modern circuses is the word itself, ''circus'', which means in Latin as in English, "circle".

+

''''

 
+

.

 
 
−

The modern circus was actually created in England by [https://www.amazon.com/dp/1984041312/ref=sr_1_2?ie=UTF8&qid=1517698824&sr=8-2&keywords=Philip+Astley+and+the+Horsemen Philip Astley] (1742-1814), a former cavalry Sergeant-Major turned showman. The son of a cabinet-maker and veneer-cutter, Astley had served in the Seven Years' War (1756-63) as part of Colonel Elliott's 15th Light Dragons regiment, where he displayed a remarkable talent as a horse-breaker and trainer. Upon his discharge, Astley chose to imitate the trick-riders who performed, with increasing success, all over Europe. Jacob Bates, an English equestrian based in the German States, who performed as far away as Russia (1764-65) and America (1772-73), was the first of these showmen to make a mark. Bates's emulators—Price, Johnson, Balp, Coningham, Faulkes, and "Old" Sampson—had become fixtures of London's pleasure gardens and provided Philip Astley with his inspiration. ([[SHORT HISTORY OF THE CIRCUS|more...]])

+

(-), son of a , in the of 's , a

 
+

 

 
+

as a and . his , to the

 
+

 

 
+

-, . , , (-)and (-)

 
+

 

 
+

, was the of to . ; , ,

 
+

 

 
+

, , , and —become and . ([[|more...]])

 
 
 

==New Biographies==

 

==New Biographies==

 
 
−

* [[Irina Naumenko]], Hand Balancer

+

* [[]],

−

* [[The Owl and The Pussycat]], Trapeze Act

+

* [[]],

−

* [[Walter Nones]], Circus Director, Animal Trainer

+

* [[]],

−

* [[Norman Crider]], Juggler

+

* [[]],

−

* [[Zhejiang Acrobatic Troupe]], Chinese Acrobatics

+

* [[]],

 
 
 

==New Videos==

 

==New Videos==

 
 
−

* [[Kelli_Ramazini_Video_(2018)|Kelli Ramazini]], Trapeze (2018)

+

* [[()|]], ()

−

* [[Fuma_Boys_Monte_Carlo_Video_(2001)|The Fuma Boys]], Comedy Acrobatic (2001)

+

* [[()|]], ()

−

* [[Emile_Carey_Video_(2005)|Emile Carey]], Juggler (2005)

+

* [[()|]], ()

−

* [[Selifanov_Video_(2001)|The Selifanov Troupe]], Flying Trapeze (2001)

+

* [[()|]], ()

−

* [[Rene_and_Alexia_Casselly_Video_(2001)|René & Alexia Casselly]], Pas-de-Deux on Elephants (2001)

+

* [[()|]], ()

 
 
−

==Featured Oral Histories==

+

==Oral Histories==

 
 
−

* [[Circo_Price_Video_(2017)|A Short History of Madrid's Old Circo Price]], Circus History (1970)

+
 
+
 
+
 
+

* [[Circo_Price_Video_(2017)|A Short History of Madrid's Old Circo Price]], (1970)

 

* [[Anastasia_Dementieva_Video_(2017)|Anastasia Dementieva-Kornilova]] – Vadim Vernik Interview (2017)

 

* [[Anastasia_Dementieva_Video_(2017)|Anastasia Dementieva-Kornilova]] – Vadim Vernik Interview (2017)

−

* [[Freres_Knie_Video_(1962)|''Les Frères Knie'']], Documentary (1962)

+

 

−

* [[Jean_Richard_Video_(1979)|Jean Richard and Jean-Pierre Richard]] at the Cirque Jean Richard – Christian Boner Interview (1979)

+
−

* [[Buster_Keaton_Video_(1947)|Jérôme Medrano about Buster Keaton]] at the Cirque Medrano (1947)

+

 

 
+

* [[|the ]]()

 
 
 

==A Message from the Editor==

 

==A Message from the Editor==
---
Latest revision as of 19:07, 25 March 2019
Welcome! ✫ Bienvenue! ✫ Willkommen! ✫ Добро Пожаловать!
Bienvenida! ✫ Benvenuto! ✫ 歡迎 ! ✫ Vítejte! ✫ Καλώς ήρθατε!
Üdvözöljük! ✫ Добре Дошли! ✫ Welkom! ✫ Ласкаво Просимо!
Velkommen! ✫ Tervetuloa! ✫ Дабро Запрашаем! ✫ Välkommen!
In The Spotlight
CIRCUS KNIE (Established 1919)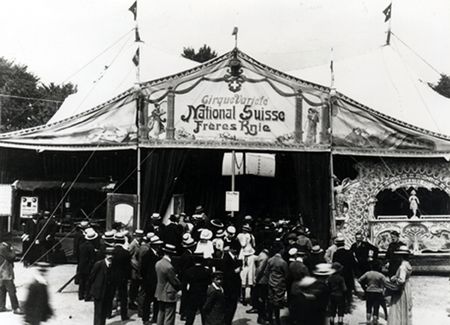 When Friedrich Knie (1784-1850), the son of an Austrian doctor, fell in love with Wilma, a beautiful equestrienneA female equestrian, or horse trainer, horse presenter, or acrobat on horseback., in 1803 at Innsbruck, little did he know that this adventure would be at the origin of one of the world's most prestigious and long-lasting circus dynasties. Born in Erfurt and nineteen years old, the young Friedrich left his studies without a second thought and went on to roam the country with a small company of traveling performers.
Friedrich's infatuation was short lived, but he enjoyed his new life as an itinerant entertainer, and he decided to create his own company of rope dancers, a craft he had learned during his tours. In 1807, he met and fell in love with Antonia (Toni) Stauffer. Toni's father, a reputable barber, refused to marry his daughter to a traveling entertainer, and as a precaution, he sent her to a convent. As family lore has it, Friedrich abducted the object of his flame on a night of lightnings and thunder, and the two lovers got married that same year.
Soon came the family's second generation of performers: Rudolf Knie (1808-1858) was born on July 14, 1808. Four more children followed: Georg (1809-1849), Karl (1813-1860), Fanny-Adelheid (1814-1857), and Franz (1816-1896). All of them would become rope dancers and acrobats.
The Napoleonic Wars (1803-1815) had rendered the political and social environment in Austria quite unstable, and the economic situation was uneasy. Yet, the family's determination helped them overcome the many problems that a traveling company of performers had to face, especially in such difficult times. The Arena Knie was still a small affair that performed outdoors; the high rope was rigged above a stage, on which were presented tight and bouncing ropeAn rope placed between two supports or pedestals, and fastened at one or both ends to a spring or bungee, so that the ropedancer can use the rope as a propelling device. acts, along with an assortment of floor acrobatics and comedy turns. The addition of a few benches around the stage made up the arena.
Friedrich was smart, and one thing became quickly apparent to him: considering the situation, he couldn't confine his travels to Austria. Germany was added to the route and, as early as 1814, Switzerland. In 1828, the Knies performed in Zurich for the first time, and that same year, in Rapperswil—which was to become much later, in 1907, their hometown. The Knie Arena developed into a successful and reputable enterprise in these three countries. (more...)
New Biographies
New Videos
New Oral Histories
Circopedia Books
A Message from the Editor
CIRCOPEDIA is a constantly evolving and expanding archive of the international circus. New videos, biographies, essays, and documents are added to the site on a weekly—and sometimes daily—basis. Keep visiting us: even if today you don't find what you're looking for, it may well be here tomorrow! And if you are a serious circus scholar and spot a factual or historical inaccuracy, do not hesitate to contact us: we will definitely consider your remarks and suggestions.
Dominique Jando
Founder and Curator