Difference between revisions of "Main Page"
From Circopedia
 

(52 intermediate revisions by the same user not shown)
Line 14:
Line 14:
 

|}

 

|}

 

==In The Spotlight==

 

==In The Spotlight==

−

[[File:Gia_Eradze_and_Horse.jpeg|right|300px]]

 
−

===GIA ERADZE===

 
 
 
−

In his early youth, Gia Eradze fell in love with the circus and decided he would become an animal trainer. From then on, nothing stopped him. Not only did he become a successful animal trainer, but his rich, extravagant visual imagination led him to create extremely successful shows that helped revive the creative image of the Russian circus at home and abroad, and eventually propelled him to new heights in the Russian circus artistic hierarchy.

+
 
+
 
+

, in with the circus. a , the of and , and eventually in .

 
 
−

Gia Giulevich Eradze was born October 3, 1979 in Tbilisi, Georgia—which was then part of the Soviet Union. His father managed a supermarket, and his mother was Rector of Economics at the Tbilisi State University. His was a well-to-do family with no connection whatsoever with the performing arts in general, and the circus in particular.  

+

, of the Soviet Unionand of at the . was a in the in .  

 
 
−

Yet, then as now, Tbilisi was a circus town: In 1888, the Nikitin Brothers had built a wooden circus on Golovinsky Prospect (today Rustaveli Prospect), and what was then Tiflis became their home base. From there, they created a touring circuit for which they used circus buildings they erected over the years in several other cities, including Moscow.  

+

the had a , and was . , the , .

 
 
−

The original Circus Nikitin's structure was destroyed by a fire in 1911, and Tbilisi's new circus was housed for a long time in a former factory before being rebuilt in 1939 in its present location, on a hill on the left bank of the Kura river. It is there that a young Gia Eradze fell in love with the circus—and especially with animal acts. There and then, he decided he would be an animal trainer.

+

, a long of the with Circus in , . , with and , .... ([[|more...]])

−

 

+
−

He enrolled in the local Amateur Circus (Youth Circus) and began training in various circus disciplines, but he quickly discovered that Amateur Circuses (and circus schools for that matter) did not teach animal training. Working with animals is something you learn hands on, working with other animal trainers in a circus.

+
−

 

+
−

Gia was a precocious and strong-willed kid, and his determination eventually led him to truancy: when his father's car took him to school in the morning, Gia waited until the chauffeur had left and changed trajectory, landing inevitably at the circus. In 1990, at age eleven, he managed to get a job as an assistant (or as a groom) with Nana Milkatze's ''Horsemen of Georgia'' troupe of Cossack riders... ([[Gia Eradze|more...]])

+
 
 
 

==New Biographies==

 

==New Biographies==

 
 
 
+
 
+
 

* [[Gia Eradze]], Circus Director, Animal Trainer

 

* [[Gia Eradze]], Circus Director, Animal Trainer

 

* [[Rob Torres]], Clown

 

* [[Rob Torres]], Clown

 

* [[Tianjin Acrobatic Troupe]], History

 

* [[Tianjin Acrobatic Troupe]], History

−

* [[Nino Frediani]], Juggler

 
−

* [[Henrik Henricksen]], Animal Trainer

 
 
 
 

==New Videos==

 

==New Videos==

 
 
−

* [[Adi_Enders_Video_(1995)|Adi Enders]], Horses at Liberty (1995)

+

* [[()|]], ()

−

* [[Houcke_Courier_Video_(1943)|Gilbert Houcke]], ''The Courier'' (1943)

+

* [[()|]], ()

−

* [[David_Larible_Video_(2014)|David Larible]], Clown (2014)

+

* [[()|]], ()

−

* [[Rastellis_Video_(2000)|The Rastellis]], Clowns (2000)

+

* [[()|]], ()

−

* [[Kulakov_Video_(1985)|Vladimir Kulakov]], Juggler (1985)

+

* [[()|]], ()

 
 
 

==New Oral Histories==

 

==New Oral Histories==
---
Latest revision as of 20:58, 23 July 2019
Welcome! ✫ Bienvenue! ✫ Willkommen! ✫ Добро Пожаловать!
Bienvenida! ✫ Benvenuto! ✫ 歡迎 ! ✫ Vítejte! ✫ Καλώς ήρθατε!
Üdvözöljük! ✫ Добре Дошли! ✫ Welkom! ✫ Ласкаво Просимо!
Velkommen! ✫ Tervetuloa! ✫ Дабро Запрашаем! ✫ Välkommen!
In The Spotlight
ELENA SERAFIMOVICH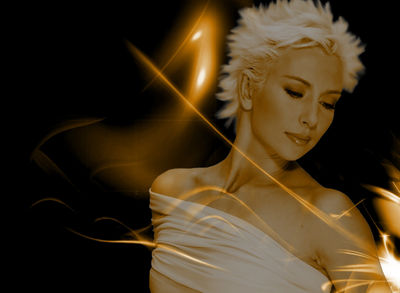 Elena Serafimovich was born in Minsk, Belarus (then in the USSR) on February 18, 1972 in a family that was not connected with the circus: Both her parents worked for import-export companies. As a child, the mixture of dance and acrobatics that rhythmic gymnastics offers attracted her, and she started training at age six. She participated in many national competitions, and eventually obtained a Master degree in Rhythmic-Gymnastics.
But Elena wanted to see the world, to go out of the confined atmosphere of the Soviet Union; so she did what many former gymnasts there did: she enrolled in Kiev's State Institute of Variety and Circus Arts in Ukraine (still part of the Soviet Union at the time). The year was 1987. In 1989, she was hired as a top mounterIn an acrobatic or balancing act, the performer who holds the top position (on a human column, for instance). in the famous perch-poleLong perch held vertically on a performer's shoulder or forehead, on the top of which an acrobat executes various balancing figures. balancing act of Aleksei Sarach—although she was still technically a student of the school. She graduated as a "generalist" (a performer without a specific act) in 1991.
Elena worked with Sarach in the Soviet Union and on foreign tours of the "Moscow Circus" for eight years. Meanwhile, she had a desire to create an act of her own, and in 1993, she began to train on the aerial hoopA heavy metallic hoop used as a variance of trapeze, usually with contortion moves. (Also called Cerceau.), or cerceau(French) See Aerial Hoop.—an apparatus that was ideal to showcase her amazing grace and flexibility. While doing so, she caught the attention of Tatiana Assovskaya, then director of SoyuzGosTsirk (later, RosGosTsirk), the Russian state central circus organization.
With Assovskaya's help, Elena further developed her act during a long engagement of the Moscow Circus with Circus Williams-Althoff in Germany, where she eventually premiered it in 1995. Her beautifully choreographed aerial presentation, combined with Elena's natural grace and elegance, was an immediate sensation.... (more...)
New Biographies
New Videos
New Oral Histories
Circopedia Books
A Message from the Editor
CIRCOPEDIA is a constantly evolving and expanding archive of the international circus. New videos, biographies, essays, and documents are added to the site on a weekly—and sometimes daily—basis. Keep visiting us: even if today you don't find what you're looking for, it may well be here tomorrow! And if you are a serious circus scholar and spot a factual or historical inaccuracy, do not hesitate to contact us: we will definitely consider your remarks and suggestions.
Dominique Jando
Founder and Curator