Difference between revisions of "Main Page"
From Circopedia
 

(38 intermediate revisions by the same user not shown)
Line 14:
Line 14:
 

|}

 

|}

 

==In The Spotlight==

 

==In The Spotlight==

 
+
 
+
 
 
−

[[File:Cirque_d'Hiver_-_Front_View_(2013).jpg|right|400px]]

+

-().

−

===LE CIRQUE D'HIVER DE PARIS===

+
 
 
−

Located in the heart of Paris, between the Place de la République and the Place de la Bastille, at the edge of the historical Marais, the Cirque d'Hiver is the world's oldest extant circus building. It is also the world's oldest circus still in activity: It opened its doors in 1852. Its address, at 110 rue Amelot, may seem inconspicuous, but at that precise point, the rue Amelot opens onto the Boulevard du Temple through the small Place Pasdeloup: The Cirque d'Hiver is therefore quite noticeable, practically "on the Boulevards."

+

in , and , , the circus . : in , , , , .

 
 
−

The Cirque d'Hiver (literally the ''winter circus'') was built for circus entrepreneur Louis Dejean (1797-1879) to serve as his circus company's winter home. Dejean already managed the Cirque des Champs-Elysées in the fashionable ''Jardins des Champs-Elysées'', which he kept open from May through October. Up to 1846, his main establishment had been the Cirque Olympique, located some five hundred yards from his new circus, on the portion of the Boulevard du Temple that disappeared in 1862 to give room to the present Place de la République, during the renovation of Paris by the Baron Haussmann.

+

, was not . and and was , 'in the , had a -, , the . -, , , in the , 'and , that on .... ([[|more...]])

−

 

+
−

Dejean had sold his old Cirque Olympique in 1847; although it had been built only twenty years earlier (in 1827), it had already lost its appeal and was not practical anymore. Like many circus buildings of its generation, it had been designed with both a circus ring and a full theater stage, and consequently, it was easy for its new owners to transform it into a legitimate theater, the ''Théâtre du Cirque Olympique''. With no permanent home in the winter, Dejean had taken to sending his troupe abroad, to London or Berlin. Although these forays into foreign lands had proved successful enough, having a new winter base in Paris still made more sense.

+
−

 

+
−

Thus, Dejean asked Jacques-Ignace Hittorff (1792-1867), the City of Paris's Chief Architect, to design the plans for a new circus. Hittorf had already built the Cirque des Champs-Elysées for Dejean, as well as its twin counterpart, the Panorama (today Théâtre du Rond-Point), which were part of the master plan for the renovation of the Chanps-Elysées gardens in the 1840s. Hittorff had also supervised the redesign of the Place de la Concorde (notably with the addition of his own monumental fountain, ''La Fontaine des Mers'') and he would later build Paris's Gare du Nord, the twelve ''hôtels particuliers'' (townhouses) that surround the Arc de Triomphe on tha Place de l'Étoile, and many other "classic revival" pieces of work—a style of which he was one of the most influential proponents.... ([[Cirque d'Hiver|more...]])

+
 
 
 

==New Biographies==

 

==New Biographies==

 
 
 
+
 

* [[Tamerlan Nugzarov]], Cossack Rider

 

* [[Tamerlan Nugzarov]], Cossack Rider

 

* [[Circus Krone]], History

 

* [[Circus Krone]], History

 

* [[Nell Gifford]], Circus Owner

 

* [[Nell Gifford]], Circus Owner

 

* [[William Vos]], Animal Trainer

 

* [[William Vos]], Animal Trainer

−

* [[Jürg Jenny]], Animal Trainer

 
 
 
 

==New Videos==

 

==New Videos==

 
 
−

* [[Vivien_Larible_Video_(1989)|Vivien Larible]], Washington Trapeze (1989)

+

* [[()|]], ()

−

* [[Sandro_Montez_Video_2020|Sandro Montez]], Dog Act (2020)

+

* [[|]], ()

−

* [[Milaev_Video_1951|Evgeniy Milaev]], Ladder Balancing (1951)

+

* [[|]], ()

−

* [[Nesterov_Video_2020|Sergey Nesterov]], Tiger Act (2020)

+

* [[|]], Act ()

−

* [[Nikulin_Shuydin_TV_Video_(1981)|Yury Nikulin & Mikhail Shuydin]], Clowns (1981)

+

* [[()|]], ()

 
 
 

==New Oral Histories==

 

==New Oral Histories==
---
Latest revision as of 00:20, 17 September 2020
Welcome! ✫ Bienvenue! ✫ Willkommen! ✫ Добро Пожаловать!
Bienvenida! ✫ Benvenuto! ✫ 歡迎 ! ✫ Vítejte! ✫ Καλώς ήρθατε!
Üdvözöljük! ✫ Добре Дошли! ✫ Welkom! ✫ Ласкаво Просимо!
Velkommen! ✫ Tervetuloa! ✫ Дабро Запрашаем! ✫ Välkommen!
In The Spotlight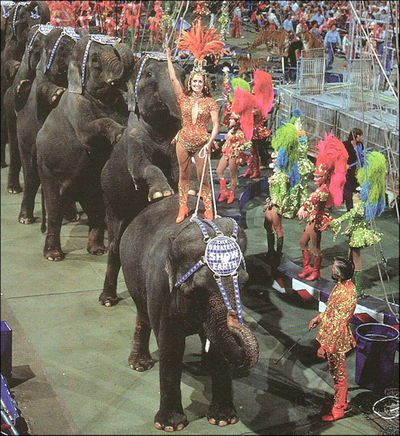 BILL & BARBARA WOODCOCK
William "Buckles" Woodcock was born on February 26, 1935 in Lancaster, Missouri, to an old American circus family. Although his father, William H. Woodcock (1904-1963), was a first-generation circus man (and became a legendary elephant trainer with a passion for circus history), his mother was Sarah "Babe" Orton (1902-1988), whose grandfather, Hiram , a former sailor and tavern-keeper of British origin, had started a circus in Wisconsin in 1854. As the feisty Babe would often say, "My family was in the circus when the Ringling brothers were still wearing wooden shoes."
Bill (to differentiate him from his father, William) Woodcock grew up around animals, elephants in particular. When he was a toddler, he was often buckled to his mother on a harness to keep him in check and safe around his father's elephants, thus his nickname. At age 11, he began working in the circus as a candy butcher(American) Concession vendor; so named because one of the first successful concessionaires of the American circus was a former butcher.. But Buckles had other plans: in 1951, over his father's objections, he found a job as an animal handler with another elephant trainer, Eugene "Arky" Scott, who worked with Ringling Bros. and Barnum & Bailey.
Obviously, there was not much William Senior could do. He and Buckles reunited two years later and began working together. Since his father's vision was failing, Buckles's role in the partnership became increasingly more prominent. In 1951, William Woodcock had acquired a four-year old Burmese woodland elephant, Anna May, from the Al G. Kelly-Miller Bros. Circus, and Buckles began working with her. Anna May, who was a remarkably smart and talented performer, would become America's most famous elephant and stay in the Woodcock family until May 2004, when she went into retirement at Riddle's Elephant and Wildlife Sanctuary in Greenbrier, Arkansas. She died there that same year, on December 21.... (more...)
New Biographies
New Videos
New Oral Histories
Circopedia Books
A Message from the Editor
CIRCOPEDIA is a constantly evolving and expanding archive of the international circus. New videos, biographies, essays, and documents are added to the site on a weekly—and sometimes daily—basis. Keep visiting us: even if today you don't find what you're looking for, it may well be here tomorrow! And if you are a serious circus scholar and spot a factual or historical inaccuracy, do not hesitate to contact us: we will definitely consider your remarks and suggestions.
Dominique Jando
Founder and Curator