Difference between revisions of "Main Page"
From Circopedia
Line 15:
Line 15:
 

==In The Spotlight==

 

==In The Spotlight==

 
 
−

===ANATOLY DUROV===

+

======

−

[[File:Anatoly_Durov_Portrait.jpg|right|300px]]

+

[[File:.jpg|right|300px]]

−

The Durovs are among Russia's most prestigious circus dynasties. From the brothers Vladimir and Anatoly Durov, the founders of the circus dynasty, to a host of Anatolys, Vladimirs, Yurys, Natalias, and Terezas, all bearing the Durov name, they have given the Russian circus an impressive number of talented clowns, animal trainers, and entertainment entrepreneurs—and a few actors too.

+

most circus of the , to , , and the , the circus an .

 
 
−

In Soviet circus lore, Anatoly and Vladimir Durov are often associated with the Bolshevik revolution. As clown-satirists who took an anarchistic stance against the autocratic tsarist government, they became popular heroes in the waning decades of the Russian Empire. The Soviet regime, always eager to play the populist card, did not hesitate to claim them as its own.

+

, and . an in . , the .

 
 
−

In fact, however, Anatoly Durov—the more virulent of the two brothers—was opposed to any form of authority; it's reasonable to assume, therefore, that, had he lived to see it, he would have rejected the authority of the Soviet regime. As for Vladimir, who became an iconic figure in the Soviet era, he eventually gave up clowning, came to specialize in animal training, and just followed the path of political correctness. For the Durovs, like most popular entertainers of their time, were first and foremost intent on surviving and succeeding, whatever the regime and the circumstances. As a matter of fact, the Durov family's origins clashed with Soviet ideology.

+

, , of , , to , have in and of , , , and .

 
 
−

Anatoly Leonidevich Durov was born on November 26, 1864 to a wealthy aristocratic family in Moscow. He was the fifth child and second son of Leonid Dmitrievich Durov (1832-67), a hereditary Lord from the Province of Moscow, who was an officer in the Moscow Police—a job he did more because he wanted to than because he had to. Anatoly's brother, Vladimir Leonidevich (1863-1934), was his elder by a year.... ([[Anatoly Durov|more...]])

+

, (), the of , in the , (), a .... ([[|more...]])

 
 
 

==New Biographies==

 

==New Biographies==
---
Revision as of 05:14, 2 January 2018
Welcome! ✫ Bienvenue! ✫ Willkommen! ✫ Добро Пожаловать!
Bienvenida! ✫ Benvenuto! ✫ 歡迎 ! ✫ Vítejte! ✫ Καλώς ήρθατε!
Üdvözöljük! ✫ Добре Дошли! ✫ Welkom! ✫ Ласкаво Просимо!
Velkommen! ✫ Tervetuloa! ✫ Дабро Запрашаем! ✫ Välkommen!
In The Spotlight
GIUSEPPE CHIARINI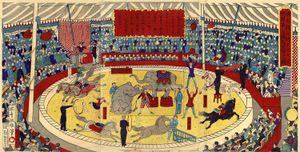 Giuseppe Chiarini (1823-1897) was perhaps the most influential circus director of the nineteenth century: During a professional career that spanned fifty-eight years, his extensive and incessant international tours led him from Europe to North and South America, to India and Asia, and down to Australia. In many places that had not yet been exposed to the circus, Chiarini's was the first circus the locals had ever seen—and this exposure sometimes triggered there the creation of an indigenous circus inspired by Chiarini's shows.
Over the years, Chiarini performed for Tsar Nicholas I of Russia, Emperors Maximilian I of Mexico, Dom Pedro of Brazil, Mitsuhito of Japan, King Rama V of Siam, an assortment of Indian Rajahs, and for various government officials and politicians. His Royal Italian Circus—which could become Royal Spanish Circus when needed—was in fact an American enterprise based in California. A true circus man, Chiarini was indubitably a citizen of the world.
Giuseppe Chiarini came from a large and ancient Italian family of traveling entertainers, whose first recorded appearance was at the Foire Saint-Laurent, one of France's oldest fairs, in 1580. Many Chiarinis, more or less directly related to Giuseppe, have since been chronicled in popular entertainment and circus history—a very diverse crowd of acrobats, ropedancers, puppeteers, ballet dancers, and equestrians.
In his novel, Die Vagabunden (1895), the German poet Karl von Holtei immortalized one of them, Francesco Chiarini; in the 1780s, this Chiarini managed a company of acrobats and puppeteers, and ran a very successful Théâtre d'Ombres Chinoises (shadow puppet theater). His daughter, Angélique, a celebrated equestrienneA female equestrian, or horse trainer, horse presenter, or acrobat on horseback., had been featured in 1793 at the Amphithéâtre Franconi—the former Amphithéâtre Astley—in Paris, and later in the troupe of Jacques Tourniaire.... (more...)
New Biographies
New Videos
Featured Oral Histories
A Message from the Editor
CIRCOPEDIA is a constantly evolving and expanding archive of the international circus. New videos, biographies, essays, and documents are added to the site on a weekly—and sometimes daily—basis. Keep visiting us: even if today you don't find what you're looking for, it may well be here tomorrow! And if you are a serious circus scholar and spot a factual or historical inaccuracy, do not hesitate to contact us: we will definitely consider your remarks and suggestions.
Dominique Jando
Founder and Curator