Main Page
From Circopedia
Welcome! ✫ Bienvenue! ✫ Willkommen! ✫ Добро Пожаловать!
Bienvenida! ✫ Benvenuto! ✫ 歡迎 ! ✫ Vítejte! ✫ Καλώς ήρθατε!
Üdvözöljük! ✫ Добре Дошли! ✫ Welkom! ✫ Ласкаво Просимо!
Velkommen! ✫ Tervetuloa! ✫ Дабро Запрашаем! ✫ Välkommen!
In The Spotlight
ELENA PANOVA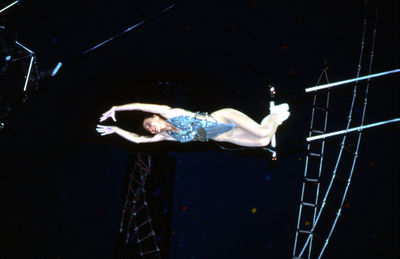 Elena Panova is credited with having originated a new swinging trapeze style and technique, which she developed quite by accident at the State College for Circus and Variety Arts in Moscow, along with her teachers, Tereza Durova and Victor Fomine. When it was presented for the first time in the West in 1987 (it was at a time when communist Eastern Europe was still secluded from Western Europe), her act triggered the creation of a string of new swinging trapeze acts in a similar style, notably in Canada.
Elena Panova was born Elena Nikolaevna Borisova on July 18, 1964 in Murom, four hundred kilometers from Moscow, the third daughter of Nikolai Borisov and his wife, Klavdia, née Kazanskaya. Her parents had nothing to do with the circus: they came from peasant stock and both worked in a local factory.
Murom is one of Russia's oldest cities, dating back to the 9th century, and "home" to the Kievan Rus folk hero of yore, Ilya Muromets. It is also a Holy City that managed to keep some of its monasteries and convents open during the communist era. Yet, it is a small town, and although the Soviet government gave it a theater building, it didn't have a circus, neither was it important enough to receive the summer visit of a shapito (or chapiteau(French, Russian) A circus tent, or Big Top. in French—a circus tent). In fact, Elena never saw a live circus performance while growing up.
She did see circus shows on television, however, and at age fourteen, she joined the local Amateur Circus Club—the Soviet equivalent of European or American youth circuses, though generally at a much higher level in terms of the training they provided. Amateur circuses flourished in the Soviet Union, where circus arts were held in high esteem.... (more...)
New Biographies
New Videos
Featured Oral Histories
A Message from the Editor
CIRCOPEDIA is a constantly evolving and expanding archive of the international circus. New videos, biographies, essays, and documents are added to the site on a weekly—and sometimes daily—basis. Keep visiting us: even if today you don't find what you're looking for, it may well be here tomorrow! And if you are a serious circus scholar and spot a factual or historical inaccuracy, do not hesitate to contact us: we will definitely consider your remarks and suggestions.
Dominique Jando
Founder and Curator