Main Page
From Circopedia
Welcome! ✫ Bienvenue! ✫ Willkommen! ✫ Добро Пожаловать!
Bienvenida! ✫ Benvenuto! ✫ 歡迎 ! ✫ Vítejte! ✫ Καλώς ήρθατ ε!
Üdvözöljük! ✫ Добре Дошли! ✫ Welkom! ✫ Ласкаво Просимо!
Velkommen! ✫ Tervetuloa! ✫ Дабро Запрашаем! ✫ Välkommen!
In The Spotlight
CIRCUS KRONE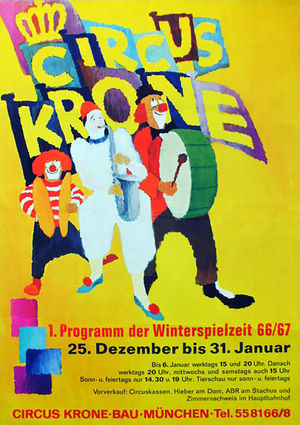 Circus Krone is the world's oldest circus company: It has been owned and operated continuously by the same family for more than a century and has maintained throughout the years the standards of quality initiated by its founder, Carl Krone, as well as its original menagerie's heritage. Its tours in many European countries, especially between the two world wars, have established its fame beyond the confines of Germany, its homeland. In addition, under various incarnations, its permanent circus building in Munich, the Kronebau, has been home to regular winter circus productions since 1919.
Founded by Carl Krone (1833-1900), then developed by his son, Carl Krone, Jr. (1870-1943), the Krone organization typically grew from a fairground menagerie to a giant circus, according to a pattern quite common at the turn of the twentieth century in Europe, triggered by the European tour of the giant American circus Barnum & Bailey, which introduced European audiences to their first three-ring circus traveling with a full-fledged menagerie.
Yet, unlike other enterprises that followed the same model, Circus Krone's discreet owners remained financially conservative, avoiding the dangerous ostentation of some of their colleagues; in doing so, they averted the crises and failures that had often plagued their competition. They developed international tour strategies that followed the ever-changing European economic cycles, which were strongly sustained by their successful activities in their home-based circus building, Munich's Kronebau, established in 1919.
After WWII and the death of Carl Krone Jr. in 1943, Circus Krone became, remarkably, a woman affair: It has been first led magnificently by Frieda Krone Sembach (1915-1995), Carl's daughter, then by her daughter, Christel Krone Sembach (1956-2017), and today by Jana Mandana Krone, Christel's adoptive daughter—the three of them having excelled in equestrian and animal presentations as much as in circus management. Krone has proudly remained during all that time Größter Circus Europas ("Europe's Largest Circus").... (more...)
New Essays and Biographies
New Videos
New Oral Histories
Circopedia Books
A Message from the Founder
CIRCOPEDIA is a constantly evolving and expanding archive of the international circus. New videos, biographies, essays, and documents are added to the site on a weekly—and sometimes daily—basis. Keep visiting us: even if today you don't find what you're looking for, it may well be here tomorrow! And if you are a serious circus scholar and spot a factual or historical inaccuracy, do not hesitate to contact us: we will definitely consider your remarks and suggestions.
Dominique Jando
Founder and Curator