Main Page
From Circopedia
In The Spotlight
JENDA SMAHA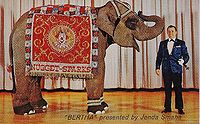 Jenda Smaha (1932-2006) was considered one of the best elephant trainers of his generation. Although he came from a well-established European circus family, he spent most of his career on stage in the United States, working in casinos and variety shows. To the public at large, his name is certainly not as famous as that of the elephants he presented,
Bertha
, and then a string of
Tanyas
. Born Jan Vinicky on January 8, 1932 in Bad Salzelmen, a district of Schönebeck in Saxony-Anhalt, Germany, he was fifth generation of a celebrated German family of equestrians and animal trainers who worked under the stage name of Smaha. Jan, nicknamed Jenda, was the son of Antonin and Ingebord Vinicky. His father was a famous circus equestrian known in the business as Toni Smaha (1908-1986), and his mother was also a remarkable

equestrienne

. Jenda had two brothers, Antonin Joszi, known as Tony Smaha, Jr. (1949-2008), and Pero, equestrians and animal trainers as well. Jenda's uncle (Toni Smaha's brother) was Joszi Vinicky, who had also a brilliant career in Europe as a Master Equestrian and animal trainer. (
more...
)
New Biographies
New Videos
Featured Oral Histories
A Message from the Editor
CIRCOPEDIA is a constantly evolving and expanding encyclopedia of the international circus. New videos, biographies, essays, and documents are added to the site on a weekly—and sometimes daily—basis. Keep visiting us: even if today you don't find what you're looking for, it may well be here tomorrow!
Dominique Jando
Editor/Curator