Main Page
From Circopedia
Welcome! ✫ Bienvenue! ✫ Willkommen! ✫ Добро Пожаловать!
Bienvenida! ✫ Benvenuto! ✫ 歡迎 ! ✫ Vítejte! ✫ Καλώς ήρθατε!
Üdvözöljük! ✫ Добре Дошли! ✫ Welkom! ✫ Ласкаво Просимо!
Velkommen! ✫ Tervetuloa! ✫ Дабро Запрашаем! ✫ Välkommen!
In The Spotlight
ANATOLY DUROV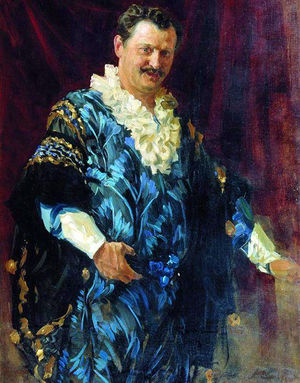 The Durovs are among Russia's most prestigious circus dynasties. From the brothers Vladimir and Anatoly Durov, the founders of the circus dynasty, to a host of Anatolys, Vladimirs, Yurys, Natalias, and Terezas, all bearing the Durov name, they have given the Russian circus an impressive number of talented clowns, animal trainers, and entertainment entrepreneurs—and a few actors too.
In Soviet circus lore, Anatoly and Vladimir Durov are often associated with the Bolshevik revolution. As clownGeneric term for all clowns and augustes. '''Specific:''' In Europe, the elegant, whiteface character who plays the role of the straight man to the Auguste in a clown team.-satirists who took an anarchistic stance against the autocratic tsarist government, they became popular heroes in the waning decades of the Russian Empire. The Soviet regime, always eager to play the populist card, did not hesitate to claim them as its own.
In fact, however, Anatoly Durov—the more virulent of the two brothers—was opposed to any form of authority; it's reasonable to assume, therefore, that, had he lived to see it, he would have rejected the authority of the Soviet regime. As for Vladimir, who became an iconic figure in the Soviet era, he eventually gave up clowning, came to specialize in animal training, and just followed the path of political correctness. For the Durovs, like most popular entertainers of their time, were first and foremost intent on surviving and succeeding, whatever the regime and the circumstances. As a matter of fact, the Durov family's origins clashed with Soviet ideology.
Anatoly Leonidevich Durov was born on November 26, 1864 to a wealthy aristocratic family in Moscow. He was the fifth child and second son of Leonid Dmitrievich Durov (1832-67), a hereditary Lord from the Province of Moscow, who was an officer in the Moscow Police—a job he did more because he wanted to than because he had to. Anatoly's brother, Vladimir Leonidevich (1863-1934), was his elder by a year.... (more...)
New Biographies
New Videos
Featured Oral Histories
A Message from the Editor
CIRCOPEDIA is a constantly evolving and expanding archive of the international circus. New videos, biographies, essays, and documents are added to the site on a weekly—and sometimes daily—basis. Keep visiting us: even if today you don't find what you're looking for, it may well be here tomorrow! And if you are a serious circus scholar and spot a factual or historical inaccuracy, do not hesitate to contact us: we will definitely consider your remarks and suggestions.
Dominique Jando
Founder and Curator