Main Page
From Circopedia
Welcome! ✫ Bienvenue! ✫ Willkommen! ✫ Добро Пожаловать!
Bienvenida! ✫ Benvenuto! ✫ 歡迎 ! ✫ Vítejte! ✫ Καλώς ήρθατε!
Üdvözöljük! ✫ Добре Дошли! ✫ Welkom! ✫ Ласкаво Просимо!
Velkommen! ✫ Tervetuloa! ✫ Дабро Запрашаем! ✫ Välkommen!
In The Spotlight
ROB TORRES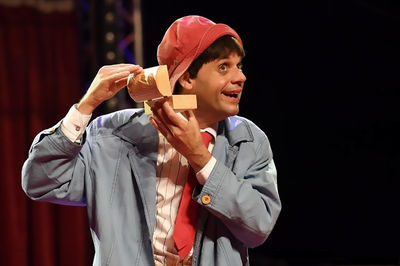 Rob Torres (1973-2018) had become, in a few short years, one of the world's most successful clowns, working with equal success in the Americas, Asia, and Europe—where he was on his way to becoming a genuine star. His untimely death stopped short the brilliant career of a young, talented clown that had conquered the affection of a large international audience.
Rob Torres was born Robert Joseph Torres in Rockland County, New York, on September 10, 1973 to Marguerite and Efrein Torres. He had one sister, Allison, and two brothers, Thomas and Andrew. His parents later moved to Hillsdale, New Jersey, where Rob attended the Pascack Valley High School. Hillsdale was not far from Manhattan and the dazzling lights of Broadway: Rob developed a taste for performance and show business that would inform the rest of his life.
While in high schoolA display of equestrian dressage by a rider mounting a horse and leading it into classic moves and steps. (From the French: Haute école), he was a member of the cross-country track team and the marching band and he began to show his generous and compassionate nature; always ready to help and reach out, he was a member of the Hillsdale Boy Scout Troop and the United Methodist Church's Youth Group, and he was a Peer Counselor. In 1990, he was inducted into the National Caring Hall of Fame in Washington, D.C. This warm side of his personality was fully visible in Rob Torres's sensitive work as a performer.
In his teens, he became interested in juggling and magic and developed a love for the circus. In 1992 he joined Ringling Bros. and Barnum & Bailey's Clown College in Venice, Florida, where he was trained in the traditional ways of American clowning. Upon graduation, he toured for three years with Clyde Beatty-Cole Bros. Circus, where he honed his comedic skills in front of large audiences and developed his juggling and acrobatic abilities with fellow performers.... (more...)
New Biographies
New Videos
New Oral Histories
Circopedia Books
A Message from the Editor
CIRCOPEDIA is a constantly evolving and expanding archive of the international circus. New videos, biographies, essays, and documents are added to the site on a weekly—and sometimes daily—basis. Keep visiting us: even if today you don't find what you're looking for, it may well be here tomorrow! And if you are a serious circus scholar and spot a factual or historical inaccuracy, do not hesitate to contact us: we will definitely consider your remarks and suggestions.
Dominique Jando
Founder and Curator