Paul Freedman
From Circopedia

Clown
By Harriet Hammel and Dominique Jando

(Editor's Note: Harriet Hammel, née Freedman, is Paul Freedman's youngest daughter.)

Paul Freedman (1909-1984) is mostly known in the circus world for his long partnership with Charlie Cairoli at Blackpool's Tower Circus. He was, however, first and foremost a musician. Born on 26th August, 1909 in Toronto, Canada, to a Lithuanian father and a Romanian mother, Paul was always musical, and something of a boy prodigy on the violin. He also learned a wide range of instruments—including flute, clarinet, and the full saxophone family—and not unexpectedly, he chose to embrace a musical career.
He thus became a professional musician. In the 1930s, he joined Billy Bissett's Canadian Swing Band, one of the very popular hotel orchestras of the period—this one based at the Royal York Hotel in Toronto. Billy Bisset's Band came to visit England in 1936, where Paul met Vera Wood, a dancer at the legendary Windmill Theatre in London. They fell in love, got married, and Paul remained in England. He continued to work as a musician, notably with Harry Roy, a well known clarinettist who led one of the most popular dance bands in Great Britain.
Charlie Cairoli & Paul
In 1944, Paul was playing in the Debroy Somers Orchestra at the London Palladium, for Happy and Glorious, a very successful revue starring the popular comedian Tommy Trinder. The "Cairoli Brothers" (Charlie Cairoli and his father, Jean-Marie Cairoli) were featured in the show, and that's where Charlie first met Paul. Paul was Debroy Somers's deputy conductor then, chosen by him because, as he said, "you look like me from the back". A bit of a drinker, Somers apparently needed a deputy because he was sometimes too drunk to conduct...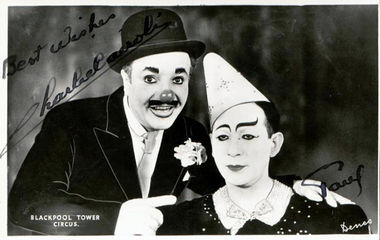 When Jean-Marie Cairoli retired in 1947, Charlie remembered Paul and he asked him to join the act. The Cairolis were fine musicians, and music was an important part of their act; Charlie thought the musically versatile Paul could make a good replacement for his father. And that's how, in 1948, Paul Freedman became half of
Charlie Cairoli and Paul
, the perennial star act at the Blackpool Tower Circus. Thanks to Paul's ability to play a variety of instruments, Charlie could maintain the quality musical act he and his father had made famous. Like Paul, Charlie played a very wide range of instruments, and he was famously known for holding a very long note on the trumpet. Typically, Charlie and Paul would march out of the ring with Paul fingering the keys of the clarinet over his shoulder, while Charlie blew through the instrument's
mouthpiece
Small apparatus fitting in a performer's mouth, used to hang from another apparatus (see: Iron Jaw).
.
On April 13, 1955, Charlie Cairoli and Paul Freedman were part of the first Royal Variety Performance ever given outside London: It was held in the 3,000-seat Opera House Theatre in Blackpool, in the presence of Queen Elizabeth II and the Duke of Edinburgh. Charlie and Paul performed amidst a stellar cast that included The Crazy Gang, Morecambe and Wise, Arthur Askey, George Formby, and Flanagan and Allen, among other princes of British comedy.
Finally, in 1960, after eleven years of a very successful partnership, Paul Freedman decided to leave the act. He then formed a short-lived musical clown duet with another partner, Rocco. Rocco & Paul appeared at the Cirque Medrano in Paris in the winter of 1960-61, in Rêve de Clown, a show built around the legendary augusteIn a classic European clown team, the comic, red-nosed character, as opposed to the elegant, whiteface Clown. Charlie Rivel. This marked the end of Paul's circus career, and he then resumed a music copying service that he had started previously. He died on 4th March 1984, after a long period of ill health. He and his wife, Vera, had had three children—all musical and with an artistic bent: Jules is a musician, composer and music teacher; Lanny is a writer; and Harriet does soft sculptures, and enjoys performing on the stage, singing and dancing.
See Also
Image Gallery