Rex Williams
From Circopedia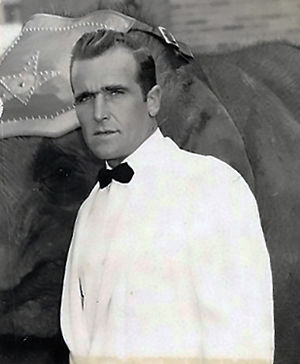 Animal Trainer
Rex Williams (1927-2003) was one of North America's best and most respected elephant trainers, and a true legend of the 20th century American circus. He devoted his lifetime to the care, training, and presentation of elephants. His unique approach to the treatment and schooling of his animal companions combined gentle methods with the development of close interpersonal relationships with them. He was one of the rare elephant trainers who could present his act completely barehanded.
From Flying Trapeze to Elephants
Rex Williams was born in Danville, Illinois on January 23, 1927, the son of a farmer. His parents, Ben and Tracy, had fifteen children! Unfortunately, his early childhood was not a happy one and, when he was thirteen-year-old, Rex followed the old saying: He ran away from home and joined the circus. There, he soon fell in love with animals.
Three years later, at age sixteen, young Rex lied about his age and enlisted in the United States Marine Corps. It was 1943, and the United States had entered WWII two years earlier. In 1945, he served in China, where the U.S. Marines invaded areas of the country occupied by Japanese forces to assist Chiang Kai-shek's government in obtaining their surrender and disarmament.
The war over, Rex returned to the circus. In these early years he tried his hand at the flying trapezeAerial act in which an acrobat is propelled from a trapeze to a catcher, or to another trapeze. (See also: Short-distance Flying Trapeze), acting as a catcherIn an acrobatic or a flying act, the person whose role is to catch acrobats that have been propelled in the air. with the Flying Pierces, whose flyers were Wally Naghtin and Joanne Day. He also performed in the Cristiani famous bareback riding act. Yet, his love of animals, especially elephants, eventually brought him to work with them.
Rex Williams began his career as elephant trainer in 1948 on
Ben Davenport
's Dailey Bros. Circus, and subsequently worked with many other circuses. In 1969, he went on to lead the elephant department of the
Clyde Beatty-Cole Bros. Circus
. It is on the Beatty-Cole show that Rex originated what was to become his trademark, a fast-paced elephant act that he led while riding a horse. The sight of the elephant herd rushing into the three rings with Rex riding alongside on his white horse was quite a spectacle, and audiences loved it.
Rex also developed several rare specialty tricks with his elephants. One was the elephant pyramid: Two elephants would lay on their bellies side by side and a third would climb on their backs to form a pyramid. He managed to build a truly special bond with his charges: Animals loved him, and he eventually specialized in handling elephants—and especially male elephants—that no one else wanted.
Unless other trainers who avoided them because they can become quite dangerous in period of musth (the elephants' period of rut), Rex loved to work with male elephants, and they responded to him very well. He always had several male elephants in his care, and he had up to five in his group at one point in the ring. One of his star elephants was the huge Tusko, a 13,000 pounds gentle male with a spectacular pair of tusks, who was part of the Vargas herd.
Yet, it was a female elephant that injured him seriously in 1994, In Salt Lake City, Utah. Rex was working in Jordan Brothers Circus, when an elephant named Sue threw him to the ground and stepped on him. Rex got a broken arm, four broken ribs, and internal injuries from the incident.
After Beatty-Cole, Rex Williams joined in 1977 the newly born Circus Vargas (the last "American Circus Giant" under a big topThe circus tent. America: The main tent of a traveling circus, where the show is performed, as opposed to the other tops. (French, Russian: Chapiteau)), the elephant herd of which he trained and presented until 1983, before returning there again from 1986 to 1995. He also developed multi-species acts with rhinos, tigers, lions, camels, elephants, and horses. In addition, Rex was an accomplished horse trainer and presenter, but he never claimed to have the level of expertise of many of his famous contemporaries in the equestrian arts.
Star Elephant Trainer
Roguishly handsome with matinee idol looks, Rex was often referred to as "the John Wayne of Circus." He was even approached by the tobacco company Marlboro to become their next "Marlboro Man;" Rex graciously refused the offer, but he did occasionally work on television, commercials, and films, including the television series The Big Blue Marble (1980) and Evening (1981), and the TV film Side Show (1981). He also appeared on television with his acts, notably on CBS's The Ed Sullivan Show where he debuted his "elephant pyramid" in 1960.
Still out of the ring, Rex led a twelve-elephant hitch pulling a thirty-foot-high wagon in the 1982 Rose Parade in Pasadena, California. This spectacular float, sponsored by the Casablanca Fan Company, was the last in the parade and its high point. In 1983, he led a herd of free running elephants on Wall Street, in New York City, for a Xerox Financial Services television commercial. Later that year, he celebrated the first successful birth of an elephant from two of his own elephants; the baby, a male elephant named Myakka, was his pride and joy.
Rex married three times. His first wife was aerialistAny acrobat working above the ring on an aerial equipment such as trapeze, Roman Rings, Spanish web, etc. and leopard trainer Barbara Ray, whose parents, LaLea and Ruben Ray, had a tiny circus called Marlowe's Mighty Hippodrome. Barbara gave him a son, Ben Williams. After their divorce, Barbara re-married with another famous elephant trainer, Bill Woodcock. His second wife, Ava Coronas came from a well-known Czech family of high-wire performers. She gave him two daughters, Darlene and Renee. (Ava Williams eventually created a successful talent agency.) Rex was married a third time, late in life, to Mary Braa-Williams, who didn't come from a circus family.
Ben Williams (1953-2009) became a star elephant trainer in his own right. Rex's daughter Darlene was a stuntwoman in Hollywood for many years, appearing notably in Water for Elephants (2011), Fast and Furious 7 (2015), and many other films. Renee Williams was a pilot and is currently (2023) the VP of Operation for Constellation Aviation Solutions, a contractor for the Federal Aviation Administration.
Rex Williams retired from performing in 1995 and went to work for John Cuneo's Hawthorn Corporation, a circus animal farm and a breeding and training center, at their quarters in Richmond, Illinois. He finally retired in 2002 but didn't enjoy his retirement for long: He died of complications from hypothermia in Daingerfield, Texas, on January 3, 2003. Two years earlier, in 2001, he had been inducted in the Circus Ring of Fame at St. Armands Circle, in Sarasota, Florida.
See Also
Image Gallery