Rob Torres
From Circopedia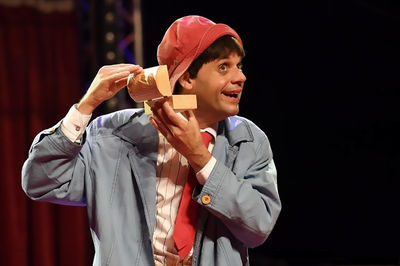 Clown
By Dominique Jando

Rob Torres (1973-2018) had become, in a few short years, one of the world's most successful clowns, working with equal success in the Americas, Asia, and Europe—where he was on his way to becoming a genuine star. His untimely death stopped short the brilliant career of a young, talented clown that had conquered the affection of a large international audience.
Rob Torres was born Robert Joseph Torres in Rockland County, New York, on September 10, 1973 to Marguerite and Efrein Torres. He had one sister, Allison, and two brothers, Thomas and Andrew. His parents later moved to Hillsdale, New Jersey, where Rob attended the Pascack Valley High School. Hillsdale was not far from Manhattan and the dazzling lights of Broadway: Rob developed a taste for performance and show business that would inform the rest of his life.
Becoming A Clown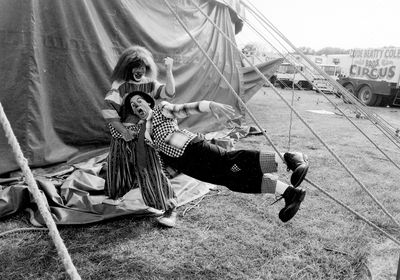 While in
high school
A display of equestrian dressage by a rider mounting a horse and leading it into classic moves and steps. (From the French: Haute école)
, he was a member of the cross-country track team and the marching band and he began to show his generous and compassionate nature; always ready to help and reach out, he was a member of the Hillsdale Boy Scout Troop and the United Methodist Church's Youth Group, and he was a Peer Counselor. In 1990, he was inducted into the National Caring Hall of Fame in Washington, D.C. This warm side of his personality was fully visible in Rob Torres's sensitive work as a performer.
In his teens, he became interested in juggling and magic and developed a love for the circus. In 1992 he joined Ringling Bros. and Barnum & Bailey's Clown College in Venice, Florida, where he was trained in the traditional ways of American clowning. Upon graduation, he toured for three years with Clyde Beatty-Cole Bros. Circus, where he honed his comedic skills in front of large audiences and developed his juggling and acrobatic abilities with fellow performers.
Yet he felt a need to complete his artistic education, and went on to study with the celebrated clownGeneric term for all clowns and augustes. '''Specific:''' In Europe, the elegant, whiteface character who plays the role of the straight man to the Auguste in a clown team., mime and teacher Sigfrido Aguilar, at his Estudio Busqueda de Pantomima in Valenciana, in the mountains of central Mexico. Then, for the following three years, Rob worked for Walt Disney World Resorts in Florida, where he developed his character, his routines and his shows.
It was a good opportunity to learn more about his art hands-on, but Rob was not done yet: he went on to further study at the Celebration Barn Theatre in South Paris, Maine with the renowned American clown and teacher Avner Eisenberg. Then Rob went to Japan, where he worked for two years with increasing success, even appearing on Japanese television. His unique, delicate brand of humor proved to work universally, and his international career was now on steady rails.
A Truly International Career
His next step was a tour of vacation resorts in the United Kingdom with his clown show, during which he happily discovered the European audiences' attitude toward clowning: it proved more satisfactory to him than what he had known in the United States. Nonetheless he returned home in 2002, working for a time in the streets as a busker, and then resumed his national and international travels.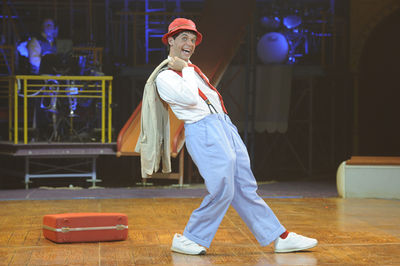 During these intercontinental engagements, Rob's character took shape and his understanding of the universal public sharpened: Ass always, audiences are a
clown
Generic term for all clowns and augustes. '''Specific:''' In Europe, the elegant, whiteface character who plays the role of the straight man to the Auguste in a clown team.
's true teachers! His big break as a circus clown came in 2008, when he participated in the
International Circus Festival of Budapest
at the
Fővárosi Nagycirkusz
, the city's popular circus building located near the Budapest Zoo and Botanical Gardens. To a circus
clown
Generic term for all clowns and augustes. '''Specific:''' In Europe, the elegant, whiteface character who plays the role of the straight man to the Auguste in a clown team.
, a traditional circus building offers the perfect conditions: Intimacy, acoustics, focus and comfort.
His act was ready, his charming character was fully developed, and his appearance in the Hungarian festival was an unmitigated success: Rob Torres won a Bronze Medal (medals are rarely bestowed upon clowns in circus festivals) and received a shower of special prizes. Agents and circus directors began to knock at his door. He was less lucky in 2010 at the International Circus Festival of Monte Carlo, where he only received a special prize, but his circus career was already launched.
That same year, 2010 (for the 2010-11 season), he performed for the first time at the Big Apple Circus in the United States; his second engagement there would be in 2013-14. He was featured with great success at Paris's legendary Cirque d'Hiver in 2014-15 and returned to the Parisian circus in 2017-18. In 2015, he was a headliner at Circus Knie in Switzerland; In the winter of 2016-2017, he was in the all-star Holiday show of the old Circus Carré in Amsterdam. In 2017, he participated in the 2nd Festival MondoClowns in Marmande, France.
A Tragic Ending
In-between these prestigious engagements, Rob toured with the one-man show he had developed, Room to Play, and went to teach clowning at the Accademia del Circo di Verona in Italy. Always generous, he also helped his friend from the Big Apple Circus, Kevin Venardos, start his own traveling circus. Sadly, this was one of his last good deeds...
On June 26, 2018, while he was flying from Houston, Texas, to Boston, where he was scheduled to take another flight to Italy to participate in the Festival Funambolika at Pescara, Rob Torres suffered a cardiac arrest. The crew tried to resuscitate him, but to no avail; the plane made an emergency landing at Washington-Dulles airport, but it was too late. Rob had died.
His sudden passing caused a consternation in the circus world. In February 2019, his portrait appeared on the program cover of the 4th Festival MondoClowns and, all over Europe and America, tributes poured in. Rob Torres had become one of the world's most beloved clowns; in the eyes of those who had seen him perform, he had become a true star. One wonders to which heights his talents would have taken him!
Suggested Reading
Jim R. Moore and Friends, A Clown in Our Town – A Tribute To Bob Torres (New York, Vaudevisuals, 2019) — ISBN 978-0-46-442323-2
See Also
Image Gallery