Sarah Chapman
From Circopedia
Aerialist
Sarasota, an elegant seaside resort on Florida's Gulf Coast, is the circus capital of the United States. John Ringling had settled there in 1912, soon followed by his brother Charles. After the Florida land-boom collapse of 1927, John Ringling brought to the city his giant circus's winter-quarters. As a result, Sarasota became a magnet for thousands of circus employees and performers who, over the years, established their residence in Sarasota or retired there. Therefore, when a young hopeful in Sarasota wants to run away and join the circus, it is relatively easy: The circus is all over the place!
An aerialistAny acrobat working above the ring on an aerial equipment such as trapeze, Roman Rings, Spanish web, etc. and all-around performer, Sarah Chapman is a child of Sarasota. She was born Sarah Kate Wheeler on December 31, 1945 to Dorothy, a homemaker, and Merritt I. Wheeler, who owned a bar in the city. Her father's friendship with Merle Evans, the legendary band director of The Greatest Show on Earth, encouraged him to take his family every year to the Ringling Bros. and Barnum & Bailey Circus. Sarah's older sister, Lucy, eventually went to train and perform aerial acts at Sailor Circus, Sarasota's fabled youth circus (today the Sailor Circus Academy, part of the Circus Arts Conservatory), and became a showgirl on the Ringling show.
Apprenticeship and Beginnings
Meanwhile, the Wheelers' five-acre domain enabled Sarah's prolific climbing and playing in oak trees, preparing her for future aerial work… She joined Sailor Circus in 1957, at age twelve, doing aerial acts. Two years later, she began practicing balancing (Washington) trapeze at home at the suggestion and under the tutelage of Danny Chapman (1913-1983), a flying trapezeAerial act in which an acrobat is propelled from a trapeze to a catcher, or to another trapeze. (See also: Short-distance Flying Trapeze) artist, aerialistAny acrobat working above the ring on an aerial equipment such as trapeze, Roman Rings, Spanish web, etc. and clownGeneric term for all clowns and augustes. '''Specific:''' In Europe, the elegant, whiteface character who plays the role of the straight man to the Auguste in a clown team., who would eventually teach at Clown College and be its first headmaster.
At Sailor Circus, Raul Segura, who replaced Danny as Sarah's coach, was
Pinito del Oro
's nephew: He loaned Sarah his aunt's trapeze bar, which was much better than the one her father had built for her and made her training more efficient. Balancing trapeze is a difficult and relatively rare specialty; said Sarah: "I picked a trapeze act that few people performed. It is a hard act to learn because of the hours spent practicing on the bar. I was a natural performer, but my balance was a gift."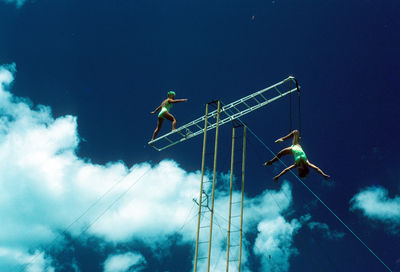 One of the advantages of training in Sarasota is that professional help is easily available. Edmondo Zacchini manufactured her trapeze bar; Gena Lipowska, a former ballerina and wife of the famous horse trainer Czeslaw Mroczkowski (known in the U.S. as Charles Morowski), helped her with her presentation; and Lolita Perez and Ruth "Peaches" Simmons told her how to design and make her own costumes.
Sarah debuted her balancing trapeze act in 1963, in Sailor Circus's Spring Shows, but it would take another three years before she debuted it professionally—which indeed gave her time to polish it. Meanwhile, she worked as a clown at Sarasota's Circus Hall of Fame and in Texas with Gus Bell's Shrine Circus, where she also participated in aerial ballets. In 1965, she married her former coach and now colleague in Clown Alley, Danny Chapman—and henceforth, Sarah Wheeler became known professionally as Sarah Chapman.
In 1966, she was working in Shrine Circuses in Detroit and Cleveland, where she performed in the aerial ballet and learned to ride elephants under the tutelage of the great elephant trainer Rex Williams—and while in Cleveland, she finally debuted her balancing trapeze act professionally. She then went on to work with King Bros. Circus, and with Carson & Barnes Circus, where she premiered a rotating ladder act that Danny had created in the 1950s as The Aerial Chapmans. Danny had suffered a serious fall with this act in Brussels in 1958, but it had survived with other performers. Sarah would perform it with various partners, among whom her stepdaughter, Deborah Chapman.
Sarah's daughter and first child, Ivy, was born in 1966. She became a multi-talented child performer and gifted gymnast before turning to a horse breeding career. She now teaches elementary school in Iowa. Sarah's son, Winston, born in 1972, was also a child performer, clowning alone and with his father, Danny. Although he was a gifted young performer, he didn't pursue a circus career: He is today a retired Army Captain and lives with his three children in Wisconsin.
With "The Greatest Show on Earth"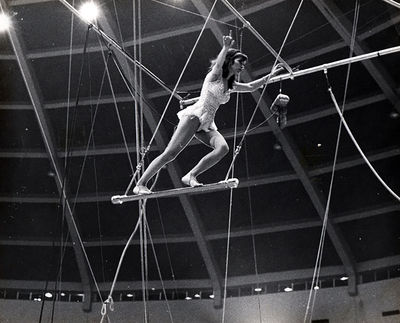 In 1969, Sarah joined Ringling Bros. and Barnum & Bailey's new Blue Unit, where she performed her trapeze act and participated in the aerial ballet and in
Hugo Schmitt
's impressive elephant act (riding Siam, its star elephant, in the center ring), and the following year, she appeared on NBC Television's
The Tonight Show with Johnny Carson
with her web act. In 1971, she moved to the Red Unit, where she remained until 1974. There, Ringling's music director
Bill Pruyn
(1927-1997) wrote an arrangement of
Bess, You is My Woman Now
, from Gershwin's opera
Porgy and Bess
, to accompany Sarah's trapeze act; it perfectly set the mood and would become thereafter her preferred music for her act.
After leaving Ringling, Sarah Chapman added a headstand to her balancing trapeze act, and the extended Chapman family (with Danny's children from a first marriage) began to offer not only their revolving ladder act but also a group juggling act. However, Sarah had been diagnosed with fibromyalgia, a disorder that affects the way the brain and spinal cord process painful and nonpainful signals and results in symptoms that are not compatible with the performance of a relatively dangerous act. She performed her trapeze act for the last time in 1979 at a Sailor Circus reunion show, in her hometown of Sarasota—thus completing her career's full circle.
Sarah divorced Danny Chapman in 1980. After he died of heart failure three years later at age seventy, she published and marketed a novel he had written, Circus Buffoon. In 1985, she moved to Europe and lived in and out of Sweden for a couple of years. A talented cook, she published in 1989 Simply Sarah – A Circus Girl's Cookbook, which became quite successful and enjoyed its fourth printing in 2019. In 1992, she got a B.A. degree in Humanistic Studies from the University of Wisconsin at Green Bay—for which she earned twenty-one credits for her performing career!
Sarah Chapman has since been lecturing about the circus and circus life, and in 2014, she published her memoirs in a book titled Balancing Act – Secrets of A Circus Aerialist. She lives in northern Minnesota and works occasionally as a cooking instructor and private chef.
Suggested Reading
Sarah Chapman, Simply Sarah - A Circus Girl's Cookbook (Published by the Author, 1989) ISBN 978-0961117221
Sarah Chapman, Balancing Act - Secrets of a Circus Aerialist (Published by the Author, 2014) ISBN 978-0961117245
See Also
Image Gallery
External Link