The Dancing Gauchos
From Circopedia
Boleadora Dancing
By Dominique Jando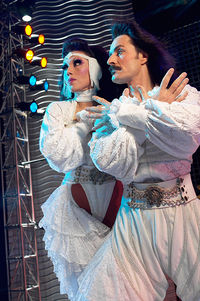 A native of Argentina, Sergio Martinez began taking dance classes at age five. Nine years later, he was discovered by the National Folkloric Ballet of Argentina and was invited to join the company. He eventually became the Ballet's principal dancer.
Martha Suarez was born into a circus family that had been active in Mexico since 1853 and had produced many remarkable equestrians, including Martha's father, Enrique, and her brother, Enrique, Jr. Martha's maternal grandmother, however, came from a theater background. Though originally trained as an acrobat, Martha eventually became a talented aerialistAny acrobat working above the ring on an aerial equipment such as trapeze, Roman Rings, Spanish web, etc..
Before he met Martha, Sergio had developed a spectacular act based on the Boleadora, an Argentinean folk dance. Originally, the boleadora (or bola) is a primitive hunting tool that was used by the Chinese, Inuits, and native South Americans; it is a projectile weapon made of a cord with weights attached to either end. Designed to capture animals by becoming entangled in their legs or wings, it is to South American gauchos what the lasso is to North American cowboys. The Boleadora dance uses the bolas in a spectacular way, both as a percussion instrument and a juggling prop, and it has became very popular in circus and variety shows.
Sergio and Martha fell in love during a circus engagement, and decided to stay together. Hence Martha became one of the Dancing Gauchos, which also included Ricardo Ocampo, another Argentinean folk ballet dancer with a long international dancing career behind him. The three-person version of their act was featured at the Big Apple Circus in 1987-88 and in many other venues around that same time. Eventually, Ocampo left the act, and Sergio and Martha went on to work as a duo.
The Dancing Gauchos have been featured in circuses, nightclubs, variety theaters, and cruise ships all over the world. They have been the principal attraction(Russian) A circus act that can occupy up to the entire second half of a circus performance. of an Argentina-themed show at Walt Disney World's Epcot Center. They have also appeared in Germany at the Frankfurt Opera House and with the Cologne Philharmonic, and Sergio Martinez has given master classes at New York's Juilliard School. Sergio and Martha Martinez live in Las Vegas, Nevada.
See Also
External Link
Image Gallery