Francesco
From Circopedia
Clown
By Dominique Jando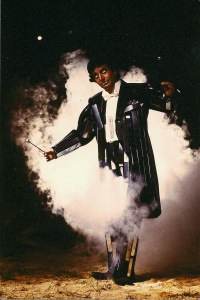 Francesco (Francis Brunaud) was born in Paris, France on September 23, 1950. His father was an alpinist; his mother worked in a bank. Although raised in Paris, Francis was an excellent skier, and his father hoped this talent could be eventually exploited in some way. Not so Francis, who tried his luck as a musician, an actor, and a puppeteer, before discovering the Ecole Nationale du Cirque (today the
Académie Fratellini
, one of the western world's very first circus schools, which
Annie Fratellini
had just opened in Paris in 1975. There he trained in acrobatics, ballet, wire walking, bareback riding and juggling, and graduated in 1978 as a
clown
Generic term for all clowns and augustes. '''Specific:''' In Europe, the elegant, whiteface character who plays the role of the straight man to the Auguste in a clown team.
.
Francesco made his professional debut as a "reprise(French) Short piece performed by clowns between acts during prop changes or equipment rigging. (See also: Carpet Clown)" clown at Cirque Jean Richard, then France's premier circus. A few years later, in 1982, he won a Bronze Medal at the Festival Mondial du Cirque de Demain and subsequently embarked upon a successful international career, appearing in Europe's most prestigious circuses: Krone and Roncalli in Germany; Knie in Switzerland; Nando Orfei and Casartelli-Medrano in Italy; Merano in Norway; Benneweis in Denmark; Scott in Sweden; Tower Circus in Blackpool, England; Kronebau in Munich; Cirque d'Hiver-Bouglione in Paris; Circus Carré in Amsterdam, to name but a few. He was also featured in several stage and television shows in Europe, Africa, South America, and Asia. He was invited twice to participate in the International Circus Festival of Monte-Carlo, in 1990 (Tristan Rémy award) and 1996 (Junior Jury's award).
Francesco made his American debut at the Big Apple Circus in 1999, in Bello & Friends (starring fellow clown Bello Nock) and returned there in 2002 for Dreams of a City and in 2006 for Step Right Up! In 2007, he produced his own show in France, Le clan Francesco et les Comics Cosmics, with his wife, Nadine, and his sons Melchior, Samuel, and Bastien. His son, Samuel, has also started his own clown career.
See Also
Image Gallery
External Links